Migrant Parents Say Their Kids Don't Recognize Them Anymore After Months Of Separation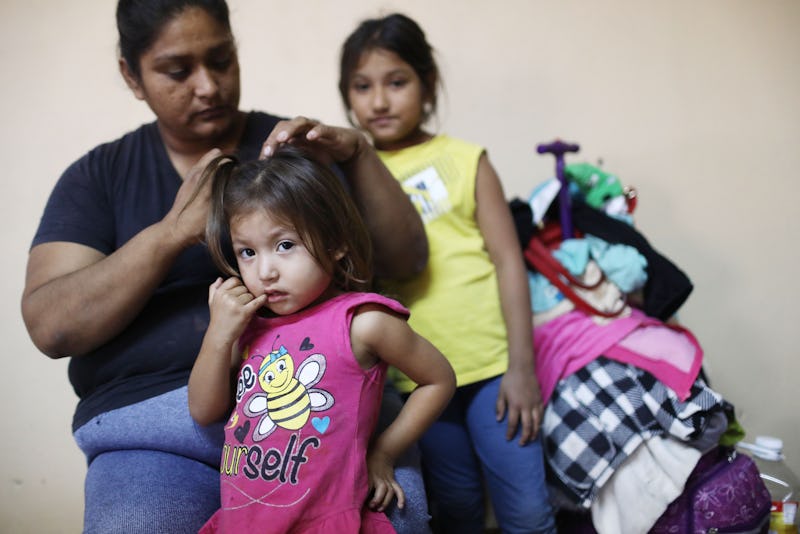 Mario Tama/Getty Images News/Getty Images
The anecdotes from migrant families who have finally been reunited depict distressing moments between parents and children, as reported by The New York Times. On Tuesday, the newspaper described the state of some undocumented parents and children who had finally been reunited under the order of a court. But as they reunited, some migrant parents said their children didn't recognize them. The Times wrote of the emotional experiences of parents such as Mirce Alba Lopez, Milka Pablo, and Denis Espinoza.
Lopez, 31-year-old mother of her three-year-old son Ederson, told The Times about her experience of being reunited with her child. "He didn't recognize me," Lopez said. "My joy turned temporarily to sadness." As a result of Donald Trump's administration's "zero tolerance" immigration policy — which had torn more than 2,000 children from their parents — Lopez was seeing her son after four months.
In another case, Pablo told The Times that her daughter, 3-year-old Darly, screamed and squirmed in her arms when they were reunited after three months. The Times reported that the young girl cried for "Miss" — the social worker at the detention center where she was kept. As these reunions took place, The Times noted that undocumented mothers and fathers wore ankle monitors as they met their children.
The reunions come weeks after Trump signed an executive order in June to supposedly end his administration's policy of separating migrant families as a method to deter undocumented people from seeking asylum in the United States. Those who cross the border illegally would continue be prosecuted, according to the order, but the separations would apparently cease. Critics, however, say that the president's order is a "sham" and has done little to help parents and children languishing in detention centers.
As of this moment, Trump's administration has already failed to meet U.S. District Court Judge Dana Sabraw's ordered deadline to return migrant children to their parents. Of the 102 children that seek reunion with their parents, only 59 are "eligible" to go back to their mothers and fathers, according to POLITICO on Tuesday.
Mental health experts have told The New York Times about the psychological toll that indefinite separation takes on children, especially toddlers. San Francisco-based Youth Law Center's executive director Jennifer Rodriguez told The Times, "People have been very focused on technical pieces of this process, and the egregiousness of children in cages. But they're not thinking about most basic fundamental trauma we're inflicting on people."
In another case, Fiona Danaher, Boston-based MassGeneral Hospital for Children's pediatrician, told The Times that the trauma experienced in isolation and being kept away from their parents could cause "changes in physiology that promote physical and mental illness throughout the life course."
In some cases, perhaps to find familiarity and belonging in such foreign spaces, the parents said that their children called each other "brother" and "sister." Lopez and Pablo's children called each other their siblings. In another case, Ederson, Lopez's three-year-old son pointed at Honduran father Espinoza's daughter, thirteen-month-old Carmen, and said, "I want to go with my little sister."
A lawyer for migrant parents, Abril Valdes, told The Times about the haunting experience of one unnamed migrant father who wasn't able to tell his son that they would be forcibly separated from each other at the American border. The three-year-old child, according to Valdes, was silent and refused to leave his weeping father's arms. Valdes said the toddler refused to take any toys and stayed close to his dad.
The reunification between father and son compelled the lawyer to tell The Times, "I feel like he's still in shell shock."
It's a report that goes back to corroborating what mental health experts have cautioned about such separations. One such figure, Alicia Lieberman of the Early Trauma Treatment Network, told TIME magazine about the possible repercussions of tearing children away from their mothers and fathers, and how it leaves the young ones shaken. "When that bond is broken through long and unexpected separations with no set timeline for reunion," Lieberman said, "children respond at the deepest physiological and emotional levels."