Watch This TV Host Show The Totally Wrong Way To Treat Sexual Harassment Victims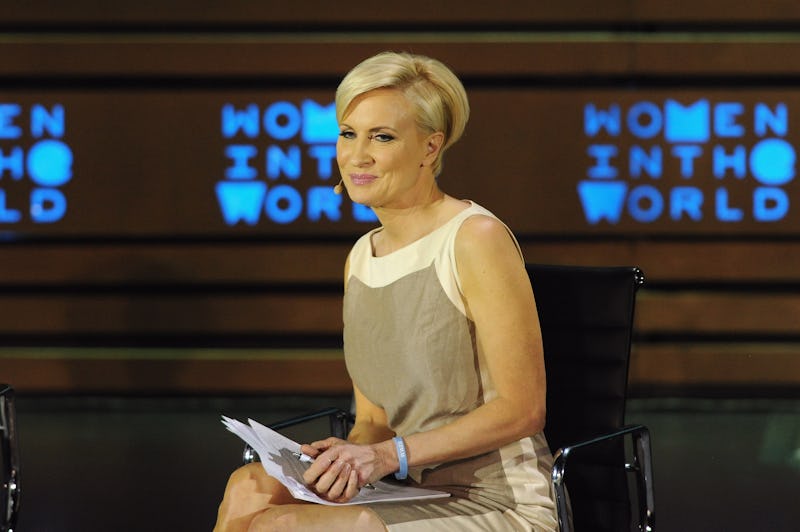 Andrew Toth/Getty Images News/Getty Images
Morning Joe co-host Mika Brzezinski criticized sexual assault victims for not wanting to meet their harasser for face-to-face apologies Friday in a segment that came off as thinly-veiled victim blaming. While discussing the recent sexual-misconduct allegations brought against a number of high-profile men — including Mark Halperin, formerly a regular on Morning Joe — Brzezinski scolded Halperin's accusers for refusing to meet with him and hear his apology, accusing them of hypocrisy.
UPDATE: Brzezinski apologized late Friday, saying in a statement obtained by CNNMoney, "In our discussion about sexual harassment this morning, I said some things that hurt people. In the case of Mark, my goal today was to start a conversation about hearing from the men whenever we can, but I realize that it is not my place. It isn't my call to make, and for that I am truly sorry."
"Mark Halperin is more than willing to meet with his accusers and apologize with them face-to-face," Brzezinski said. She categorized Halperin as a man "willing to face the music" and admit to his actions. In fact, Brzezinski said she'd even attempted to arrange — on Halperin's behalf -- meetings between the former MSNBC contributor and his accusers. "I've actually tried to offer him to them. They don't want to talk to him," Brzezinski said. "There are some hypocrisies here."
At least a dozen women have come forward to accuse Halperin of sexually harassing or assaulting them while he worked at ABC News. Among the allegations are claims Halperin asked a female researcher to sit on his lap, masturbated in front of another female employee, and attempted to force a kiss on a woman after pinning her up against a window. When that woman rebuffed his advances, Halperin allegedly told her she would never work in politics or media because of it. At the time, Halperin reportedly worked in a position of authority at the news outlet.
In a statement issued in late October, Halperin said that he'd recognized he had a problem towards the end of his career with ABC News. "No one had sued me, no one had filed an human resources complaint against me, no colleague had confronted me," Halperin said. "But I didn't need a call from HR to know that I was a selfish, immature person, who was behaving in a manner that had to stop." However, while Halperin said he was "profoundly sorry for the pain and anguish" his actions had caused, he also said "some of the allegations" weren't true. He did not go into detail about which allegations he felt were true and which were not.
But it's not altogether surprising that a victim wouldn't want to meet his or her harasser face-to-face, even if the harasser offered an apology. In attempting to broker meetings on Halperin's behalf and publicly cajole or chastise his accusers when they turn down invitations to those meetings, Brzezinski not only caters to the alleged harasser, but enables him to dictate to or control the accusers once again.
Brzezinski also appeared to argue that victims of sexual harassment, assault, or abuse have a responsibility to meet their alleged abusers if those abusers desire it so that we can "grow as a society and learn from each other." What's more, Brzezinski suggested that accusers who don't offer up such forgiveness to their abusers are obstructing culture shifts.
"When things happen and men actually want to validate that truth, that's important that we actually allow that, if we want to grow as a society and learn from each other," Brzezinski said. "If we just want to strike people down for political motivation or for anger, we're not going to get anywhere."
In placing the blame for any stymied cultural change on the victims of sexual harassment and assault, Brzezinski appears to be attempting to remove the burden of responsibility from abusers. Rather than hold those who commit sexual harassment, abuse, and assault responsible for the perpetuation of a culture that's permissive of such gross behavior, Brzezinski is shifting the blame to victims who choose not to engage with their abuser. It's a new level of victim-blaming.
Brzezinski went on to say she'd been "poring" through recent sexual-misconduct allegations. While she noted "they're all different," she also argued that the question up for debate was, should those accused of misconduct be allowed to apologize. "The question is, should they be allowed to apologize?" Brzezinski said. "Should they show that they know that things have changed, that perhaps maybe they want to actually come forward and talk about this?"
And yet, this doesn't actually appear to be the question Brzezinski is asking when she moves to arrange face-to-face meetings with Halperin and his accusers -- then publicly scolds the women who refuse that offer. Instead, she's asking if victims should be forced to hear and/or accept their alleged abuser's apology. And to her, the answer appears to be "yes."
When some viewers confronted Brzezinski about her comments over social media Friday afternoon, the Morning Joe co-host appeared dismissive of the criticism. "As a victim of sexual abuse-assault actually I DO understand," she tweeted in response to a Twitter user who encouraged her to try to "think of the victims" and put herself in their shoes. "He was never caught. I DO understand. This SHOULD be a conversation. Not anger," Brzezinski tweeted.
Editor's Note: This op-ed does not reflect the views of BDG Media and is part of a larger, feminist discourse on today's political climate.