Mikaela Shiffrin Snags Gold In Giant Slalom & Twitter Is In Total Awe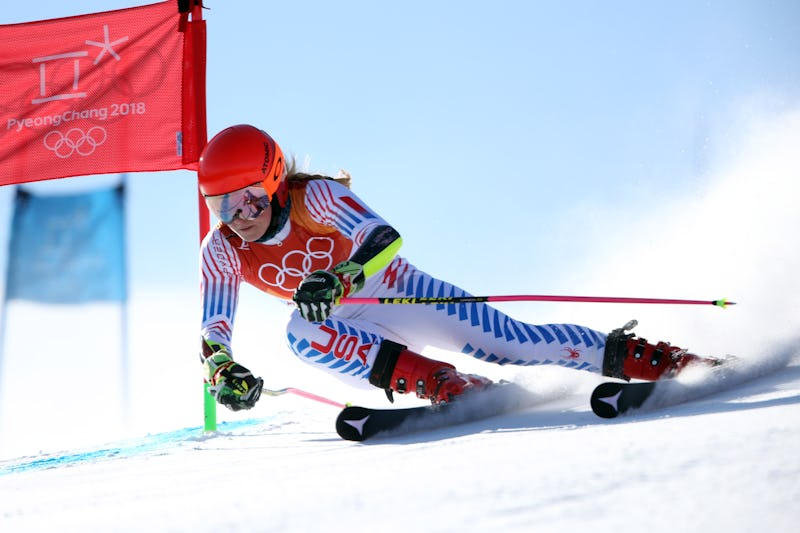 Christophe Pallot/Agence Zoom/Getty Images Sport/Getty Images
Team USA sports fans were waiting with baited breath for the women's giant slalom final where one event headliner in particular had a shot at taking home gold. Well fans weren't disappointed — Mikaela Shiffrin won gold in the Olympics giant slalom, upping the United States tally to eight medals and five golds. The 22-year-old's winning run also turned her into a two-time Olympian following her gold medal in slalom at the 2014 Sochi Olympics.
Shiffrin put up a first run time of 1:10.82 that put her in second place, then blazed her way onto the top of the podium with a second run time of 1:09.20, giving her a total of 2:20.02. It was enough to give her the win in her first competition in PyeongChang.
But her quest for Olympic golds isn't over yet. On Thursday Shiffrin will defend her gold in her signature event, the slalom, and in the following days compete in up to four more skiing events: the super-G (super giant slalom), downhill, super combined, and team race.
Shiffrin's debut had a lot of hype leading up to it, and as you can imagine, Twitter went wild after Shiffrin won the giant slalom competition.
With her second and last run Wednesday night, Shiffrin beat out Norway's Ragnhild Mowinckel and Italy's Federica Brignone, who took second and third respectively.
And now fans can't wait to see what she's capable of at her favorite event on Thursday.
Shiffrin was only 18 years old when she took first place in the slalom competition at the 2014 Sochi Olympics, making her the youngest slalom champion in Olympic alpine skiing history.
After slalom, the Olympian champion will take a shot at her weaker disciplines, downhill and super-G, where she is not favored to make a podium finish. At the 2018 Alpine Ski World Cup, Shiffrin placed 25th in the super-G and 5th in downhill. The world cup before that she placed 24th in super-G and 36th in downhill. But its the barbed jabs from her naysayers that have possibly spurred Shiffrin's pursuit to become even better in even more alpine skiing sports.
"I've had a lot of people tell me, 'Yeah, sure, you're good at slalom, but wait till you get to the real events like downhill or super-G,'" Shiffrin said to The New York Times. "I don't like hearing that."
Shiffrin's Olympic gold medal in the giant slalom makes her the third American to win two career gold medals in alpine skiing, joining the ranks of Ted Ligety and Andrea Mead-Lawrence. Mead-Lawrence won gold in the first ever giant slalom race in the Olympics, the 1952 winter games in Oslo. As Shiffrin digs her place in U.S. Olympic history, her competitors acknowledge how much the champion skier has driven them.
"All of us want to ski faster than her, but she is on another level," Sweden's Frida Hansdotter told the Associated Press. "We need to train harder and ski faster."
Decorated skier Lindsey Vonn, both a Team USA teammate and Shiffrin's rival on the slopes, tweeted congratulations to Shiffrin after her winning run. Vonn, a gold medalist from the 2010 Vancouver Olympics, is another favorite who fans are anticipating. The powerhouse duo of Vonn and Shiffrin will compete in the downhill competition, which is set to take place on Wednesday, Feb. 21 if the weather cooperates.
The road to Shiffrin's first gold in PyeongChang was paved with weather-related difficulties, with strong winds delaying the slalom and giant slalom schedule. The postponed dates mean that Shiffrin has to ski three races in three consecutive days.
But NBC commentator Bode Miller, Team USA's most decorated Olympic alpine skier, praised Shiffrin's mental toughness going into the giant slalom. Miller also praised Shiffrin overall as one of the best skiers he's ever seen.
"There's a lot of different ways you can qualify the 'greatest ever,' but in my opinion, at this point of her career, I think she's the best I've ever seen, male or female," Miller said on NBC. "She's building and it seems like she's only getting better."