Mike Colter Responded To The 'Luke Cage's Cancellation In The Greatest Way Possible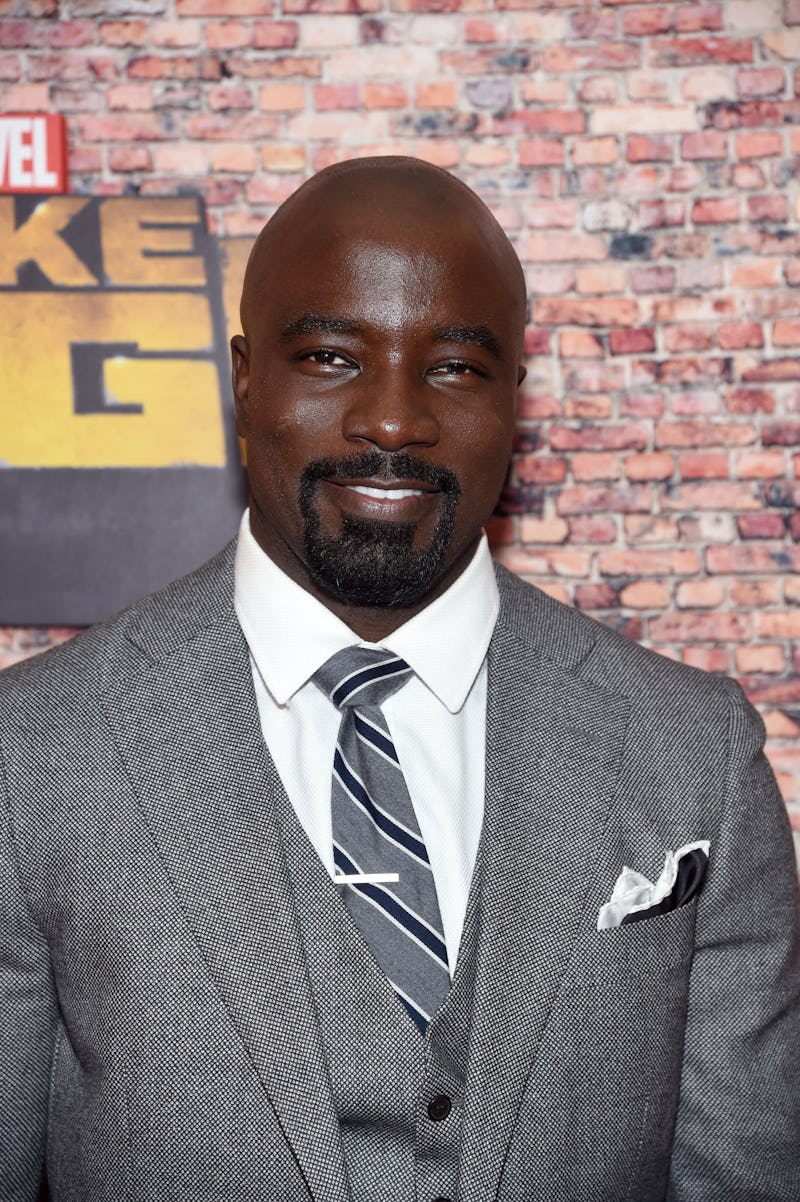 Jamie McCarthy/Getty Images Entertainment/Getty Images
When it comes to making the best out of a bad situation, no one does it better than Luke Cage star Mike Colter. Shortly after it was revealed that the Marvel Netflix series would not be returning for a third season, Mike Colter has responded to Luke Cage's cancellation in the most perfect way possible, proving that despite the disappointing news, the actor has no hard feelings about the decision. In fact, he now has a very good reason for wanting his schedule to be a little more free these days.
Colter took to both Twitter and Instagram late Sunday night to reveal that he and his wife, Netflix executive Iva Colter, have welcomed a baby girl into the family. (They also have a 3-year-old daughter, Naiella, who is now a big sister.) The exciting news was accompanied by a sweet photo of Colter and his precious newborn, who quite honestly couldn't be more cute if she tried. It was at this time that the actor took a moment to address Luke Cage's cancellation, and his remarks on the subject will only make you love him all the more. (You know, if that was really even possible in the first place.)
Colter's Instagram caption proved to be both heartfelt and positive as he recalled what the show has meant to him and why he's choosing to look forward to the future:
"Luke Cage represented something more than just entertainment. @MarvelsLukeCage added to our social commentary and made viewers think by challenging the norm and putting out a character that reflected the everyday hero, one with flaws, strengths and everything in between. I am forever grateful to Marvel and Netflix for letting me portray such a prolific character, and thank the amazing fans. As one door closes, another has opened, with the birth of my 2nd daughter. Born this week. A lot of great memories. Time to make more. Always forward, forward always"
Those who were avid fans of the Marvel show, which only lasted for a total of two seasons, know that Colter made for the perfect Luke Cage, a man whose super-strength and impenetrable skin helped him to be the hero that Harlem needed, both on Luke Cage as well as in The Defenders and Jessica Jones.
The good news is that while the standalone series has come to an end, that doesn't necessarily mean Luke Cage himself is gone for good. He could always reappear on Jessica Jones again in some capacity, and while that may not give Colter as much screen time as he may deserve, it'd certainly be better than no Colter at all. And considering that the actor seems to have parted the series on good terms, that could very well end up happening.
"Unfortunately, Marvel's Luke Cage will not return for a third season," Marvel and Netflix said in a joint statement to Entertainment Weekly. "Everyone at Marvel Television and Netflix is grateful to the dedicated showrunner, writers, cast, and crew who brought Harlem's Hero to life for the past two seasons, and to all the fans who have supported the series."
Luke Cage isn't the only Marvel series to find themselves on the chopping block. Earlier this month, it was revealed that Iron Fist wouldn't be back for a third season, though according to a statement obtained by Deadline, Danny Rand and Colleen Wing may "live on" within other platforms. One can only hope that it'll involve a reunion with a certain bulletproof vigilante as well.