What To Know About This Utah Senator's Abortion Views, 'Cuz He May Be Trump's SCOTUS Pick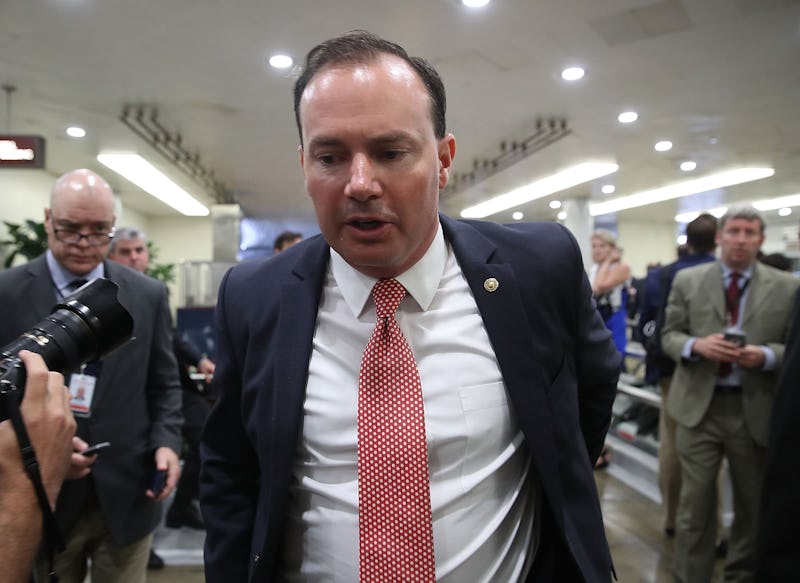 Mark Wilson/Getty Images News/Getty Images
When Anthony Kennedy announced his impending retirement from the Supreme Court in June, supporters of abortion rights feared that his eventual replacement might give anti-abortion activists the vote they need to overturn Roe v. Wade. Reports that Trump recently interviewed a junior senator from Utah about the vacancy won't ease those fears, given Sen. Mike Lee's stance on abortion: He opposes it, and has implied that he thinks Roe v. Wade is unconstitutional.
Since being elected to the Senate in 2010, Lee has taken anti-abortion stances on many occasions. When Barack Obama was president, Lee said that he wouldn't support any budget that included funding for Planned Parenthood. He's supported the No Taxpayer Funding for Abortion Act, a redundant bill that seeks to do what the existing Hyde Amendment already does, as well as legislation that would restrict minors' access to abortion and ban the procedure after 20 weeks. Like most anti-abortion politicians, Lee currently has a zero percent rating from the Planned Parenthood Action Fund.
More to the point, Lee has suggested rather explicitly that he believes Roe v. Wade — which makes it illegal for states to outright ban abortion — is unconstitutional.
"The Constitution says nothing that can plausibly be read to suggest — as the Supreme Court concluded in Roe v. Wade — that States are essentially powerless to protect unborn human life," Lee wrote on his 2010 Senate campaign website. "This power to protect the most vulnerable members of society needs to be returned to the States."
The Deseret News reported that Tuesday that Trump has interviewed Lee about the upcoming Supreme Court vacancy, a report that both the White House and Lee's office subsequently confirmed. In an interview with Fox News Tuesday, Lee downplayed the possibility of the Supreme Court overturning Roe v. Wade once Kennedy's replacement — whomever that may be — is seated, as doing so would require the court to go against precedent.
"[Justices] have to take into account the doctrine of stare decisis, which is a doctrine that generally puts the Supreme Court on a path of following precedent," Lee said. "So, they can't know for sure how any one of those issues is going to turn out and whether any one of those cases might be overturned." He added that most hot-button policy issues "involve cases that have been decided previously by the Supreme Court," and distinguished this from issues that the court might review "as a matter of first impression."
Whether Lee will actually be in a position to make such a determination remains to be seen, however. Trump has said that he's narrowed his list down to between five and seven candidates, and various news organizations have reported which names are supposedly on that list. Although the administration hasn't confirmed the veracity of any of those shortlists, none of them include Lee's name.
That said, it's exceedingly unlikely that Trump will appoint a judge who doesn't oppose abortion in one form or another. He's already announced that he'll make his pick from a list of 25 judges that was originally compiled by activists at the Federalist Society and the Heritage Foundation, both of which are staunchly conservative think tanks. Moreover, overturning Roe has been one of Republican Party's top judicial priorities for the last four decades, and the party's 2016 policy platform demands a "human life amendment to the Constitution and legislation" that would make abortion illegal at the federal level. Additionally, Trump himself has consistently supported anti-abortion policies since ascending to the White House.
Trump has said that he'll announce his pick to replace Kennedy on Monday, July 9.