'Austin Powers' Fans Need To Read Mike Myers' Statement On Verne Troyer's Passing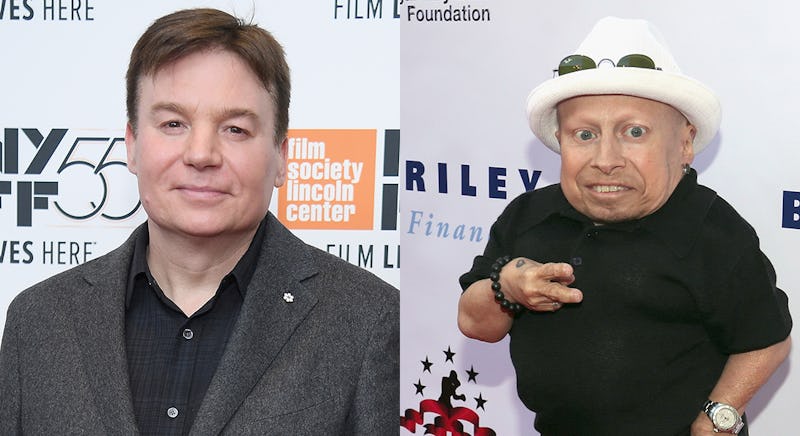 Dimitrios Kambouris/Getty Images Entertainment/Getty Images; Mark Davis/Getty Images Entertainment/Getty Images
On Saturday, April 21, the family of Verne Troyer announced that the Austin Powers actor had died at age 49. Later that day, the actor's Austin Powers co-star Mike Myers released a statement on Verne Troyer's death to The Hollywood Reporter.
The statement, first tweeted by THR's Ryan Parker, read:
"Verne was the consummate professional and a beacon of positivity for those of us who had the honor of working with him. It is a sad day, but I hope he is in a better place. He will be greatly missed."
Troyer and Myers worked together on the Austin Powers films, where Myers played several roles, including the Dr. Evil to Troyer's Mini-Me. They also reunited for Myers' 2008 movie The Love Guru. Troyer's final role is as a Gnome in the upcoming film Gnome Alone.
Troyer's family confirmed the actor's death via his social media accounts on Saturday. Their statement on Instagram read:
"It is with great sadness and incredibly heavy hearts to write that Verne passed away today.
Verne was an extremely caring individual. He wanted to make everyone smile, be happy, and laugh. Anybody in need, he would help to any extent possible. Verne hoped he made a positive change with the platform he had and worked towards spreading that message everyday.
He inspired people around the world with his drive, determination, and attitude. On film & television sets, commercial shoots, at comic-con's & personal appearances, to his own YouTube videos, he was there toshow everyone what he was capable of doing. Even though his stature was small and his parents often wondered if he'd be able to reach up and open doors on his own in his life, he went on to open more doors for himself and others than anyone could have imagined. He also touched more peoples hearts than he will ever know.
Verne was also a fighter when it came to his own battles. Over the years he's struggled and won, struggled and won, struggled and fought some more, but unfortunately this time was too much.
During this recent time of adversity he was baptized while surrounded by his family. The family appreciates that they have this time to grieve privately.
Depression and Suicide are very serious issues. You never know what kind of battle someone is going through inside. Be kind to one another. And always know, it's never too late to reach out to someone for help.In lieu of flowers, please feel free to make a donation in Verne's name to either of his two favorite charities; The Starkey Hearing Foundation and Best Buddies."
Troyer was Myers' co-star in the 1999 comedy movie Austin Powers: The Spy Who Shagged Me and the 2002 film Austin Powers in Goldmember. The movies were the second and third installments in the hilarious franchise, which also starred Elizabeth Hurley, Seth Green, Heather Graham, Michael Caine, and Beyoncé.
Troyer played Dr. Evil's clone, who is identical to him, but is supposedly "one-eighth his size." Upon seeing his clone, Dr. Evil famously declared in the Austin Powers sequel: "Breathtaking. I shall call him... Mini-Me." As Mini-Me, Troyer stole the spotlight and became beloved by audiences — despite the character having little to no dialogue.
In addition to his famous Austin Powers role, Troyer also appeared on-screen as Griphook in Harry Potter and The Philosopher's Stone, as well as the films Volcano, Men in Black, My Giant, How The Grinch Stole Christmas, Bubble Boy, and many others. He also appeared on several reality TV shows, such as Celebrity Wife Swap, Celebrity Big Brother, and others.
It's clear that Myers and so many movie fans will miss the beloved actor.
If you or someone you know are experiencing suicidal thoughts, call 911, or call the National Suicide Prevention Hotline at 1-800-273-8255.