Mike Pence Is Getting Heat For A Guest He Brought To Honor The Pittsburgh Shooting Victims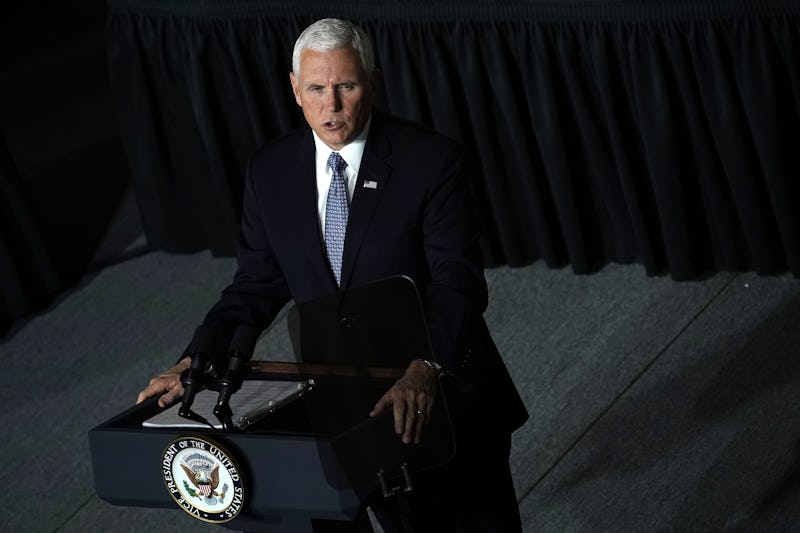 Alex Wong/Getty Images News/Getty Images
As the American Jewish community and the rest of the nation mourns the worst anti-Semitic attack ever to happen in the U.S., the Trump administration's varied responses to the shooting at Pittsburgh's Tree of Life Synagogue have drawn criticism for a variety of reasons. One of the strangest responses has come from Vice President Mike Pence, who appeared with a "Messianic Jewish" rabbi at a campaign event that included a moment meant to honor the victims of the shooting.
Pence came to a campaign event in Michigan for Republican House candidate Lena Epstein on Monday, according to NBC News. At some point during the event, he invited Rabbi Loren Jacobs onto the stage to say a prayer for the victims of the shooting in Pittsburgh. Jacobs, however, belongs to a religious sect called Messianic Judaism — often referred to as "Jews for Jesus" — members of which, as Slate noted, most actual Jews do not consider to be Jews.
Instead, as The Washington Post explained, most Jews see Messianic Jewish groups as a fake brand of Judaism that draws on Jewish religious traditions and customs in order to spread evangelical Christianity. Many Jews can personally vouch for this interpretation, as Jews for Jesus specifically target Jews for conversion efforts. Jacobs gave an opening prayer, which called on the "God of Abraham, God of Isaac, God of Jacob, God and father of my lord and savior Yeshua, Jesus the Messiah, and my God and father, too."
This is not a prayer that you would ever hear at a synagogue, because Jews do not believe that Jesus was the Messiah. Jews, in fact, do not believe that the Messiah has arrived, nor is the Messiah a terribly important concept in Judaism, as the educational website Jews for Judaism explained. In the Jewish worldview, Jesus was simply a historical figure, a person no more worthy of a prayer than Julius Caesar or Queen Elizabeth. As the website of Jacobs' so-called synagogue explains, though, Messianic Jews hold the same beliefs as Christians, "but [the faith] is expressed within the Jewish heritage."
Having a religious leader from that particular faith comes off as ignorant and insensitive to American Jews, who may have even experienced Jews for Jesus trying to convert them. Because of this, Pence has received a lot of criticism for appearing at an event with Jacobs.
When Politico's Jake Sherman asked for a comment from Pence's team about the vice president's decision to appear at the event with Jacobs, Pence's office denied responsibility for Jacobs' appearance.
"He was invited by Lena Epstein to offer a prayer at the event, which he did early in the program," Pence's office told Sherman. "The VP invited him back on stage to deliver a message of unity. He was not invited by the VP's office to speak on behalf of the Jewish community."
Epstein, a Jewish woman running for office in Michigan's 11th district, offered her own statement on Twitter addressing the controversy, saying, "Any media or political competitor who is attacking me or the Vice President is guilty of nothing short of religious intolerance and should be ashamed."
"My family's history as Jews and my commitment to my Jewish faith are beyond question," Epstein wrote. "Now is the time for people of all faiths, of all religions, to come together as one and reject hate and religious divisions."
Epstein's Jewish faith, however, doesn't erase the facts about Messianic Jews and what they believe about the Jewish people.
"It is deceptive proselytizing that sees Jews as in need of saving, and has Christians playact Jewish ritual," wrote Steven I. Weiss, a reporter, on Twitter. "Inviting one to speak publicly is not OK."