Mike Pence Wants You To Know Oprah Isn't The Only One Who's "Kind Of A Big Deal"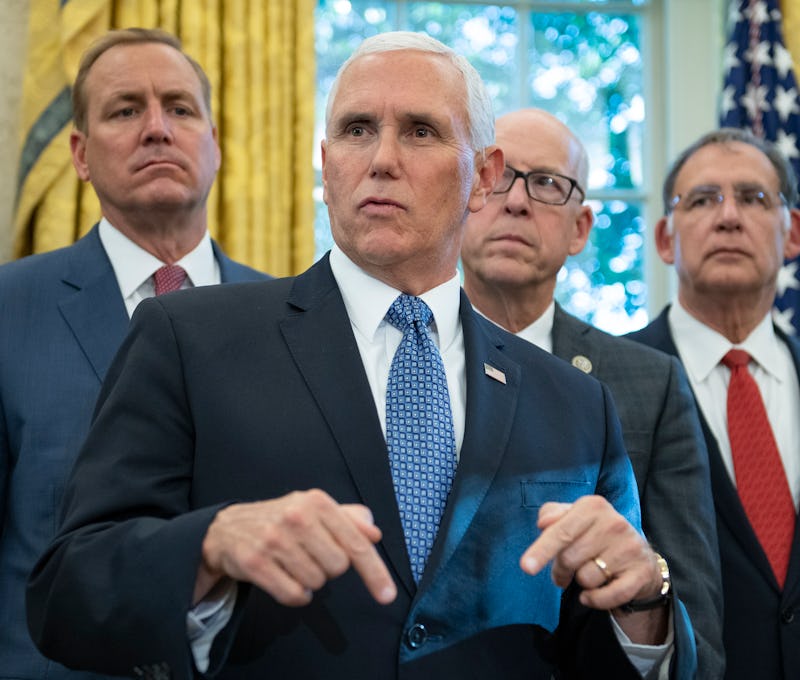 Pool/Getty Images News/Getty Images
Georgia's Democratic gubernatorial candidate has gotten the endorsement of a number of high-profile progressive organizations and individuals, including NARAL, Planned Parenthood, Presidents Barack Obama and Jimmy Carter, and as of this week, Oprah. Abrams' opponent Brian Kemp has the support of the vice president, who's made it clear he isn't impressed with Abrams' backers. In fact, on Thursday, Mike Pence responded to Oprah backing Stacey Abrams by reminding everyone that he's a "big deal too."
"Stacey Abrams is being bankrolled by Hollywood liberals. I heard Oprah was in town today," he said at campaign event in Dalton, Georgia, as Kemp supporters booed. "And I heard Will Ferrell was going door-to-door the other day. Well I'd like to remind Stacey and Oprah and Will Ferrell — I'm kind of a big deal, too."
"I've got a message for all of Stacey Abrams' liberal Hollywood friends," Pence continued at the event. "This ain't Hollywood. This is Georgia."
This governor's race has gained national attention, for one, because Abrams could become the nation's first female, African-American governor. Secondly, you may have read articles about Georgia's strict voting regulations, and the fact that Kemp, who currently serves as its secretary of state, is personally named in multiple lawsuits alleging voter suppression. There are currently approximately 53,000 voter registration applications on hold in Georgia, about 70 percent of which reportedly belong to black voters. Kemp has denied the allegations, and said that everyone on the pending list can still vote with proper identification.
Oprah, who according to CBS, reached out to Abrams last week and has been canvassing door-to-door for her, touched on the voting issue at a campaign stop in Marietta, not far from where Pence spoke. "If you're woke just a little bit, you know everyone is not treated equally," she said. Urging the crowd not to be deterred from the polls or to take the responsibility of voting lightly, she added, "For anybody here who has an ancestor who didn't have the right to vote, and you are choosing not to vote, wherever you are, in this state, in this country, you are dishonoring your family."
At last week's tense debate between Georgia gubernatorial candidates, Abrams accused Kemp of trying to undermine democracy in the state by "creating an atmosphere of fear, making people worry that their votes won't count" by enforcing the state's stringent "exact match" and "signature mismatch" voting rules. Kemp fired back that Abrams' allegations were "totally untrue," also implying that she was encouraging undocumented immigrants to vote. Abrams emphasized that the implication was false, and that she is dedicated to fighting for legal votes only.
Though early voting began in Georgia on Oct. 15, right now Abrams and Kemp are in a dead heat, according to polls, with just several days left before Election Day. An NBC-Marist poll from last week following the debate had both candidates neck-and-neck — and within the margin of error — with Kemp slightly leading at 46 percent of voters, and Abrams at 45 percent. The third candidate, libertarian Ted Metz came in at 4 percent.
Abrams leads among a younger, more diverse electorate, while Kemp is favored by older, whiter voters, the polls suggest. If no candidate receives more than 50 percent of the vote, the top two — almost certainly Abrams and Kemp — will face off in a final election on Dec. 4.