What Mike Pence Just Said About Abortion Will Downright Terrify You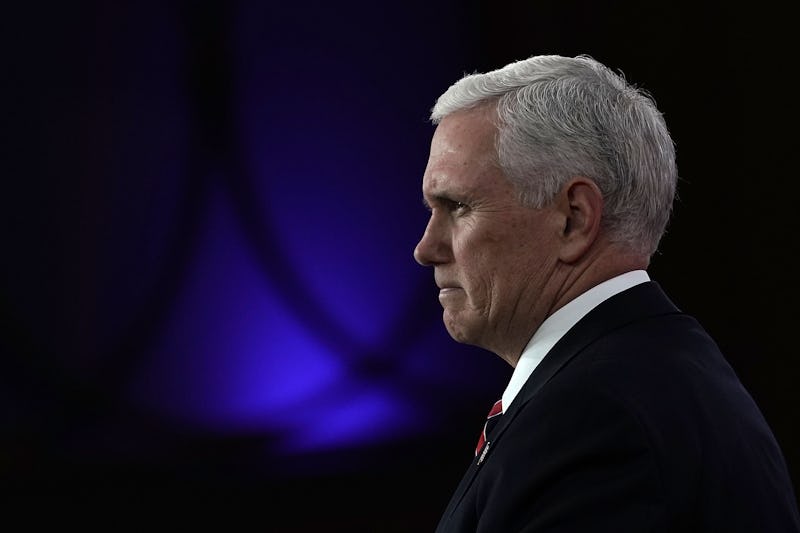 Alex Wong/Getty Images News/Getty Images
Despite the fact that attempts to temper abortion rights at the federal level have repeatedly failed since the 2016 election, on Tuesday Vice President Mike Pence said he believes abortion will end "in our time." Speaking at a luncheon hosted by Susan B. Anthony List, an anti-abortion advocacy group, Pence told attendees that while progress has been made, there is still more work to be done if they want to end abortion services in the United States.
"I know in my heart of hearts this will be the generation that restores life in America," Pence said, according to The Hill, before encouraging anti-abortion activists to continue doing what they've been doing. "If all of us do all we can, we can once again in our time restore the sanctity of life to the center of American law."
Pence has been a longtime anti-abortion advocate, and has backed legislation curtailing abortion services in every elected office he has held. The Hill reports that he praised Republicans under the current administration for passing measures to inhibit legal abortion services.
"Let me admonish you as we go forward in this cause in 2018 to understand while we have made great progress, we have much work left to do," Pence told attendees.
Though Pence praised Trump for backing anti-abortion measures, Trump has long been characterized as inconsistent when it comes to being either pro-choice or anti-abortion. As The New York Times reported back in 2016, Trump was pro-choice until 2011 and struggled to address the issue during his presidential campaign.
Famously, he suggested that women who seek illegal abortions should be punished, though once he received ire for his statements, he changed his tune. It's not the women who should be punished for having unsanctioned abortions, he said, it's the doctors who perform them.
Despite these deviations from Pence's own staunchly anti-abortion beliefs, the Vice President praised Trump's anti-abortion actions during his address. "From the very first day of this Administration, President Trump has been keeping his word to stand without apology for the sanctity of human life," he said.
In January, Trump elected to rescinded Obama-era guidance which discouraged states from withholding Medicaid funding for Planned Parenthood and other clinics which provide abortion services. (Susan B. Anthony List praised this move at the time, describing it as "an important step toward getting American taxpayers out of funding the abortion industry," according to The Hill.)
Trump signed a similar bill last April that would defund Planned Parenthood. That bill nixed other Obama-era rules that prohibited state and local governments from withholding federal funding for health care providers who perform abortion services. At the time it was up for debate, Pence cast a tie-breaking vote that allowed the legislation to be voted on after Democrats and several Republicans voted against doing so.
But while this bill sought to make it more difficult for women to gain access to abortions, it didn't make it any less legal for a woman to seek one, which is the final anti-abortion agenda. In other words, while it was a step in Pence's favor, it wasn't quite as major as it was characterized at the time, when put into perspective.
Also in January of 2018, a bill that would have banned abortions after 20 weeks — the Pain-Capable Unborn Child Protection Act — failed to make it out of the Senate. Trump had backed the bill, speaking in favor for its measures at the March For Life earlier in the same month. When Senators failed to see the legislation through, Trump said he was disappointed.
In a statement, he compared allowing elective abortions after 20 weeks to the abortion policies that exist in China and North Korea. "We must defend those who cannot defend themselves," he said. "I urge the Senate to reconsider its decision and pass legislation that will celebrate, cherish, and protect life."
Pence tasked anti-abortion advocates with fighting for what he believes young Americans believe when it comes to abortions.
"The truth of the matter is that the [other party] continues to go farther and farther to the left, even while Americans, especially younger Americans, are choosing and embracing the sanctity of life more and more every day," he said. "And we have to be their voice."