Mike Pence Is Celebrating Trump As "The Most Pro-Life President In American History"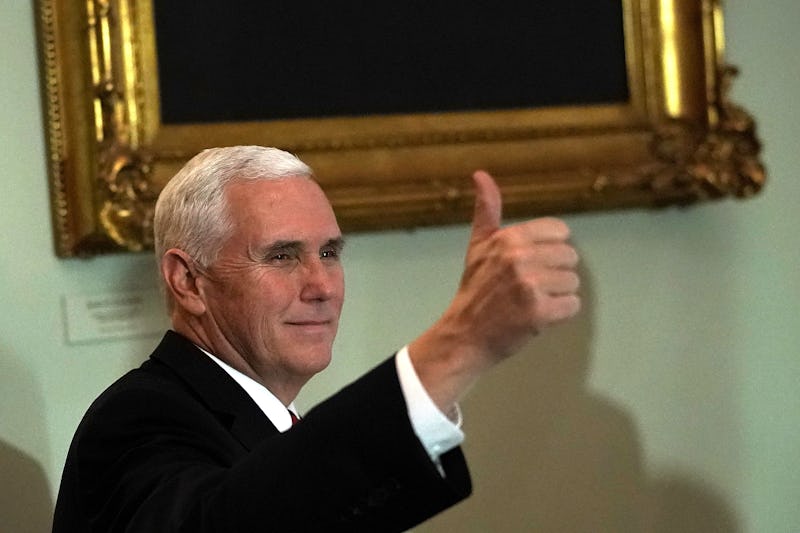 Alex Wong/Getty Images News/Getty Images
On Thursday, Press Secretary Sarah Huckabee Sanders confirmed that President Trump will address the anti-abortion March for Life on Friday, the first time a sitting president has ever spoken at the event. And this was well-received by the administration's biggest culture warrior ― Vice President Mike Pence hailed Trump's upcoming March for Life speech at the White House on Thursday afternoon, proclaiming that it's just one sign of how "life is winning" in the United States.
"You know, it will be one year ago this Saturday night that we swore in the most pro-life president in American history, and in one short year, President Donald Trump has made a difference for life," Pence told assembled crowd at the White House. "And tomorrow, President Trump will be the first president in American history to address the March for Life."
Needless to say, this sentiment was upsetting to countless progressives and advocates for women's reproductive rights, who've long identified Pence ― the 58-year-old conservative Christian and former governor of Indiana ― as the administration's foremost anti-choice hardliner. Throughout his political career, Pence has constantly remarked that he's "a Christian, a conservative, and a Republican, in that order."
Trump, on the other hand, was openly in favor of abortion rights as recently as 1999, prior to jumping into the Republican primaries in 2015. When he entered the race, he morphed into a strident opponent of abortion, going so far as to call for women who receive abortions to be punished. He subsequently backed off from that claim, but he's remained publicly opposed to women's reproductive rights, a position backed up by his selection of Pence as his vice president.
The Trump administration has already struck a number of blows against reproductive rights, with some of the most impactful actions coming at the expense of the most vulnerable women. The "Mexico City Policy" Pence referenced in his White House address on Thursday refers to the U.S. government forbidding federal funds from going to non-governmental organizations that either provide abortions, or engage in abortion-related counseling.
The policy has been brought in and out of effect multiple times over the last three decades, reinstated when a Republican president takes office and rescinded when a Democrat is in charge. It was first implemented by the Reagan administration in 1984.
Additionally, the Trump administration has gotten involved in the reproductive rights of multiple young immigrants. Perhaps most memorably, the administration attempted to prevent a Texas teen, known to the public merely as Jane Doe, from having an abortion late last year.
Thanks to legal representation by the ACLU and an appeals court ruling, she was able to receive an abortion shortly before she would've passed the 20-week pregnancy threshold, at which point doing so would've been illegal in Texas.
Her story was not unique. As detailed by Newsweek, the ACLU went to court in December representing a pair of immigrant teens, identified as Jane Roe and Jane Poe, who similarly had their efforts to get abortions blocked by the government's Office of Refugee Resettlement. In both cases, the teens were instead directed to so-called "Crisis Pregnancy Centers," faith-based anti-abortion facilities that perform needless ultrasounds on women, and pressure them to carry their pregnancies to term.
The administration is also reportedly set to defend doctors who refuse to provide forms of medical care that conflict with their religious beliefs, a move that could have huge and broad implications for women's reproductive health, as well as for LGBTQ Americans. The effort is being taken up by a new division of the Health and Human Services Department, titled the Division of Conscience and Religious Freedom.
In short, the Trump administration has proven itself to be extremely far to the right on matters of reproductive rights thus far, and that's exactly what pro-choice advocates feared when Pence was tapped as Trump's vice president. Throughout his political career as a representative and governor, Pence has received a perfect 100 percent rating from the National Right to Life Committee, denoting a hardcore anti-abortion stance.
As for Trump, he will reportedly be addressing the March for Life on Friday, despite having publicly supported abortion rights less than 20 years ago. The rally is expected to see big crowds descend on the nation's capital; the annual march is routinely the biggest single anti-abortion event in the country, drawing out hundreds of thousands of protesters.