A Love Story Set In Stalinist Russia Just Won 'Best First Novel' — & It's Written By A Doctor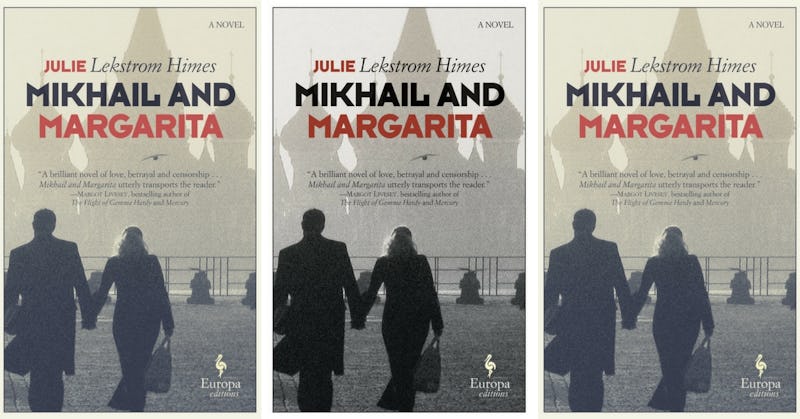 It is widely assumed that individuals are either right-brained or left-brained; creative or logical; artistic or scientific. Julie Lekstrom Himes, a Boston-based doctor and the debut author of the Center for Fiction's 2017 First Novel Prize-winning title Mikhail and Margarita, blows that theory to smithereens with her incredible success story, proving that some people really can do it all.
Set in 1930s Russia, Mikhail and Margarita is a fictional account of the real-life love triangle between famed Russian author and physician Mikhail Bulgakov, a relentless member of Stalin's secret police, and a beautiful but dangerous young woman that changed all of their lives. Thanks to the authoritarian censorship of his critical literary work, Mikhail Bulgakov finds his career and his life falling apart in 1933. Not only are his friends and colleagues getting arrested and banished from the country, but Bulgakov is under surveillance by a member of Stalin's secret police who is hell-bent of persecuting him as an enemy of the state. The outspoken beauty who has captured his heart, Margarita, doesn't make life easier for the author whose arrest is almost a certainty. Despite the unravelling of his life and career, Bulgakov devotes what energy he has to completing his best and most controversial work yet: The Master of Margarita, a searing satire about censorship, authoritarian rule, and political oppression.
Mikhail and Margarita by Julie Lekstrom Himes, $12, Amazon
Rich and imaginative, Mikhail and Margarita is a lush and atmospheric narrative that draws readers into the past, and into the heart of one of Russia's most intriguing creative figures.
Much like the book's protagonist and the real-life character behind the award-winning novel, Mikhail and Margarita author Julie Lekstrom Himes is a physician who happens to have a knack for writing fiction. Although she has been writing since she was a young girl, Himes did not commit to becoming a serious author until she turned 40 and decided to pursue her literary dream. Because she worked as a full-time physician, Himes could not enroll in a professional MFA program, so she instead opted for writing classes and apprenticeships in her spare time. Clearly the results payed off in Mikhail and Margarita.
Himes is just the most recent in a long line of doctors-turned-authors that most notably includes Anton Chekhov, William Carlos Williams, and Chris Adrian, among others. In an interview with Martha Anne Toll on Bloom, Himes explained how her career as a doctor actually makes her a better writer. "Physicians have the privilege and obligation of participating in some of the most personal moments in their patients' lives," says Himes. "Perhaps it is these difficult and sometimes brutal experiences that send them to the page, in some way to make sense of the suffering, to find pattern in the chaos. To find respite for their role in all of this."
That could have been what the real-life subject of Himes's fictional novel was doing nearly a century ago when he turned from medicine to literature. After leaving his successful career as a doctor behind, Russian physician Mikhail Bulgakov devoted his short life to creating novels, stories, and plays that criticized the Russian government, including his masterpiece, The Master and Margarita. Though it was originally written during the Stalin regime in the 1930s, state censorship prevented the critical satire's publication until 1969, over two decades after Bulgakov's death.
The Master and Margarita by Mikhail Bulgakov, $10, Amazon
In writing her titillating account of Bulgakov's remarkable life and career, Himes beat out six other talented debut authors for the coveted literary prize, including Jaroslav Kalfar's critically acclaimed novel, Spaceman of Bohemia, and Kaitlin Solimine's boundary-pushing epic Empire of Glass. The other shortlisted novels were As Lie Is to Grin by Simeon Marsalis, The Second Mrs. Hockaday by Susan Rivers, Tiger Pelt by Annabelle Kim, and What to Do About the Solomons by Bethany Ball.
Established in 2006 by The Center for Fiction, a literary nonprofit located in New York City, the First Novel Prize is awarded to the best debut novel published any day during the prize year. After a network of Common Readers, which includes librarians, writers, and staff members at The Center, create a longlist of book recommendations, a distinguished panel judges that include the previous year's winner select a shortlist of nominees before choosing the ultimate winner. This year's judges were Sonya Chung, Anne Landsman, Fiona Maazel, Rick Moody, and Kia Corthron. Previous prize winners include Marisha Pessl, Junot Díaz, Viet Thanh Nguyen, among many other distinguished authors.