Mila Kunis' Relationship With Ashton Kutcher Didn't Exactly Begin The Way You'd Expect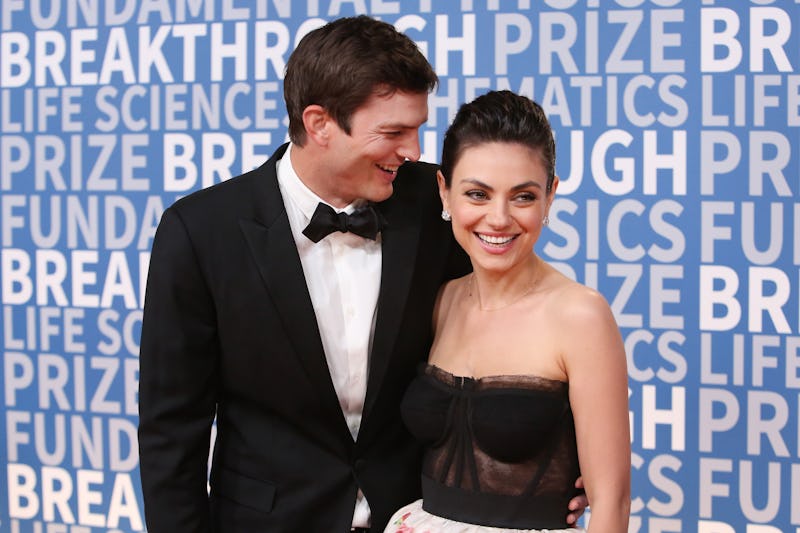 Jesse Grant/Getty Images Entertainment/Getty Images
Fans of That '70s Show might have a hard time believing this love story. Mila Kunis opened up about her relationship with Ashton Kutcher, and swears the two never connected on the set of the sitcom in a romantic way. In a recent interview on WTF with Marc Maron, the actor opened up about the exact timeline of her relationship. The pair knew each other well after the 8-season run of the popular show, and despite an on-screen romance, there was nothing between the two off-camera — at least not at first.
"Yep, in the show we kissed with no feelings whatsoever," Kunis told the host, according to The Today Show. "It's the weirdest story that nobody believes, but it's the god's honest truth. There was nothing there, and it was like, whatever."
When That '70s Show began filming, both stars were very young, so it makes sense that neither of them was looking for a relationship. Kunis was only 14 when the series started, while Kutcher was 19. The series was on-air for eight years, meaning both stars were possibly still too young for a serious relationship when the show wrapped. Even so, she noted that the friendship built during those years was part of their journey.
"We would have never been together if we didn't both go through what we went through in order to be the people that we were when we reconnected," she said. Kunis noted on the podcast that they began seeing each other after running into each other at an awards show, years later.
"We were at an awards show, and I was backstage. I was like looking around, and there was like a really beautiful man from the back," Kunis told the host. "I was like, 'What a very nice stature of a gentleman.' I was literally, like, 'Ooh, he's kind of hot.' I was single. And then he turned around, and I was like, 'Oh, my god! It's Kutch!' I thought it was the weirdest thing that I was checking this guy out, and it was somebody I'd known forever."
Even though the two reconnected, they didn't exactly date, either. According to Us Weekly, Kunis told Maron that she and Kutcher were friends with benefits for a while — yes, just like those movies they starred in. She recalled, "I did a movie called Friends With Benefits. He did a movie that was very similar: No Strings Attached. We lived our movies out, where we were like, 'Let's just hook up. Let's have fun. We're both single. We both trust each other. Everything's great.' None of us wanted tension. OK, great. We hooked up for three months. And just like our movies, one of us caught feelings."
Kunis told the host that she realized there was more to their relationship after finding out Kutcher was dating someone else. "I felt like I got punched in the gut, literally overnight," she said. "He said something, and I was like 'Oh, my God. I love this man, and I have to walk away because this is not the agreement that we had. And so I'm going to speak up."
When she realized feelings were involved, Kunis was honest with her now-husband and told him that she would step away from the relationship before getting hurt. Then, the next day, he showed up at her house and asked her to move in. Now, the couple have been together for six years, and have two children. They were married in 2014.
Earlier in July, Kunis revealed on The Howard Stern Show that neither star expected to end up together, according to Elle. "He just got out of a marriage. I got out of a long relationship. I was single and having the best time ever," she said. "I was totally dating, having a great time, and I was like, 'I'm never getting married.' He's like, 'Great, neither am I!' And we're like shaking hands on it and we're like, 'Life is great!' A year later, we're like, 'Tomorrow, let's get married.'"
It may have taken many, many years after their television romance as Kelso and Jackie for these actors to end up together, but it does give them with a pretty wild story. Neither star was expecting to end up together, but after two decades apart, these longtime friends developed feelings after all.