Miles Teller Will Play A Key Role In The 'Top Gun' Sequel & The Details Will Make You Nostalgic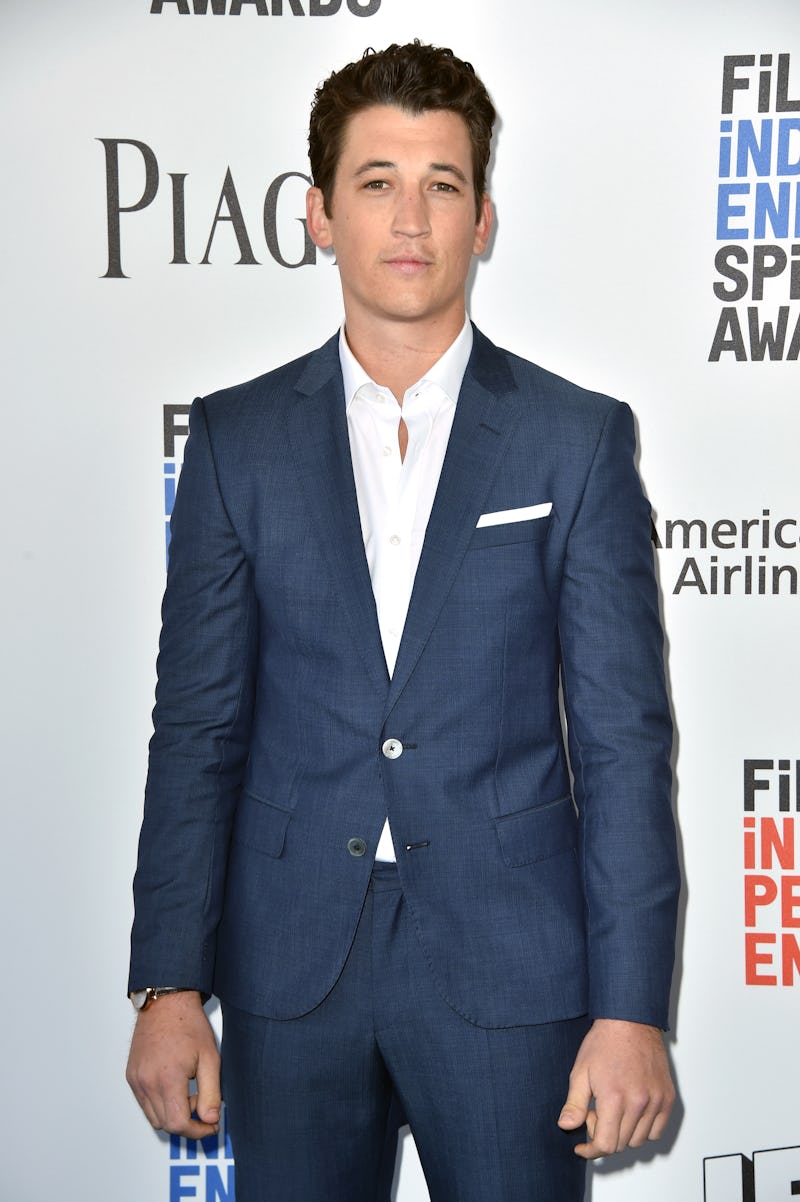 Frazer Harrison/Getty Images Entertainment/Getty Images
The Top Gun sequel has found its newest pilot. On Tuesday, Variety reported that Miles Teller has been reportedly cast in the 1986 film's follow-up, and his character has quite the lineage: Teller will reportedly play Goose's son in Top Gun: Maverick. (Bustle reached out to Paramount Pictures for comment, but has not yet received a response.)
Teller himself appeared to confirm the report on Twitter, reposting a link to the story and writing, "I feel the need...," a reference to Maverick's famous line, "I feel the need, the need for speed."
Teller will reportedly star alongside Cruise — who will reprise his role as Pete "Maverick" Mitchell — as the child of Maverick's partner Nick "Goose" Bradshaw, played by Anthony Edwards. In the first movie, which centered on students at the Top Gun Naval Fighter Weapons School, Goose died tragically when he slammed head first into an aircraft canopy after ejecting from his plane.
Goose's son briefly appeared in the first film, alongside his mother and Goose's wife, Carol, played by Meg Ryan, but viewers will see a lot more of him in the sequel, which will be directed by Joseph Kosinsky, who previously worked with Cruise on the 2013 thrilled Oblivion. According to Variety, Maverick will take Teller's character as an apprentice.
According to The Hollywood Reporter, Teller was one of three final candidates in the running, including Set It Up's Glen Powell and X-Men: Apocalypse star Nicholas Hoult, but it seems the Only the Brave actor wound up getting the role.
Powell also seemingly hinted that Teller had gotten the role, hilariously responding to the news by tweeting a link to the story and writing, "I'm taking down all the Tom Cruise posters in my bedroom. Maybe, I'll leave one. Two for symmetry. Okay, the posters are staying."
The project has been percolating for quite a long time, but in the past year, since Cruise confirmed in May 2017 that the project was actually happening, information about the long-awaited sequel has been trickling out slowly but surely. Along with Cruise and Teller, Entertainment Weekly reported in June that Val Kilmer, who played Maverick's rival Tom "Iceman" Kazansky, is set to return for the sequel. Kilmer was so excited that he prematurely announced the news via Facebook back in 2015, before the movie had been publicly confirmed, EW reported. He later wrote, "I jumped the gun with my post. I jumped the topgun… An innocent mistake. It was just such a wonderful phone call with my agent…"
In the first Top Gun, Maverick and Iceman didn't get along at first, but by the end of the movie they have come to respect one another, as Iceman tells Maverick, "You are still dangerous. You can be my wingman anytime."
Tom Cruise confirmed that production had started in May, posting a photo on Twitter that gave fans their first look at Maverick in the more than 30 years since the film's initial release.
While specific details about the movie's story have yet to be announced, according to Variety, in 2015 David Ellison, CEO of Skydance Media, hinted at a possible plotline. He stated,
"It is very much a world we live in today where it's drone technology and fifth generation fighters… It's really exploring the end of an era of dogfighting and fighter pilots and what that culture is today."
There have been a great many technological advancements in aircrafts and aviation warfare since viewers last saw Maverick and his comrades, so it will be interesting to see the gear they use this time around and how the characters have adjusted to those changes. Top Gun: Maverick is set to hit theaters on July 12, 2019, so fans will have to wait a little while to meet Goose's son and see Maverick back in action, but they can rewatch the first film until then.