Miley Cyrus' 2017 BBMAs Performance Outfit Was So Normal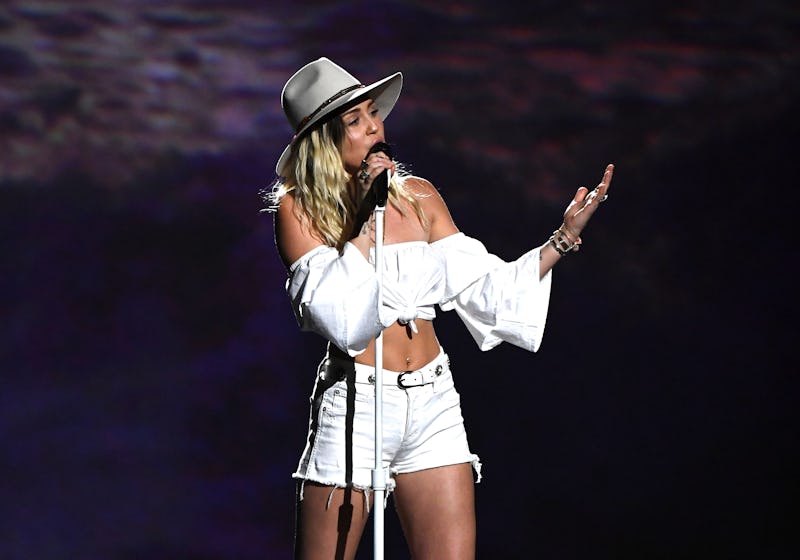 Ethan Miller/Getty Images Entertainment/Getty Images
Miley Cyrus is on the professional comeback trail, even though she never really went away and remained a fixture on the pop culture radar. Her album Bangerz came out back in 2013, so it has been nearly four years. Cyrus has grown out her hair and is trying new things, as evidenced by her new single "Malibu," which she performed at the 2017 Billboard Music Awards.
Also, Miley Cyrus' 2017 Billboard Music Awards performance outfit was shockingly normal and it was also super summery. Her ensemble was white, which is a hot weather-approved color. It also featured an off-the-shoulder top with puffy sleeves that was knotted at her tummy and high-waisted, Daisy Duke shorts. She topped her look off with the floppy beige hat she has been favoring as of late
Cyrus, who has been growing out her famous pixie into a messy, beachy, bedhead lob with tons of texture and which suits the chill vibe of her new material, opted for laid back and simple clothes while taking the stage.
Her BBMAs presentation was a far cry from the latex "outfit" she wore when she twerked her way into a new phase of her career alongside Robin Thicke at the 2013 VMAs in performance that became the stuff of legends.
Fast forward four years and Cyrus is reinventing herself yet again.
It was truly a normal moment by Miley standards. The singer was going for as outrageous as possible for several years. I dig those chunky ankle booties, too.
She has dialed things down and simple truly suits her. She looked just plain pretty.
Cyrus skipped the red carpet. So we can just reminisce about the 2013 BBMAs, at which Cyrus wore a black and white Balmain pantsuit before the Kardashians helped "Balmainia" become a thing.
Flashback fashion.