Miley Cyrus' "Inspired" Lyrics Are Very Earnest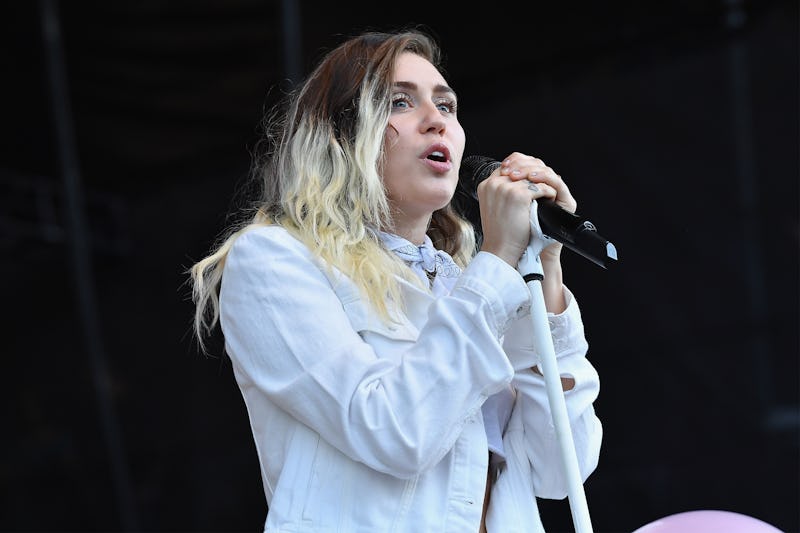 Dia Dipasupil/Getty Images Entertainment/Getty Images
Last month, Miley Cyrus scaled back her gonzo pop style for "Malibu," a cheery, minimalist crowd-pleaser. Now, she's getting back to her roots with open-air country ballad "Inspired." But where "Malibu" was an ode to her fiancé, Liam Hemsworth, Cyrus' "Inspired" lyrics play like a love letter to the world — which makes sense, given that the singer dedicated the song to Pride Month on Instagram.
"In celebration of #Pride & the desperate cry for more love in this world #Inspired is OUT NOW everywhere!!!!," she wrote, adding that she'll be donating her personal profits from the song to the Happy Hippie Foundation, which fights "injustice facing homeless youth, LGBTQ youth and other vulnerable populations." The track starts out with a fiddle-imbued reflection on what sounds like climate change, with Cyrus lamenting a worsening environment.
I'm writing down my dreams
All I'd like to see
Starting with the bees
Or else they're gonna die
There won't be no trees or air for us to breathe
She then calls back to her childhood days in rural Tennessee with her dad — pleasant memories that push her to want to make a difference.
I'll start feeling mad, but then I feel inspired
Thinking about the days coming home with dirty feet
From playing with my dad all day in the creek
He somehow has a way of knowing what to say
So when I'm feeling sad, he makes me feel inspired
The chorus then shifts to talk directly to her listeners, encouraging fans to open the door to change and strive for more.
We are meant for more
Pull the handle on the door that opens up to change
I know that sounds so strange
'Cause you've always felt so small, but know you aren't at all
And I hope you feel inspired
Oh, I hope you feel inspired
In the second and last verse, she speaks more broadly about hate and fear of difference, pleading the we come together and use the time we have to make a meaningful impact.
How can we escape all the fear and all the hate?
Is anyone watching us down here?
Death is life, it's not a curse
Reminds us of time and what it's worth
To make the most out of it while we're here
And then she dips once more into the chorus, ending on a final, rallying cry to "pull the handle on the door that opens up to change."
It's a simple but potent song, and one that resonates powerfully amidst our increasingly divided political climate. Whether you like Cyrus' music or not, everyone should be able to get on board with the message of this one.