Miley Cyrus & Liam Hemsworth Have The Strangest Couples' Tattoo & It's Oddly Romantic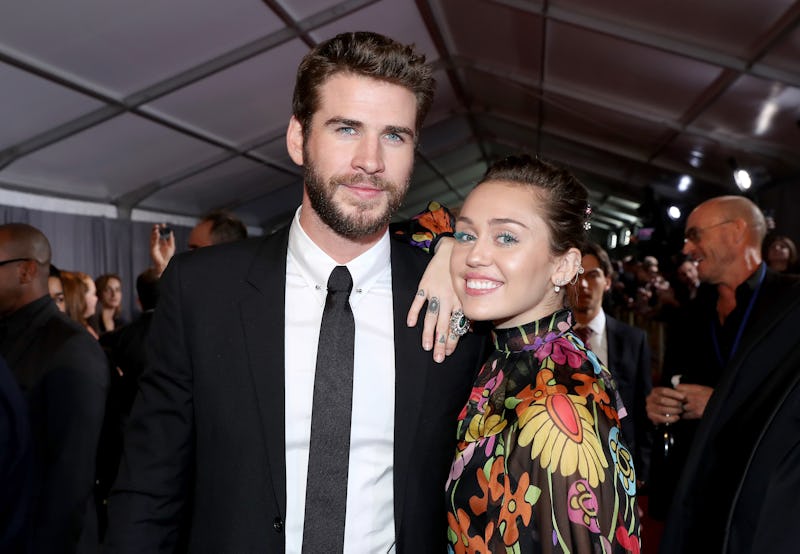 Rich Polk/Getty Images Entertainment/Getty Images
Miley Cyrus and Liam Hemsworth's love story is a constant roller coaster for fans and celebrity-gossip-lovers alike. Since meeting in 2009 on the set of The Last Song, the Nicholas Sparks movie post The Notebook fame, the duo have had their ups and downs, their private and public breakups, their secret reunions, and now possibly an under-the-wraps-marriage. Which, of course, is completely their own business, and they don't owe us any explanation. But that doesn't stop fans from trying to put the puzzle pieces together and looking for hints and clues along the way.
And one such clue about their relationship status is the pair's recently discovered matching couple tattoos. To get a sense of their history and how this ink relates, the couple first became engaged in 2012, only to be broken off in 2013, and back together in 2016 after a three year hiatus. And in 2016, that's where our first clue pops up in regards to their marital status: Matching condiment tattoos that may or may not equal their undying love for each other.
Cyrus and Hemsworth have matching Vegemite tattoos, and while completely random, it's sweetly romantic. In July 2016, when her engagement wasn't confirmed yet, Cyrus went to go visit tattoo artist Dr. Woo to add a teeny-tiny drawing of Vegemite to her bicep. Why, you ask? Vegemite is Hemsworth's favorite condiment, thanks to his Australian roots. What better way to carry around your significant other in your heart then to have their favorite spread tattooed on your body? It's sweet. Especially considering how public their relationship is — and that every move they make is observed by the hawk eyes of paparazzi and mega-fans — this was a lovely way to show their commitment to each other underneath everyone's radar.
But things only get more interesting in the rumor-mill after that tattoo debut. Just a month later, Cyrus posts a photo of herself at the pool, but her usual round-cut engagement ring isn't on her finger. Instead, there's a new diamond-encrusted band, and people start losing their minds. Is it a wedding band? Did they secretly get married? Or is she just wearing a random new ring on her ring finger and we're all just freaking out? We're not even sure if they're engaged at this point so the photo whips up a frenzy. Rumors start to fly and speculation grows tenfold.
In Oct. 2016 Cyrus confirms that she and Hemsworth are engaged during an interview with Ellen DeGeneres, but that is the last public announcement about their relationship we will get. Which is what makes these matching Vegemite tattoos so relevant: Hemsworth's tattoo was only discovered earlier this month, but he apparently has had it for two years, reportedly getting it around the same time as Cyrus. That fact is a testament to how well the couple can both keep a secret and their relationship details under wraps, meaning we shouldn't expect a wedding announcement anytime soon. They like their privacy and aren't itching to spill the beans.
The fresh speculation started earlier this month, when Hemsworth stepped out in Byron Bay, Australia, with a Vegemite tat on his left leg holding a Vegemite pillow. People started doing quick calculus in their heads and realized it was a matching one to Cyrus'. (You can see a close up of the tattoo here.)
While some were quick to wonder if this meant they were married, the Daily Mail reported that he might have gotten it around the same time Cyrus did, and fans were just noticing it now. It's new to us, old to them.
But regardless if the couple is hitched or not, the matching condiment tattoos are a cute and quirky way to show their love for each other, no matter how old they are.