Miley Cyrus Teases Her New Love Song On Twitter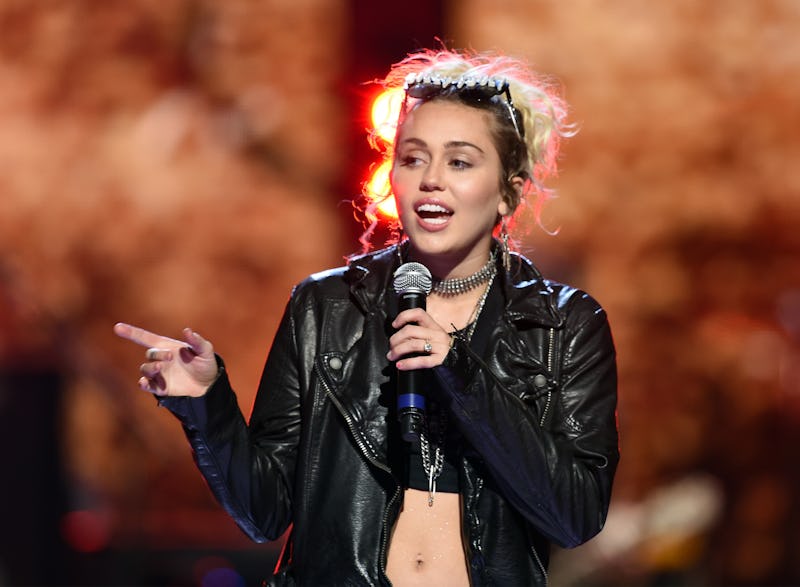 Kevin Winter/Getty Images Entertainment/Getty Images
If you're personally invested in the musical output of a certain former child star turned provocateur, buckle your seatbelt, because Miley Cyrus teased "Malibu" lyrics on Twitter. If the end result is anything like the mere snippet we were just served up, I'm calling it right here right now: this could very well be the song of the summer. Too much, too soon?
While the singer doesn't explicitly state the title of the track, the tweet follows hot on the heels of Cyrus's Billboard interview, in which she opened up about penning a new love song titled after the California beach community where she lives, which has a release date of May 11. She described it as "controversial in its sweetness," and now the proof's in the pudding.
While we don't get anything as explicit as an audio clip, the lyrics, combined with the sort of carefree, breezy still you'd get in an Urban Outfitters summer campaign, conjure up a romanticized vision of the year's sunniest season: endless heat and a passion to match. But this isn't some fictional love affair. As you may already have read in her interview, Cyrus's latest record is inspired by falling back in love with her ex-boyfriend, Liam Hemsworth.
One convincing reason it could win the hearts is the fact that it's autobiographical. This won't feel like a cynical grab for a track to dominate the May-August period with a catchy beat and a optimistic message simply because it's inspired by real events. According to the Happy Hippie, she now feels that her romantic break with The Hunger Games star was meant to be:
"...changing with someone else not changing like that is too hard. Suddenly you're like, 'I don't recognize you anymore.' We had to refall for each other."
When you look at the track as being fueled by the passion of two people who were once together, had a messy and extended breakup then reuniting, then that's pretty exciting. Now re-read those lyrics and luxuriate in their confessional quality. Is there a chance that this season, we're going to get a song of the summer with real soul? Miley Cyrus clearly wants to put herself in the running, so let's mark that down as a "maybe."