Miley Cyrus Sets A Release Date For Her Light-Hearted New Album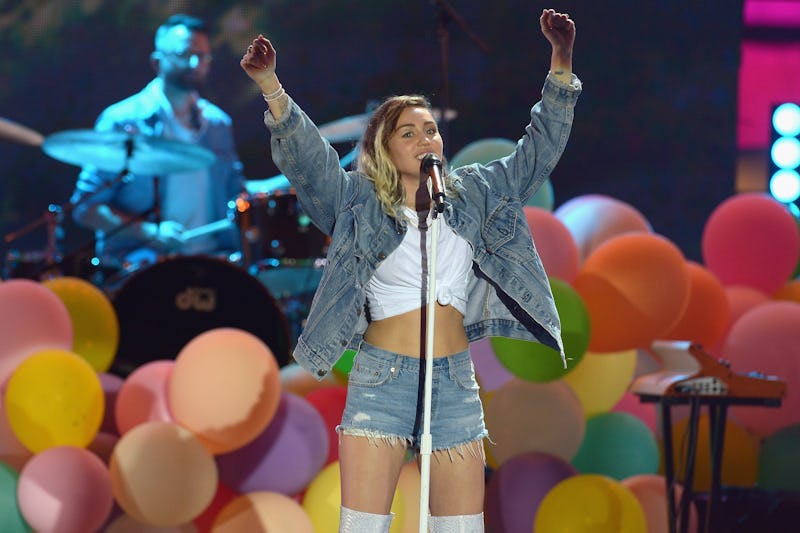 Jason Koerner/Getty Images Entertainment/Getty Images
A simpler time often seems impossible to remember these days. But, on Tuesday, Miley Cyrus announced her new album Younger Now that will give fans window back to happier times. The 24-year-old is perhaps throwing it back to the days of innocence before giant foam fingers and party anthems to give audiences warm, vibrant, and uplifting songs like her hit "Malibu." It's a complete 180-degree turn from Miley circa summer 2013, but the change of course may be exactly what fans need.
Cyrus announced the news with a post on her website including nothing but a photo of the back of a bedazzled leather jacket with Younger Now spelled out in rope, along with the release date September 29. It's definitely something a younger Cyrus would wear, and it somehow captures the feeling of carefree youth. From the photo and title alone, it's clear the singer's break from the spotlight provided inspiration for her new vision.
In May, the Cyrus explained her outlook on the new album, which is, in reality, set against the backdrop of social and political turmoil. "I'm ­giving the world a hug and saying, 'Hey, look. We're good — I love you,'" she told Billboard. While the Clinton supporter certainly hasn't been shy about expressing her point of view, polarizing ideas may take a back seat in the new album — one which Cyrus hopes will unite listeners.
Cyrus' spunk always came through in pop albums like Breakout in 2008 and Can't Be Tamed in 2010, but 2013's Bangerz is what really got people talking. The album included hip-hop and EDM-infused songs like "We Can't Stop" (which celebrated living freely, partying, and, well, drugs) and heart-wrenching tunes like "Wrecking Ball." As Cyrus explained to Billboard, she's now staying away from drugs while clear, focused, and eager to get her new work and happy themes out to the world. Plus, she's certainly been feeling nostalgic lately, posting numerous photos of herself as a child and with her family.
There's something undeniably universal about youth and love, and that universality is exactly what Cyrus is going for. Whether or not she succeeds remains to be seen come September.