Miley Cyrus's Met Gala Outfit Had One Sneaky Detail That Made It So On Theme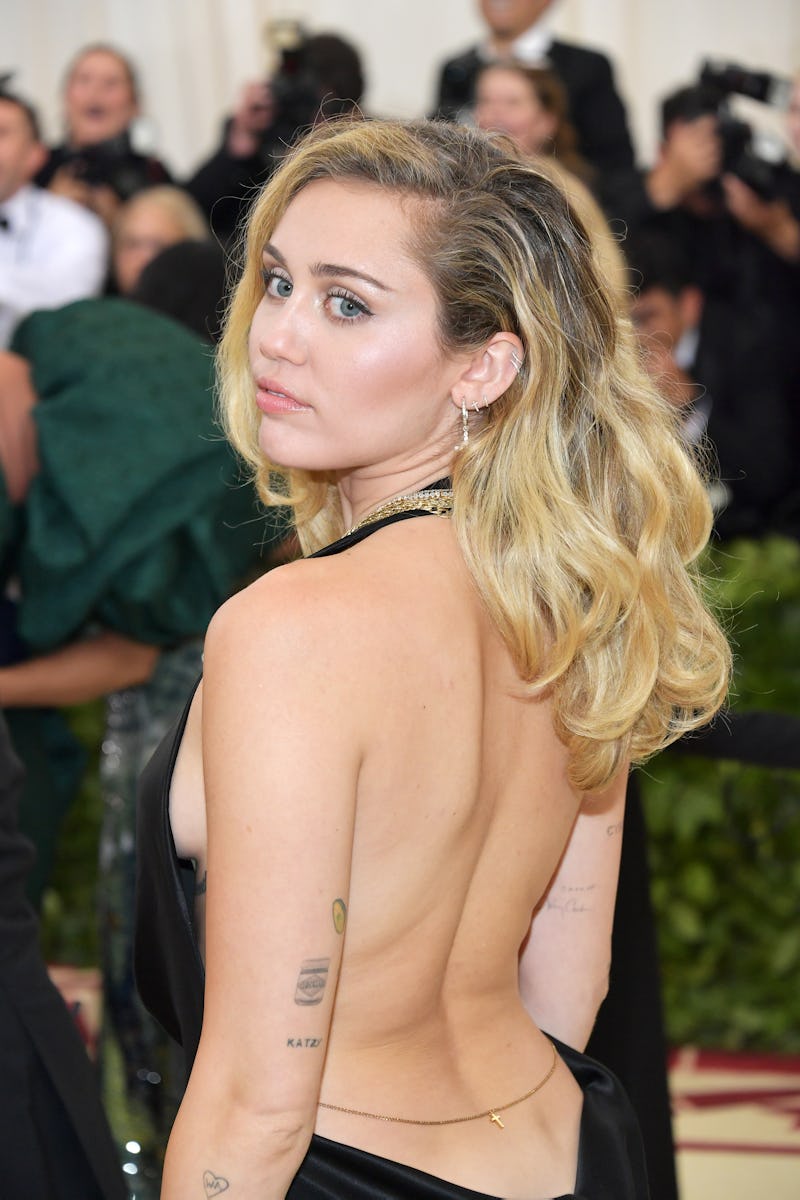 Neilson Barnard/Getty Images Entertainment/Getty Images
The Met Gala was filled with amazing, religiously themed outfits this year, but Miley Cyrus chose to pay tribute to the theme in a more low-key way. Miley Cyrus's 2018 Met Gala outfit was at first dragged for not being Christian-influenced enough, but it turns out her creative styling was in the details.
This year's theme was "Heavenly Bodies: Fashion and the Catholic Imagination," and it explored how Christianity has influenced fashion throughout the centuries. Many invitees decided to fully commit to the theme, where they showed up in different reiterations of angels, Mother Marys, and priests, wearing couture, heavy embroidery, and Renaissance-like jewels. But Cyrus decided to go a different route and skip the maximalist look and go with a slinky black dress instead.
She walked the red carpet in a daring black gown with no back and a deep, plunging neckline, choosing to skip looking like a character from an art history painting and instead play with the "sin" aspect of the religion. Because that is exactly what the black dress looked like, and she looked amazing wearing it.
The Stella McCartney dress was made out of black silk and showed plenty of cleavage, and the artist accessorized the dress with overlapping strands of gold necklaces and her many tattoos.
Fashion pundits and people Tweeting at home were quick to say that Cyrus didn't really take the theme to its full potential, especially when compared to other attendees. Cardi B showed up as the pregnant Madonna and Rihanna came dressed as the Pope, so it's true that Cyrus's look was a bit more tamed.
But it turns out that she decided to focus on channeling the theme through her details — or more specifically, through her shoes.
She accented her slip with strappy high heels, but there was something special about them. They were custom made vegan heels by MINK, and the stiletto was in the form of a gold crucifix.
Since Cyrus's dress was long with a trailing train, the shoes were hard to spot as she walked down the red carpet.
In addition to her cross-adorned heels, she also wore hoops with large bezel crosses, a spike cross charm bracelet, small cross studs, a pave chain link ring, and a cross necklace, all by designer Sydney Evan.
Cyrus also wasn't the only attendee that decided to go low-key with their look. She was in good company, where plenty of other celebs decided to take a quieter approach to the religious theme.
For example, Kendall Jenner skipped the gown aspect of the event altogether and came in an off-the-shoulder white jumpsuit with ruched sheer opera gloves. Since white equals holiness in Christianity, she was right on trend.
Gisele Bundchen came in a light gold dress with avant garde cutouts, but when compared to the other couture gowns and heavily-embroidered pieces milling about her, her dress was more on the minimalist side. It was still on-topic though, seeing how many cathedrals have ornate gold carvings and art.
Then there was Kylie Jenner, who came in a structured black dress and Matrix-inspired sunglasses. Some people theorized she was channeling nun's garbs, but it was definitely subtle.
Then there was Kate Moss who showed up in a little black dress with a banded bottom and halter top neckline. She hinted at the theme through the straps of her dress, where the "halter strings" morphed into black angel wings. It was a quiet nod to Christianity, but not everyone likes to be on the nose with their interpretations.
Karlie Kloss also went minimalist with her look, choosing to sport a long, sweeping black dress with a stomach cut-out and a plunging back.
Not everyone went over the top with their outfits, but instead focused on their accessories and details to bring the theme through. And Miley Cyrus and her crucifix shoes are the perfect example of that.