This Senator Wants The VA To Give Military Sexual Assault Survivors The Support They Need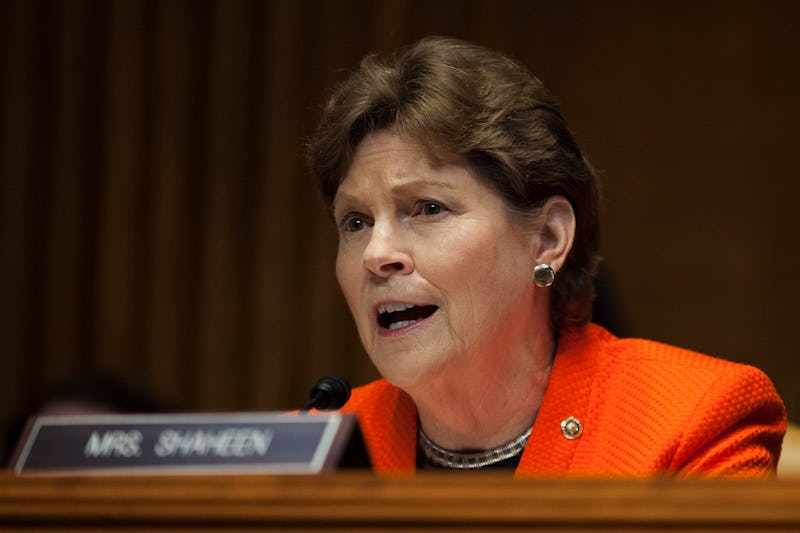 Zach Gibson/Getty Images News/Getty Images
One senator is demanding answers following reports that clerical errors may have caused the Department of Veteran Affairs to deny benefits to survivors of military sexual assault. In a letter sent Thursday to Veteran Affairs Secretary Robert Wilkie, New Hampshire Sen. Jeanne Shaheen asked how the VA will assist military sexual assault survivors going forward and urged the agency to immediately begin implementing new ways to handle benefit claims related to military sexual assault.
"I write to express concern regarding the recent report from the Department of Veterans Affairs (VA) Office of Inspector General (OIG), which found that the VA wrongly denied approximately 1,300 claims of Post-Traumatic Stress Disorder (PTSD) related to military sexual trauma (MST) in 2017," Shaneen wrote in her letter to Wilkie, which Bustle has obtained. "I am deeply disturbed by the conclusions of this investigation and urge you to immediately begin implementing the OIG recommendations to remedy these failures and ensure MST survivors receive the support they deserve."
Earlier this week, a office of inspector general report found that "nearly half of denied [military-sexual-assault-related claims were not properly processed." The report estimated that the VA may have wrongfully denied benefits in at least 1,300 cases related to instances of military sexual assault between April and September 2017.
"[Veterans Benefits Administration] did not always fulfill its obligation to help veterans prove their military sexual trauma-related claims," the report noted. "Staff did not follow required procedures for processing these claims, which potentially resulted in undue stress to veterans as well as a denial of compensation benefits for victims of MST who could have been entitled to receive them."
A spokesperson for the VA told Bustle earlier this week that it would begin implementing the IG's six recommendations "right away" and pledged to review every military sexual trauma-related benefit claim denied between October 2016 and June 2018. "If mistakes were made, we will fix them in order to ensure affected veterans are getting all of the support, benefits and services they have earned," they told Bustle.
In her letter to Wilkie, Shaheen, who has been an outspoken advocate against sexual assault throughout her career in politics, noted that military sexual assault "represents a life-altering traumatic experience that often dramatically impacts the service member's physical and mental health and is more likely to result in symptoms of PTSD than other types of trauma, including combat."
She went on to note that her office has worked with New Hampshire veterans who suffer from PTSD related to military sexual assault and who have had their benefit cases denied or delayed by what Shaheen called "a time consuming and convoluted VA process." While Shaheen said she will continue to serve as a liaison between these veterans and the VA, her hope is "that veterans will be able to resolve their claims effectively and efficiently."
She urged Wilkie to "immediately address" the VA's Office of Inspector General report's findings regarding denied claims in order to ensure survivors receive the care and benefits they deserve. "I respectfully request a timely response detailing the steps that the VA is taking to ensure that PTSD claims related to MST are managed appropriately and without delay," Shaheen wrote.