Millie Bobby Brown's New Movie Might Just Make Her The Youngest Hollywood Producer Ever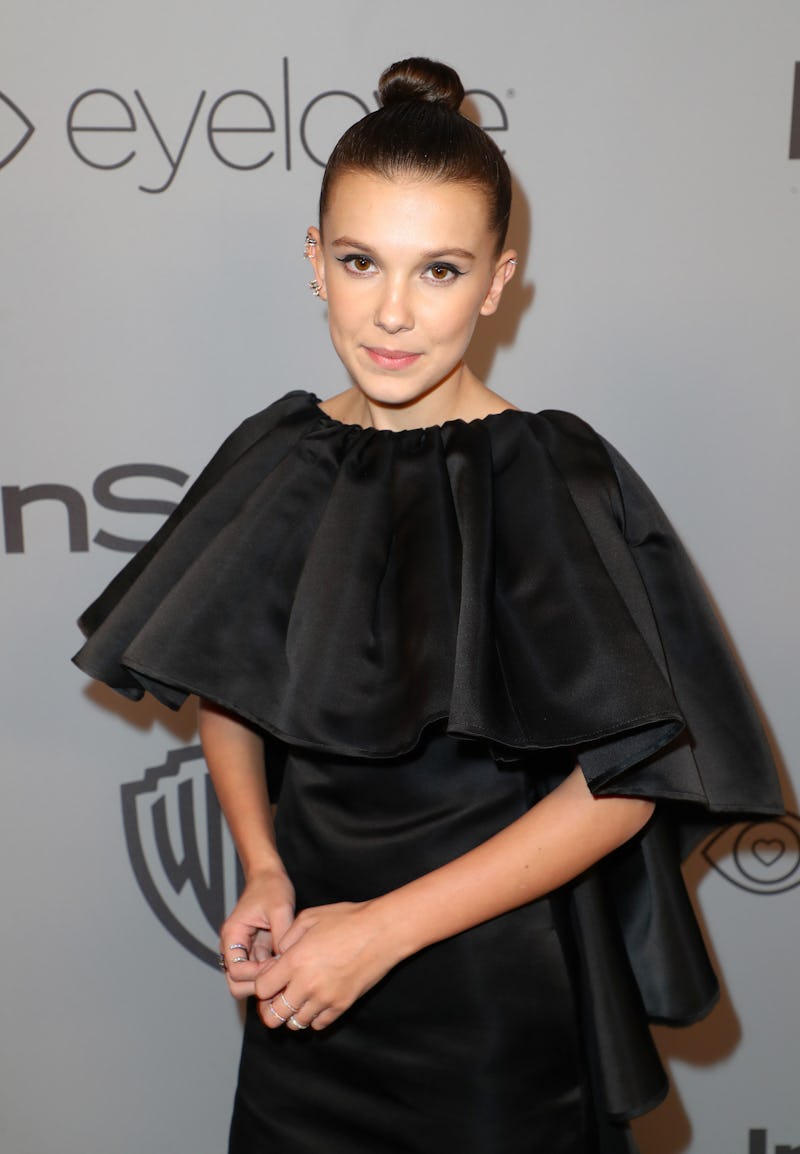 Joe Scarnici/Getty Images Entertainment/Getty Images
Most people love and know her as Eleven, but this actor is about to show the world more of her talents. Millie Bobby Brown will produce a feature film series, and the movie deal may just be historic. According to Deadline, the Stranger Things star made a deal with Legendary Entertainment to star in and produce a film franchise based on Nancy Springer's Enola Holmes Mysteries novels. Does the deal make Brown the youngest Hollywood producer to date? It sounds like the 13-year-old could be making a business decision for the books.
While it's hard to pinpoint if Brown is actually breaking a record, she's certainly opening doors and settling a new bar. In early 2017, Tragedy Girls producer Tara Ansley was referred to as "one of America's youngest feature film producers" by Forbes. Ansley, whose film premiered at SXSW, is 29. In 2016, male producers Damien Chazelle (La La Land) and Adele Romanski (Moonlight), 32 and 34, respectively, got attention for being "young producers" in the Oscars race by The Los Angeles Times.
In IMDb's list of "young producers to look out for" in 2014, there were no producers under the age of 20 (at the time). That same year, research by stephenfollows.com (a site run by an "established data researcher in the film industry") suggested that 20 percent of Hollywood film producers were under 40 years old, and that the average age for a producer of major feature films was 52 years old. If there hasn't been a distinct record set for Hollywood's youngest feature film producer, there will be now.
While additional details about the deal are under wraps, it seems like Brown made an agreement with a studio that she's familiar with and trusts. The actor just finished shooting a lead role in Legendary and Warner Brothers' Godzilla sequel. The actor is pursuing one on-screen action after the next, and given her experience in Stranger Things, fans will likely love her in Enola Holmes.
The six-part mystery series includes books from 2006 to 2010, starting with The Case of the Missing Marquess. The fearless antagonist, Enola, is Sherlock and Mycroft Holmes' younger sister who has her own arsenal of detective skills up her sleeve. Enola goes in disguise and embarks on solo adventures to uncover puzzling mysteries surrounding her family and family friends (like Sherlock's right-hand man Dr. Watson). The first and fifth books received Edgar Award nominations in 2007 and 2010, respectively.
Brown is proving age is just a number, both behind the camera and in front. In 2017, she was nominated for the Outstanding Supporting Actress in a Drama Series Emmy. Although Brown didn't win the award, she was close to becoming the youngest Emmy winner ever (after Roxana Zal took the Emmy in 1984 for Something About Amelia at 14). Brown won the Best Actor in a Show Award at the MTV Movie & TV Awards in 2017.
Plus, who has that much poise at 13? The England native has taken off since Stranger Things became such a massive hit in 2016, and she's hitting the ground running with so much elegance and class. She's graced the covers of Variety, Teen Vogue, Entertainment Weekly, and InStyle to name a few, and is a pro at the late night talk show circuit. On top of it, Brown devotes time to important causes like UNICEF. She's 13 and kicking total ass, and all of these roles will certainly help her call the shots behind the scenes.
Brown's certainly seasoned, talented, and equipped enough to handle all of the roles she has in front of her. And if she takes inspiration from Stranger Things to bring Enola Holmes to life, what more could fans ask for?