Millie Bobby Brown Skipped The 2018 MTV Movie & TV Awards Red Carpet For An Extremely Understandable Reason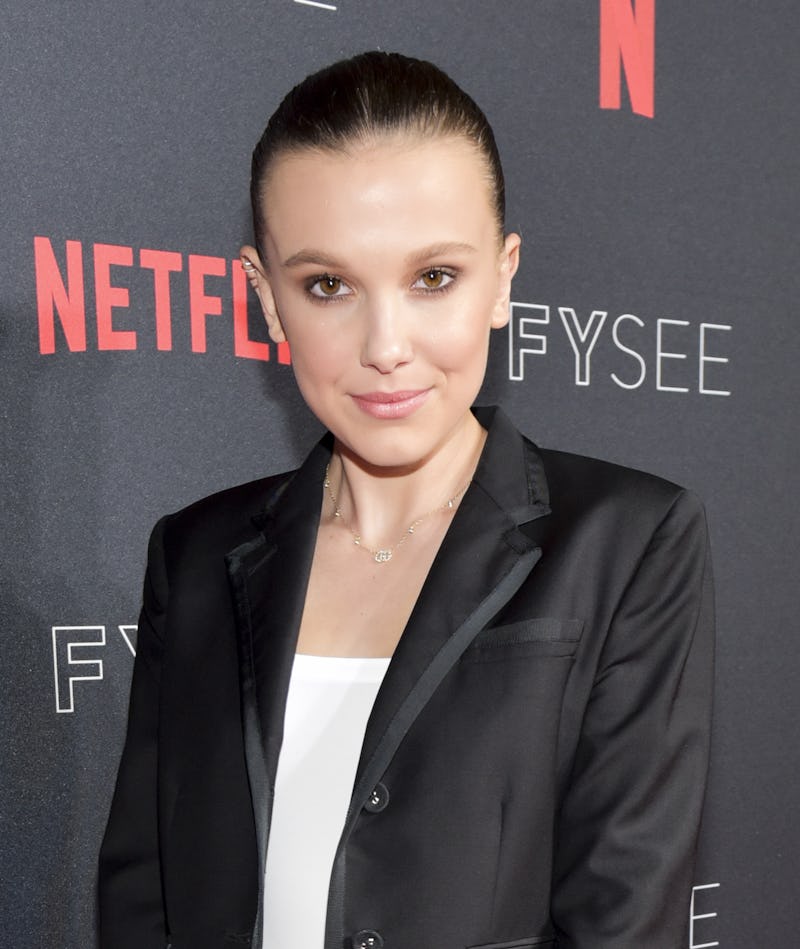 Rodin Eckenroth/Getty Images Entertainment/Getty Images
The Stranger Things cast was missing one member in their latest meet-up. According to her Instagram post, Millie Bobby Brown skipped the MTV Movie & TV Awards because of a broken kneecap. That's a pretty good excuse not to attend. She might have skipped out on the event, but she says that she was there in spirit. Unfortunately, that means that we don't get to see another epic outfit from the actress.
The show wouldn't be the same without Brown, and neither is the red carpet. Although the rest of the Stranger Things cast showed up to walk the runway together, the gang wasn't quite complete. Brown took to Instagram the day before the event to let people know that she was skipping the event. Because, you know, there's nothing better than keeping your fans in the loop.
She calls the broken kneecap a "milestone" in her life, as she has never broken a bone before. The actress also mentioned that she had orders not to go to the event.
"I have split my kneecap, so I, from the doctor's orders, he told me to rest up," she says in the Instagram video. "That means that I won't be at the MTV awards this weekend."
Brown continued the video by wishing the rest of the cast and incredible night on the red carpet and sending them luck.
The cast will need some major luck, too. The cast of Stranger Things is nominated for a whopping seven awards at the MTV Movie and TV Awards. Brown and Finn Wolfhard are up for Best Kiss, Wolfhard and Noah Schnapp for Best On-Screen Duo, Schnapp for Scared-As-Shit Performance, Brown for Best Actor in a Show, Dacre Montgomery for Best Scene Stealer, and the entire cast for Best Musical Moment and Show Of The Year.
Although Brown in nominated for quite a few awards for the night, there was no way she'd be able to hobble up all those stairs to accept. She will definitely be missed, but the doctor is probably right with telling her to take a break.
Not to mention that it would make dressing a whole lot more complicated. As shown in the Instagram video, Brown is rocking a knee brace as well as a pair of crutched. While the actress probably could have rocked it if she wanted to, it's not exactly the most ideal accessories in the history of red carpets.
The rest of the Stranger Things stars did get together on the red carpet though. The four of them had enough style to make up for Brown not being there. Between the prints, incredible jackets, and risk-taking colors, the night was pretty darn epic. Just look at how Sadie Sink rocks that bright pink sequined suit.
Of course, Brown will definitely be missed though. No matter what red carpet the actress steps onto, she completely nails it. She's constantly changing up her style and accessories, too. You never know what she'll wear next, but it's safe to say that no one was expecting crutches and a brace though.
At last year's awards show, Brown rocked an all-white, long-sleeve dress. She finished it off with wet-looking, slicked-back hair that was super edgy. The actress still had short hair — because of her shaved style for the show. Unfortunately, there will be no comparison to how it looks this year.
Of course, as sad as it is to see that Brown won't be walking the red carpet, it's even sadder to know that she broke her knee-cap. With a third season of Stranger Things on the way, there's a good chance that she'll be there next year though.