Millie Bobby Brown's Shoe Choice At The SAG Awards Is Giving Twitter LIFE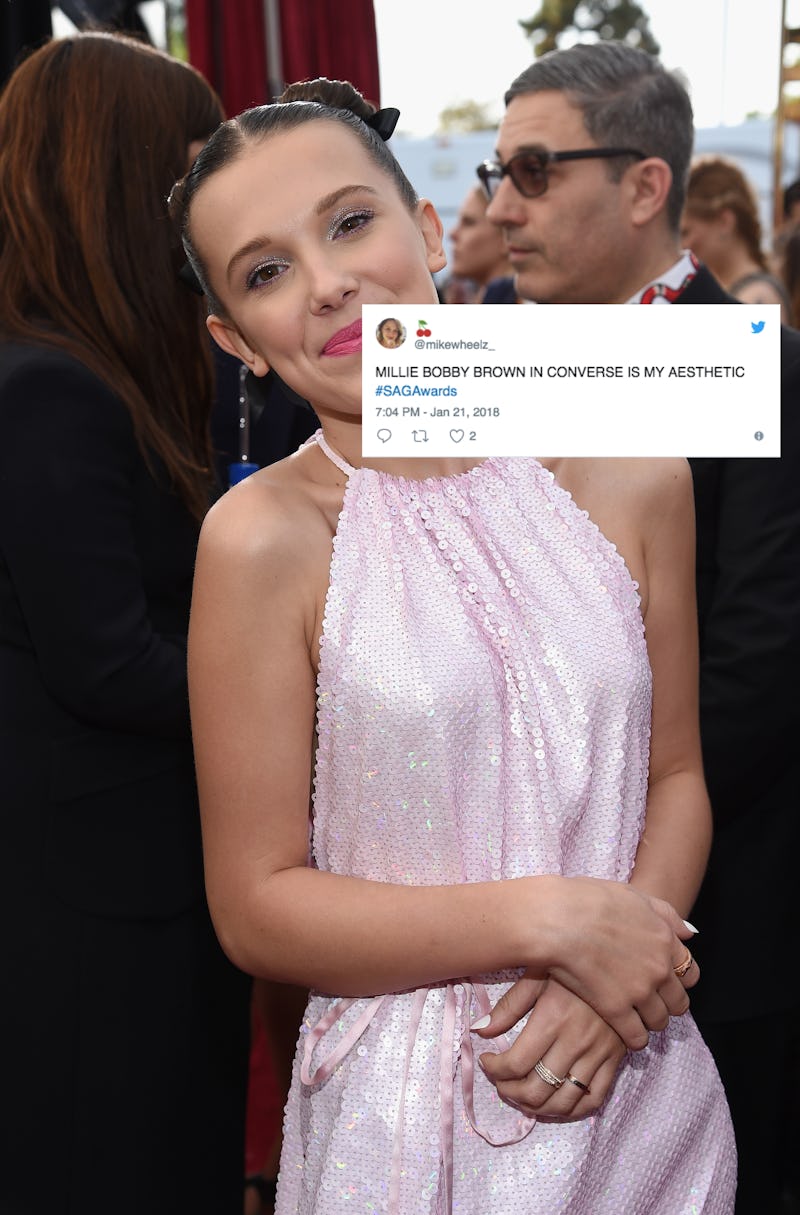 The best part of the red carpet is seeing how the stars bring their personality to life through their clothing. Millie Bobby Brown wore Converse shoes to the SAG Awards, and Twitter is absolutely loving the quirky-meets-sophisticated look. It was definitely the most unexpected red carpet moment of the night that did not go unnoticed. Prepare to see this trend come to life this year, because Brown might be 13-year-old, but she is a trendsetter.
If you don't already own a pair of Converse, you will want to run out and buy a pair very soon. Brown's high and low end look is a combination of all the best things about fashion. While the dress went with the typical red-carpet unofficial fashion rules of over-the-top ensembles and the Converse made it oh-so relatable. She topped it all off with a pair of space buns to make for the ultimate quirky look. While her head-to-toe look was great, it was the shoes that had people talking.
Instead of wearing a pair of heels, Brown wore a pair of bright-white Converse to complete her look. The $50 pair of shoes was without a doubt the most affordable item that was seen on the red carpet all night.
If Sporty and Posh Spice raised a child together, this is exactly what she would look like. Brown said on Twitter that she has never worn pink on the red carpet before, but this is a heck of a way to start out. While the shoes weren't pink, everything else was, proving that you can always use a pair of white Converse in your closet.
In fact, you can snag the exact same pair for just $35 at Nordstrom. Wear them with jeans, wear them with gowns — the choice is yours. There's honestly no way to mess this trend up.
Chuck Taylor® Sneaker, $34.95, Nordstrom
It should come as no surprise to fans that Brown stepped out in the sneakers tonight. She did a campaign with the brand in July 2017, and has been showing how she styles them ever since. Of course, none of the images or videos show her in a gown wearing them though. She did that all on her own.
People freaked out as soon as they saw her hit the red carpet in the comfy designs. People of every age could resonate with the look, whether that meant a flashback to what they used to wear or just style inspiration for the future. The reactions were just as good as the outfit all together.
Throw-back for some, shining moment for others. I have to say that I never looked looking this chic when I wore them though.
All caps are definitely needed when you're talking about a look this strong.
The era is back and it's here full-force. Because all great trends come back again.
If by "adorable" you mean she makes her own fashion rules and comes ready to serve, then I wholeheartedly agree.
Haters 'gonna hate, but Millie will continue to be Millie.
There are no rules, Mom. GOSH.
If anyone is wondering what I'll be wearing for the rest of 2018, this is it.
Uhm. I would die to be that stylish at 25...
The only complaint is that she didn't bust out a pair of pink Converse to match.
You don't need to spend a lot of money to look great. All you need is a little bit of imagination and comfort.
Be right back. I'm going to buy a pair of these kicks before they completely sell out. Because you already know these are about to be the trend of the year.