Millie Bobby Brown Wore Red Armani To The SAGs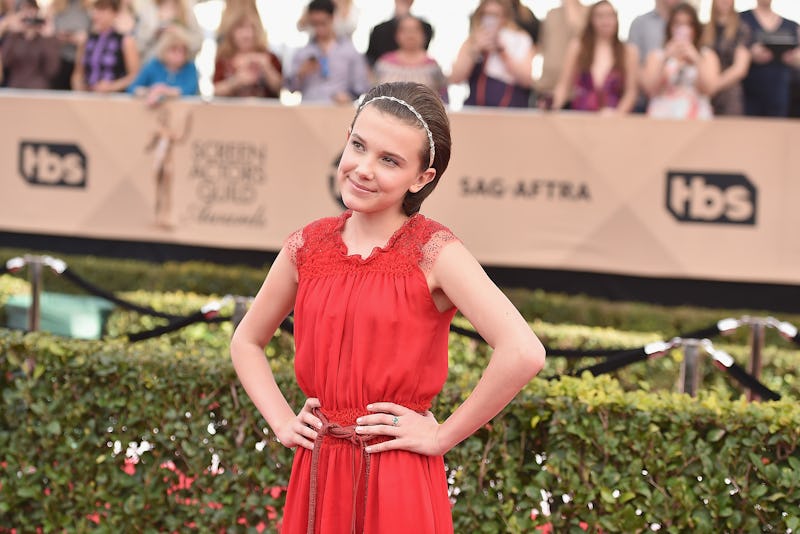 Alberto E. Rodriguez/Getty Images Entertainment/Getty Images
You know who is becoming one to watch (and to ultimately gawk at) on red carpets and at major Hollywood events? Oh, just Stranger Things star Millie Bobby Brown, who wore a red dress to the 2017 SAG Awards. Red is a bold color for any Hollywood vet to wear to a major event but even more so for an actor who is turning 13 next month. But MBB is fearless with her career and her fashion choices. Therefore, she absolutely slayed her age-appropriate, adorable, and Grecian-style dress, which was a custom Giorgio Armani design. It was sleeveless, had a ruffled collar, and a sash. All three of those elements, combined with the crimson color, made Brown one of the best dressed stars of the night.
Brown carried a white clutch and wore her short brown hair slicked back off her face and fashioned with a golden headband. She has a way with accessories, having toted a custom clutch with her name on it to the 2016 Emmys.
During her interview with E!, Brown revealed that her frock was an Armani original and was asked if she provided any input into the design. She elegantly revealed that he sketched it for her and she was happy to accept it.
She's not even a teenager yet but Millie Bobby Brown already has a killer sense of style.
Seriously, she is #EverythingGoals — fashion, life, style, cuteness, sass, you name it.
Those poses, though! MBB is a pre-teen boss.
Yeah, her entire presentation was perfection.
This!
Slay, Millie, slay!