You Probably Want To Watch Milo Ventimiglia Get Drenched In Water For A Good Cause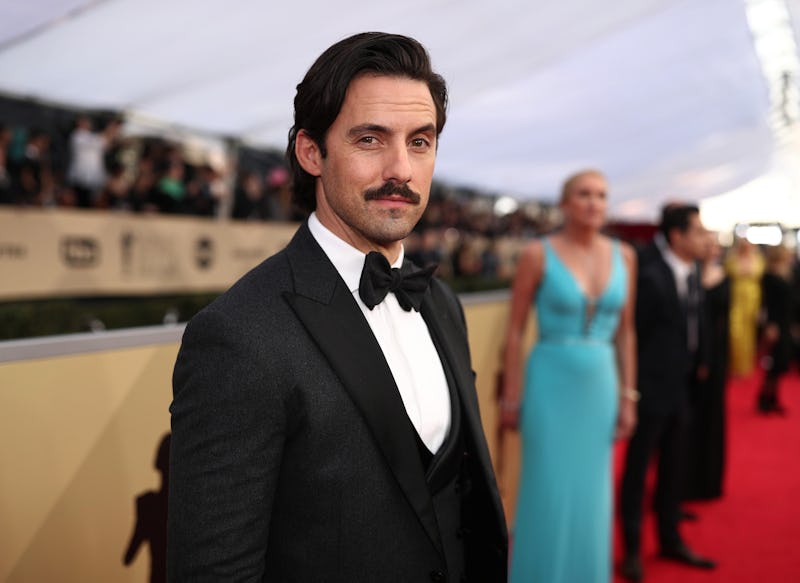 Christopher Polk/Getty Images Entertainment/Getty Images
In what could easily end up being the best thing you see today, Milo Ventimiglia got soaked on The Ellen DeGeneres Show — a newly-developed pattern that no one is complaining about. On Feb. 7, Ventimiglia appeared on Ellen, and got roped into a game called "Make It Rain!" alongside the show's own DJ tWitch. The end-goal of the trivia-style match-up was to raise money for a charity of the actor's choosing, but he got pretty drenched in the process of competing, so, everybody wins.
DeGeneres asked Ventimiglia and tWitch a series of questions, and whoever answered correctly was forced to pull down one of many levers suspended from umbrellas. Only one lever would release the $10,000 charity donation — the rest of them just dumped a bunch of water on them.
DJ tWitch was the first of the two to get doused, but Ventimiglia soon saw the same fate after correctly answering the second question. And the third question. And the fourth question. Before getting to number five, DeGeneres announced, "Now it's time for you to win, Milo" — which basically implies that the game was rigged, right? Either way, no complaints. Ventimiglia pulled the last lever, got showered with a flurry of cash, and was then presented with a giant check (and hopefully a dry towel or two).
It appears as if getting Ventimiglia soaked is becoming a bit of a pattern on DeGeneres' show. Fans may remember that the actor was interviewed on Ellen by guest host Miley Cyrus back in December 2016 — an interview that began with a blown-up projection of Ventimiglia's bare butt, which had been screen-shotted from an episode of This Is Us. At the end of the segment, Ventimiglia announced, "I'm going to take my clothes off and get dunked" after the break — and that's exactly what went down.
The actor changed into swim trunks and a T-shirt before climbing into the Splash Tank, a spectacle intended to raise money and awareness for The Breast Cancer Research Foundation. Oh, and he also ended up taking off his shirt — "totally worth getting objectified" for a good cause, though, Cyrus insisted.
It only took Cyrus two tries before she hit the Splash Tank target. Ventimglia got drenched, the crowd cheered, and The Breast Cancer Research Foundation got a $10,000 donation. Again, everybody wins.
Of course, Ventimiglia has done more than just get wet on Ellen. One time he did push-ups (which is something the actor did on an episode of This Is Us, as well as behind-the-scenes with co-star Sterling K. Brown on his back). "We could do some push-ups here, if you want to," Ventimiglia suggested to DeGeneres. "I'd love to get on your back while you do a push-up," DeGeneres replied. Same, Ellen, same.
And, during what we can now call a rare instance of the actor not getting drenched on Ellen, in September 2017, Ventimiglia — alongside This Is Us co-stars Mandy Moore and Sterling K. Brown — took a very serious question about the show from a member of the audience. Referring to the aforementioned blown-up butt-shot episode, one woman asked, "We got to see your butt in Season 1. Are we going to get to see more of your butt in Season 2? Maybe a little something more?" Ventimiglia suggested that she re-watch Season 1 for a little more "Milo butt."
If it wasn't already, it is now very clear what DeGeneres fans are looking for when Milo Ventimiglia goes on the show.