Milo Ventimiglia Only Knows These Two Mandy Moore Songs From The 2000s — Seriously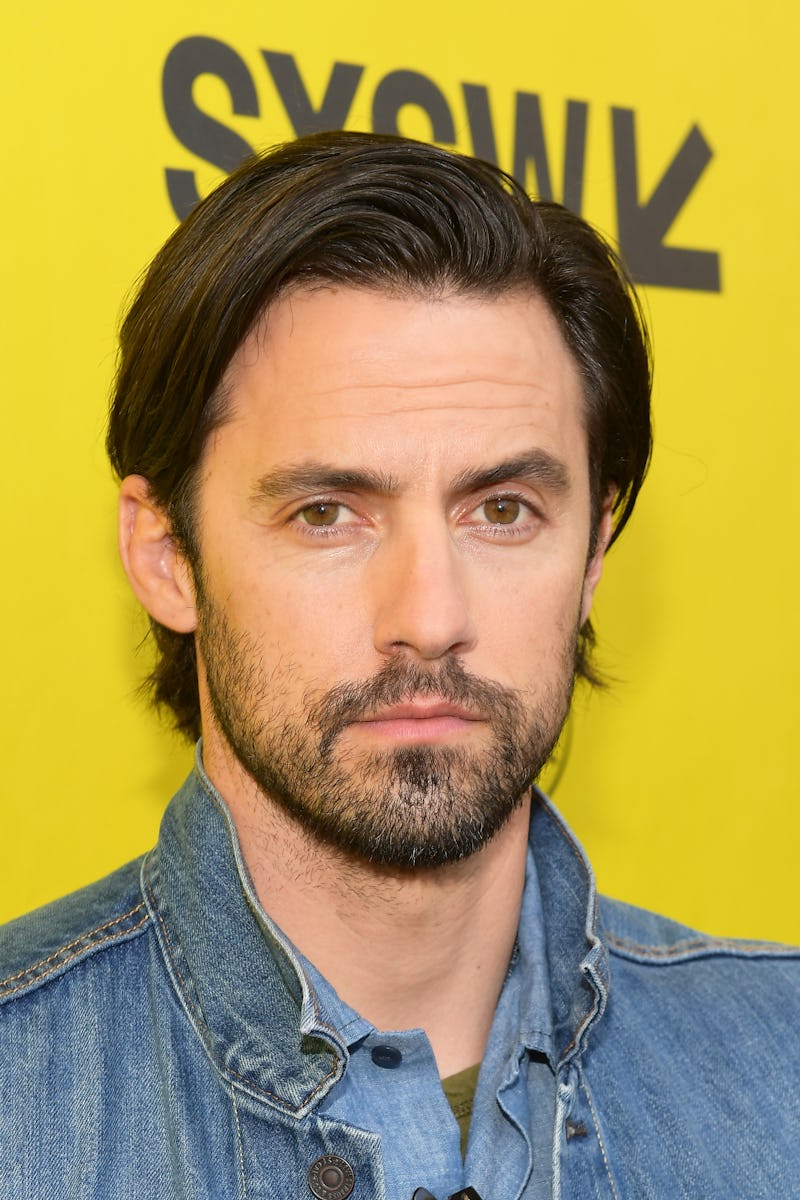 Matt Winkelmeyer/Getty Images Entertainment/Getty Images
As fans of This Is Us are already well aware, series star Milo Ventimiglia embodies pretty much all the reigning characteristics of a bona fide "good guy." That sentiment proved true once again during a Monday night appearance on Andy Cohen's Watch What Happens Live, when the actor managed to turn a sinking round of "Plead the Fifth" into a sweet homage to his onscreen wife's — and real-life friend's — pop music career. Because, even though Milo Ventimiglia can only name two Mandy Moore songs, he's definitely seen the music videos. Well, one of them. (At least.)
For what it's worth Ventimiglia's Watch What Happens Live appearance was chalk-full of quotable moments by Ventimiglia, who seems entirely unable to utter a word that's any less than wholesome. That made for some interesting juxtaposition during Monday night's show, wherein Ventimiglia shared the WWHL stage with Cohen as well as Ricky Martin. (When an audience member challenged Ventimiglia to come up with his own personal tagline, a la Real Housewives, he offered one that, he said, was inspired by his This Is Us character: "Safety first, second, and third," Ventimiglia said. A notable departure from the ones Housewives fans are used to, that's for sure.)
One of the evening's funnier moments came at the hands of a good ol' fashioned round of "Plead the Fifth." For those unfamiliar with Cohen's markedly stressful talkshow activity, the rules are pretty simple: Cohen rolls out a series of catch-22-type questions, and the interviewee (lucky Ventimiglia) must answer all of them except for one. Hence, the game's clever title. Suffice to say, Ventimiglia might have used his "pass" card a little too early on. Because, by Cohen's final question, the actor was scrambling to come up with answers. That being said, in classic Ventimiglia fashion, he scrambled with a smile.
"Milo," Cohen began, kickstarting the activity's final round. "Name three Mandy Moore songs." The audience immediately erupted with some combination of supportive cheers and uproarious laughter. Ventimiglia paused, flashing his famous sideways smile toward the camera. At first, it looked like the question might have had him stumped. But, of course, he bounced back pretty quickly. Or, he tried to, at least.
Cohen, meanwhile, fanned himself with a stack of notecards and took a sip of his cocktail.
"I think her album was called Candy," Ventimiglia offered first. And, even though "Candy" was technically Moore's debut single (which dropped in mid-1999, with the full album, So Real, following several months later), Cohen still let the actor have that one. Ostensibly on a roll, Ventimiglia continued, listing Moore's 2001 single, "Crush," as song no. 2. But, when it came down to his third, and final, response, Ventimiglia seemed to be drawing a blank.
Still, he made sure the WWHL audience knew that, even if he can't rattle off a list of Moore's songs on the spot, Ventimiglia has still done his due diligence to support his co-star's music. "I know she was only, like, 15 when she was driving the Bug," Ventimiglia stammered, referencing the music video to Moore's "Candy" in lieu of a third answer.
While he might not have had all the details straight concerning the early days of his co-star's pop music career, it certainly seems like he's done his part to study up — at least, a little bit. Because, upon further speculation, Ventimiglia was totally right: the "Candy" music video does see a teenaged Moore behind the wheel of a lime-green Volkswagen Beetle. Fact-checks aside, it's pretty funny to imagine Ventimiglia watching the "Candy" music video at all.
By the time Cohen's Mandy Moore-themed question rolled around, Ventimiglia had already pled the fifth. Because, as tends to be characteristic of Cohen's game-time stratagems on WWHL, the host opened the question round with a doozy. "Name one Gilmore Girls story line that jumped the shark," the Bravo host asked. Opting out, Ventimiglia pled the fifth. No real shocker there, as many of the beloved This Is Us star's fans could probably corroborate. As far as Ventimiglia's public persona is concerned, the famously kind-hearted actor is generally not one for bad-mouthing.
Suffice to say, Ventimiglia's uniquely charming disposition only continued to crop up throughout the remainder of his WWHL appearance, particularly during his stint in Cohen's "Plead the Fifth" hot-seat. Post-Gilmore Girls inquiry, Cohen launched into the game's second question, helmed by none other than Chrissy Metz, Ventimiglia's co-star and real-life friend. "Who is the hottest guy on This Is Us?" Metz asked via an enormous screen behind them.
Of course, once again living up to his perennial "good guy" status, Ventimiglia took the question like a champ, hardly pausing for a moment before segueing into his flawless reply. It was Justin Hartley — who, alongside Metz and Sterling K. Brown, plays one of the series' Pearson triplets — who Ventimiglia named first, though he immediately followed up his initial response with a distinctly wholesome (and honestly, much-needed) addendum, acknowledging that "Sterling K. Brown is right up there, if not more." And, in a final gesture of humility, the heart-throb actor added, "I'm definitely the bronze medal."
He might not have Moore's greatest hits compilation memorized, but as far as his adoring fans are concerned, Ventimiglia certainly takes home the gold, every time.