Mindy Kaling's Dartmouth Commencement Speech Had A Special Message For The Women Graduates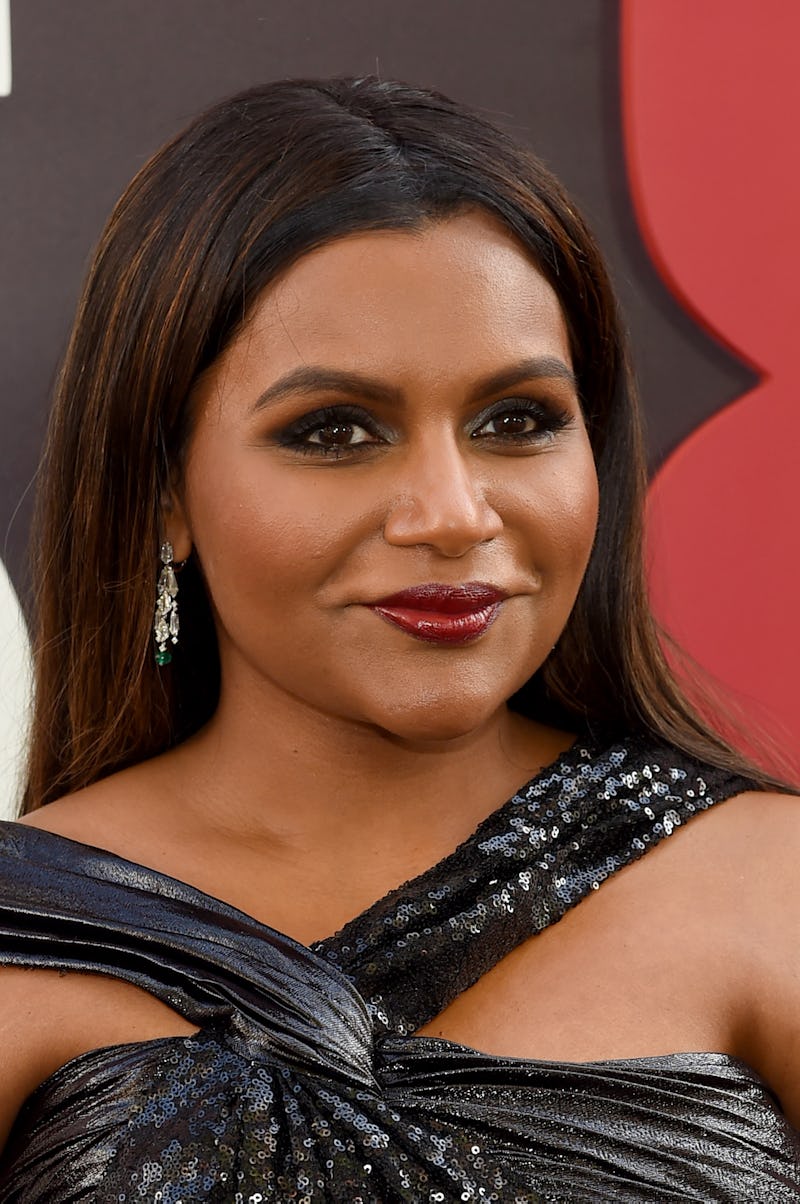 Jamie McCarthy/Getty Images Entertainment/Getty Images
It's commencement season, and that means plenty of inspiring speeches. On Sunday, Mindy Kaling gave a Dartmouth commencement speech and encouraged students to root for themselves, and the message had a special message for women. Kaling's speech at her alma mater was filled with jokes, but offered useful advice about post-grad life and adulthood. One of the big takeaways from the speech was a message about believing in and advocating for yourself.
"You have to have insane confidence in yourself, even if it's not real," she said. "You need to be your own cheerleader now, because there isn't a room full of people waiting with pom poms to tell you 'you did it, we've been waiting all this time for you to succeed.'" The message is especially resonant coming from the star, whose own accomplishments in Hollywood have been groundbreaking.
The Mindy Project star also wanted the graduates to know that they can be successful and supportive of peers. "I'm giving you permission to root for yourself, and while you're at it, root for those around you," she said. "It took me a long time to realize that success isn't a zero sum game."
This message is especially important for women, as in any male-dominated industry, it can often feel there is limited space for women to succeed. In order to stress how false this idea is, Kaling set aside part of her speech to address the women graduates specifically.
"I thought I might take a second to speak to the ladies in the audience. Guys take a break, you don't have to listen to this part," Kaling joked. "Maybe take a second to think about all the extra money you'll make in your life for doing the same job as a woman, pretty sweet."
The star then went on to encourage women to uplift one another. "Hey girls, we need to do a better job of supporting each other," she said. "I know that I'm guilty of it too. We live in a world where it seems like there's only room for one of us at the table. So when another woman shows up we think, 'Oh my god, she's going to take the one woman spot, that was supposed to be mine.' That's just what certain people want us to do."
The actor and writer stressed that it doesn't have to be this way, and that by advocating for each other, women can change the system. "Wouldn't it be better to dismantle the system that makes it feel like there's limited room for us," she said. "Because when women work together, we can accomplish anything."
Kaling's message is especially powerful, since she has personal experience taking down this kind of system. The entertainment industry historically discriminates against women, and it's even more difficult for women of color. The star, who majored in playwriting during her time at Dartmouth, made a name for herself as a writer and actor on The Office. At the time, she was the only woman on a staff with seven male writers, which is still too often the case in Hollywood. Though she cites the experience as a positive one, she went on to create The Mindy Project, which was a vehicle all her own. In the graduation speech, the actor noted that getting the show on the air was difficult. When it premiered, Kaling was the first and only woman of color to run and star in a network show.
The star is a huge role model for women working in any industry, and she took the opportunity to inspire during her address. She urged all students to believe in their own potential, but her outreach and encouragement to women was especially noteworthy. At the end of the speech, she left the students with some final words about reaching for the accomplishments that they want.
"I was sitting in the chair you are literally sitting in right now and I just whispered, 'Why not me?' And I kept whispering it for 17 years; and here I am, someone that this school deemed worthy enough to speak to you at your commencement," she said. "Don't let anyone tell you that you can't do something, but especially not yourself. Go conquer the world. Just remember this: Why not you? You made it this far."