The Cop Who Shot Philando Castile Has Been Acquitted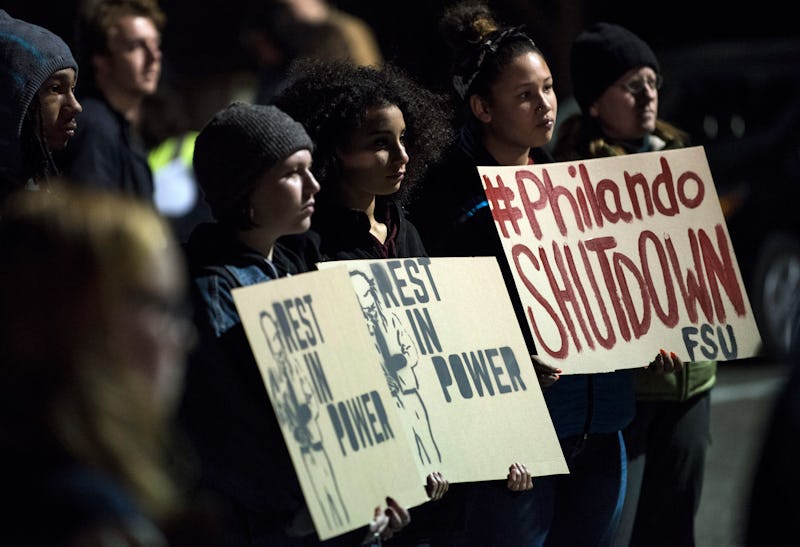 Stephen Maturen/Getty Images News/Getty Images
On Friday, the Minnesota cop who fatally shot Philando Castile was acquitted of all charges, according to The New York Times. St. Anthony Police Department officer Jeronimo Yanez killed Castile during a traffic stop in July 2016 after pulling him over for a broken taillight, and was subsequently charged with one count of felony second-degree manslaughter and two felony counts of intentional discharge of a dangerous weapon. He faced up to 20 years if convicted.
The immediate aftermath of Castile's death was livestreamed on Facebook by his girlfriend, Diamond Reynolds, who was in the car at the time. The subsequent legal proceedings have centered on what happened in the moments before Yanez shot Castile. Reynolds testified in court that Castile was reaching for his driver's license, and had informed Yanez of this prior to his shooting. Dashcam footage recorded Castile calmly informing Yanez that he had a gun in the vehicle; seconds later, Yanez shot Castile five times, killing him.
Yanez and his legal team claimed that Castile was reaching for a gun, not his license, and that Yanez was fearful for his life in the seconds before firing his gun. Although footage from the squad car captured the shooting from a distance, it did not show what happened inside the car in the moments prior to Castile's death.
Castile's mother Valerie gave a blistering statement after the verdict was announced, declaring that "this city killed my son."
"The system continues to fail black people," Valerie said. "And they will continue to fail you all. Like I said. Because this happened with Philando, when they get done with us, they're coming for you, for you, for you and all your interracial children. Y'all are next. And you'll be standing up here fighting for justice just as well as I am. I am so disappointed in the state of Minnesota...my son loved this city, and this city killed my son, and the murderer gets away."
The jurors, ten of whom were white and two of whom were black, initially deadlocked on the verdict after two and a half days of deliberation. The judge told them Wednesday to reconvene in an attempt to come to an agreement.
St. Anthony city officials said that despite his acquittal, Yanez won't return to the police force, although he'll be offered a "voluntary separation agreement to help him transition to another career other than being a St. Anthony officer." Yanez's legal team didn't return requests for comment from the Washington Post on the verdict.