Gray Malin & Minnie Mouse Celebrate Polka Dot Day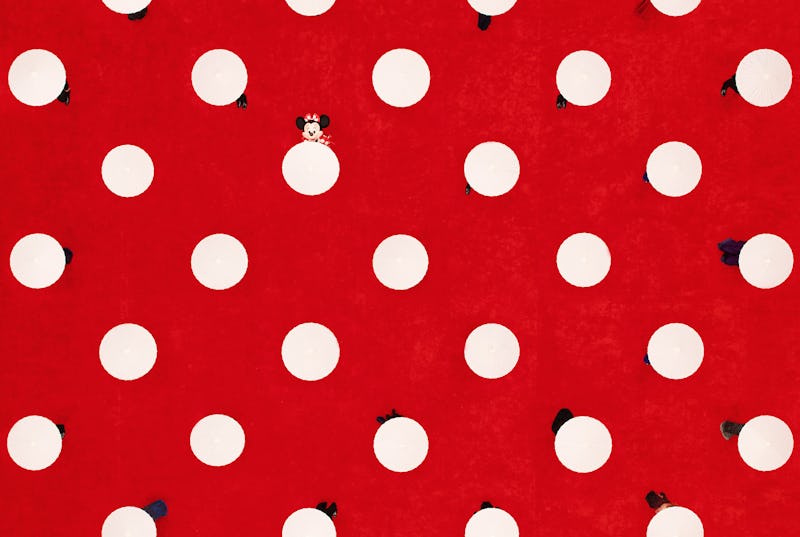 There's nothing quite as beloved as Disney, and one of Disney's seminal characters is Minnie Mouse. The adorable mouse with her classic polka dots is now celebrating a day full of them thanks to the Minnie Mouse & Gray Malin team-up. The famous aerial photographer — whose beach images you've probably seen if you didn't realize it — has created his first piece of visual, video art, and it's to celebrate National Polka Dot Day with the help of Minnie Mouse.
Malin's work is one of incredible popularity. His famous aerial still-life images are now being translated in video thanks to the team-up with Minnie Mouse. The video — while incredibly unique — maintains the aerial style Malin is often associated with alongside his typically vibrant color palette. In the piece of visual art, a brilliant red background — meant to be a nod to the red carpet — is scattered with stark white parasols and a surprise Minnie Mouse.
According to a press release, the classic red carpet background is an homage to the Hollywood film industry and the fashion seen on such carpets. Minnie Mouse's place in fashion and entertainment is undeniable, and by using the carpet as the background, Malin captures her essence beautifully.
While there are, unfortunately, no Gray Malin & Minnie Mouse specific products for you to rock in celebration of National Polka Dot day, there's no shortage of Minnie Mouse products for you wear in homage to Malin's latest work.
Kate Spade New York for Minnie Mouse iPhone 6 Case, $50, Kate Spade
This adorable phone case is the perfect way to have a bit of Minnie with you all the time.
KEDS x Minnie Mouse Champion, $55, KEDS
If you want something super similar to the Gray Malin x Minnie Mouse team up, these KEDS are perfect.
Disney Limited Edition model 24419, $595, Invicta
If you want something a bit more glam, though, this Invicta watch will do the trick.
Prints of the Gray Malin & Minnie Mouse collaboration are for sale, and with fun, vibrant visual art like this, it may be worth a splurge. For Minnie Mouse lovers, there's no better way than this to celebrate National Polka Dot Day.