The Story Behind Mirai Nagasu & Adam Rippon's Friendship Will Give You ALL The Feels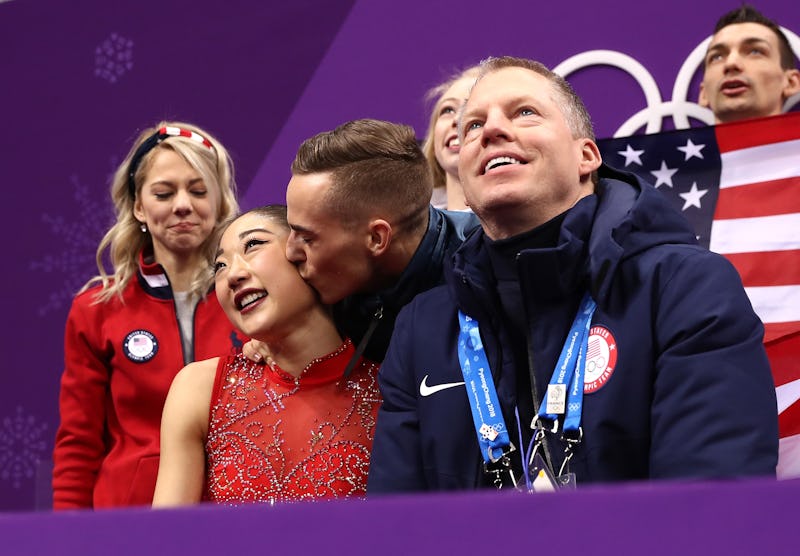 Richard Heathcote/Getty Images Sport/Getty Images
On Sunday evening (Monday daytime in South Korea), the United States figure skating team won a hard-fought bronze medal. The team's victory was in part due to the stunning performances of two skaters, Mirai Nagasu and Adam Rippon, who share an inspiring history of friendship and triumphant athletic comebacks. Indeed, Nagasu and Rippon's friendship and determination truly captures the spirit of the Olympic Games.
Both Nagasu and Rippon take their status as Olympians very seriously. Indeed, both athletes missed out on competing at the 2014 Winter Olympics in Sochi, Russia. Nagasu competed in the 2010 Winter Olympics, but was passed over for the 2014 Games in favor of Ashley Wagner, even though she had placed third at the national championships. Rippon, despite a successful skating career, had never made an Olympic team before.
Business Insider reported that Rippon told NBC's Mike Tirico that, back in 2014, both skaters sought solace in each other after failing in their Sochi Olympic bids. At the time, the two reportedly commiserated together, sharing burgers at Nagasu's house. As Rippon put it:
We were eating In-N-Out because we were so upset we weren't at the Olympic games ... Tonight — the Olympics are truly magical because we came out here tonight ... we gave each other a hug and said, "Mirai, we're here! We did it!"
Now, the two friends who watched the Olympics together from afar in 2014 have made history together as two great figure skating success stories at the 2018 games. For her part, Nagasu became the first-ever American woman to land a triple axel at an Olympics, after opening her free skate during the team competition with the daunting jump. She is also only the third-ever woman to land the jump during the games (Japan's Midori Ito and Mao Asada have also both previously achieved the feat).
Nagasu also sailed through the rest of her free skate following the history-making triple axel jump. She ultimately scored a personal best of 137.43 for her routine.
Rippon also helped lead Team USA earn its bronze, with Scott Davis of Business insider saying that the skater "dazzled" on the ice and "won fans over with his bubbly, witty personality." Rippon skated first for Team USA, delivering a a flawless routine and cleanly landing all of the jumps in his program.
When discussing his Olympic debut, Rippon admitted his nerves but also his excitement at finally being able to compete at the Olympic Games. As The Washington Post reported, Rippon said:
It felt worth the 28-year wait, you know? I was sitting backstage and I thought: "You know what? I still feel like I might throw up. And I might miss every element in my program." But I said: "You know what? I trained so hard and I know when I get out there I'm going to go for everything, take one element at a time," and I was able to do that.
Nagasu was also elated at the prospect of the two athletes finally being together at the Olympic Games. As she told the Post:
For both of us to be on this team, and to be on the same floor in the village, it's all super exciting. He won't stop talking about how exciting this all is, and I go: "Adam! Adam! You know we still have a job to get done? We still have to skate well!"
Nagasu and Rippon will both compete again in their respective singles skating events. Rippon will compete in the men's singles events on Feb. 16 and 17 (local time), while Nagasu will do so on Feb. 21 and 23 (local time).
Of course, both Nagasu and Rippon will now enter their singles competitions already as 2018 Olympic medalists — another impressive feat in their amazing collective and respective journeys to become Olympians.