Miranda Kerr Used A Super Popular Beauty Product At Her Wedding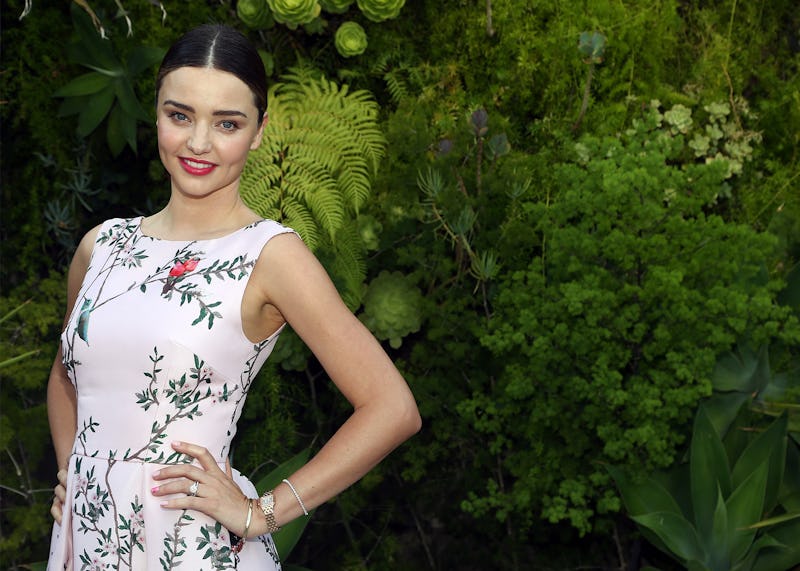 Tommaso Boddi/Getty Images Entertainment/Getty Images
You expect a celebrity's beauty routine to be — well, celeb status. So, when you see the kinds of products (one in particular) that this model used on her wedding day, you'll be pleasantly surprised. Miranda Kerr used a super popular and unexpected beauty product for her wedding day makeup, and you may recognize it from your own regimen. Go, you!
According to a Vogue exclusive video, Kerr was going for something "simple and timeless" for her wedding day, and she absolutely nailed it. At about the two minute 19 second mark of the tutorial, you'll notice Kerr applies the cult favorite, best-selling Boy Brow from Glossier to her brows. So, if you thought you and Kerr weren't on the same level in terms of makeup application — think again. Turns out, she's just as "obsessed" with Boy Brow as you are.
Of course, there are some very luxurious steps in her routine, too. She used the NuFACE microcurrent tool to give her skin an instant lift. Owning something like this will cost you a minimum of $199, but hey — it could very well give you Kerr-status skin. So, worth it? Umm, probably. But, that's why it's especially nice to know that you can get model-level brows for just 16 bucks, you know?
NUFACE Mini, $199, NuFACE
Not only did Glossier help bring Kerr's flawless wedding look to life, but affordable brands such as Kora Organics and Laura Mercier were also used to make the makeup moment extra magical.
Knowing that getting brows this good took such minimal effort will change your makeup routine for the better, if Boy Brow isn't already apart of it — that is.
This item has gained its major popularity for a reason.
People who have tried it can hardly go a day without it. I mean, Kerr even used it on her "big day," if that's any indication of how special it is.
Kerr used Boy Brow in brown, but it also comes in clear, black and blond, so there's bound to be a shade to suit you.
Feeling inspired by her wedding day style? Then hit up the Glossier website and fill your cart with Boy Brow. Clearly, that's the thing to do.