Miss USA Contestants Address Sexual Assault & #MeToo In One Of The Pageant's Most Powerful Moments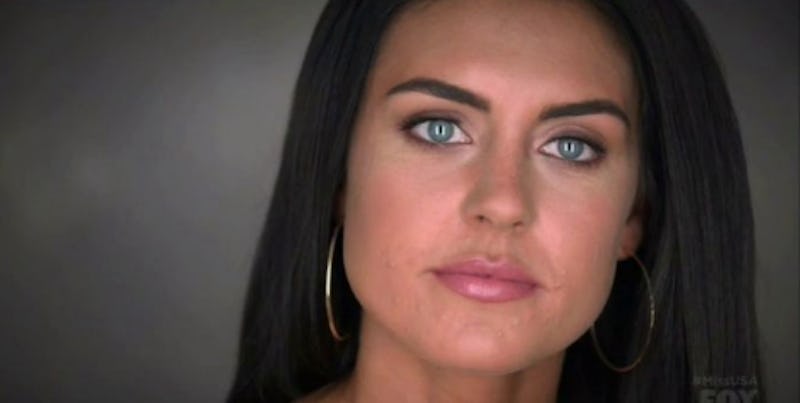 FOX
You might be used to bikinis and ballgowns being a major part of Miss USA, but this year got a little bit deeper than that. The Miss USA contestants addressed sexual assault and the Me Too movement during the show in a pre-recorded segment that was played during the pageant. It featured several contestants sharing their own stories of being sexually assaulted, some of them holding back tears. But this wasn't the only time the show touched on the topic this evening.
Miss USA asked the contestants one question that you might not have seen coming from the pageant — "Do you have a #MeToo moment?" And just like that, the show became more than just how pretty their dresses were or how well they walked. Multiple women bravely shared their own personal experiences, as well as what they are doing to make sure it doesn't happen for other women.
"Every time I talk about it in public, a little piece of my still begins to heal," Brittinay Nicolette of Maryland said in the clip.
The women shared their stories, touched on the power of togetherness, and spoke about coming together as females to speak their voices in the unexpected segment.
"Whether it's Black Lives Matter, the Me Too movement, Time's Up movement, speak up, speak out, blow that whistle," said Brooke Johnson of Alaska.
Multiple women in the segment are sexual assault advocates, including Nicolette and Johnson, but this is the first time that sexual assault has been brought up in the pageant's history.
This wasn't the only time that movements were brought up throughout the pageant, either. The final question for the top three was, "If you were on your way to a march and someone handed you a blank sign and a marker, what would you write?"
While one contestant touched on homelessness and another spoke out against sexual assault (her sign would read, "Your body, your choice") it was Nebraska's Sarah Rose Summers that touched on all the movements in one. Summers sign would say, "Speak your voice." She went on to say that you should use your voice no matter what you support. She later went on to win the competition, thanks in part to her powerful quote.
This pageant comes after women from all over the globe have come together over the past year to speak out about sexual assault and start organizations like Time's Up to support each other and make a change. But the irony of the pageant's efforts to talk about #MeToo is not lost. Donald Trump, who is known to have uttered the phrase, "Grab her by the pussy," owned the Miss USA pageant from 1996 to 2015. Miss USA has tried hard to distance itself from Trump over the past few years and this is a considerably big step — this is the first time that a question on sexual assault has had its' own segment on the show, and there's a good chance that it won't be the last.
Twitter was extremely excited to see them touch on the woman-centered issue. While some people praised the women for telling their stories, others touched on what a major moment this was for the Miss USA pageant all together.
To be fair, they still get judged on walking down a runway in a bikini, but it's headed in the right direction.
This all happened directly after the swimsuit portion, mind you.
This was probably not the question that you were expecting to hear during Miss USA, but the women answered honestly and spoke their truth.
This wasn't about what they were wearing, but about spreading a message that is bigger than any crown.
Wicked cool to say the least.
This is not a trend, my friends.
The word "empowering" was brought up a lot throughout the night, but this moment was the true definition.
Whether you enjoy watching beauty pageants or think they are archaic, we can all agree that this moment was a huge step in the right direction for the future of Miss USA.