This Mississippi Anti-LGBTQ Law Could Be The Worst Yet If Enacted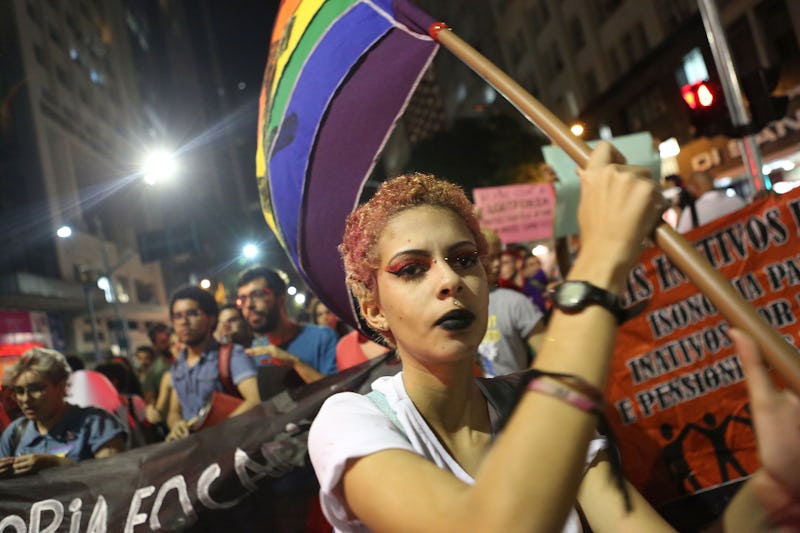 Mario Tama/Getty Images News/Getty Images
A federal appeals court has ruled that Mississippi may enforce an anti-LGBTQ law that permits businesses and government employees to deny services, including health care, to LGBTQ people if doing so conflicts with their religious beliefs. A U.S district court had blocked the law from taking effect in July, but a three-judge panel of the Fifth Circuit Court of Appeals overturned that ruling on Thursday. However, the panel didn't rule on the merits of the case itself, and opponents of the law will have the opportunity to appeal to the full Fifth Circuit before Mississippi is allowed to implement the law.
The law allows both private employers and government employees to treat LGBTQ MIssissippians differently in a wide variety of ways. Under the law's provisions, landlords can evict LGBTQ tenants on account of their sexual or gender orientation, medical professionals can refuse to serve LGBTQ patients, state clerks can deny marriage licenses to same-sex couples, employers can fire workers for being gay or trans, and businesses can refuse to serve LGBTQ customers. Slate's Mark Joseph Stern has called it "the worst anti-LGBTQ measure in the country."
U.S District Court Judge Carlton Reeves issued an injunction against the law in July, ruling that it unconstitutionally discriminated against LGBTQ people. However, the Fifth Circuit panel struck down that injunction on Thursday, concluding that the plaintiffs who brought the lawsuit didn't have standing to do so, because they hadn't yet suffered any damages due to the law.
Mississippi Gov. Phil Bryant, who supports the bill, praised the Fifth Circuit's decision.
"I am pleased the Fifth Circuit has ruled to dismiss the case and allow House Bill 1523 to become law," Bryan said in a statement. "As I have said all along, the legislation is not meant to discriminate against anyone, but simply prevents government interference with the constitutional right to exercise sincerely held religious beliefs."
Rob McDuff, one of the lawyers for the plaintiffs, said in a statement that the Fifth Circuit's ruling was "wrong," and that he and his legal team "intend to seek further review, perhaps from the full Fifth Circuit and definitely from the United States Supreme Court."
"People should not have to live through discrimination in order to challenge this obviously unconstitutional bill," McDuff said. "Even though the injunction has been reversed for now, I am pleased that we were able to stop the bill from being implemented thus far. Hopefully, our efforts to seek further review will prevent it from going into effect in the future."
The ACLU, meanwhile, said that it will move forward with a separate lawsuit seeking to strike down the law, which had been put on hold pending the Fifth Circuit's decision.