This GOP Lawmaker Says He Won't Quit Over Sexual Misconduct Claims For A Baffling Reason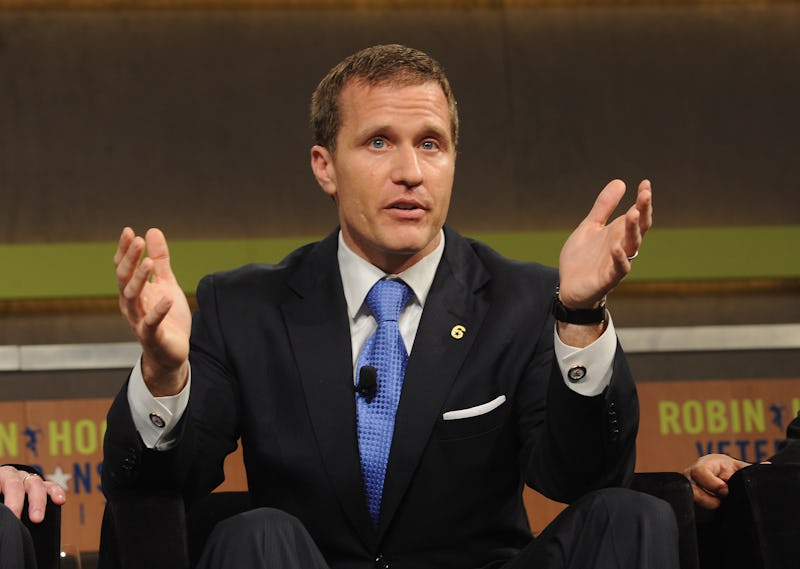 Craig Barritt/Getty Images Entertainment/Getty Images
On Thursday, Missouri governor Eric Greitens insisted that he won't resign in the face of allegations of abusive sexual behavior, and he gave a very particular reason. Specifically, Greitens won't resign because of his Navy SEAL training, citing it as an experience which taught him never to give up.
Greitens was charged with felony invasion of privacy back in February, and another felony count for felony computer tampering in April. The invasion of privacy charge has since been dropped; Greitens is accused of having engaged in sexually abusive behavior with an unnamed woman, and having taken compromising photos to blackmail her. Greitens has admitted to having an extramarital affair with the woman, but strenuously denies the allegations of sexually predatory behavior and blackmail.
On Thursday, Greitens insisted that he will not resign in the face of the myriad allegations against him, invoking his experience training to become a Navy SEAL.
"No matter what they throw at me, no matter how painful they try to make it, no matter how much suffering they want to put me and my family through and my team through ... we are going to step forward day after day after day, and we are going to continue in our mission to fight for the people of Missouri," Greitens said, as detailed by the Associated Press.
Greitens, 44, was first elected as Missouri's governor in 2016, and entered office on Jan. 9, 2017. He was charged slightly more than a year later, and the intense nature of the allegations against him have led many of his state's lawmakers to call for his impeachment, including members of his own party.
It's worth noting that Greitens falling back on his Navy SEAL biography is not uncontroversial in and of itself, even without using it in response to allegations of sexual misconduct.
As The New Yorker detailed this week, when Greitens was running for governor in 2016, a group of current and former Navy SEALS ― mostly anonymous, according to the story ― challenged his fitness for office, accusing him of trading on the reputation earned through his affiliation with the SEALs while not properly representing their values.
"What we were afraid of is that, eighteen months from now, you've got candidate Greitens, former Navy SEAL, running for President," an ex-Navy SEAL named Paul Holzer told The New Yorker's Phil Klay.
As the story also notes, part of the credo of the SEALs ― "I do not advertise the nature of my work, nor seek recognition for my actions" ― somewhat cuts against the idea of using one's affiliation to deflect from sexual misconduct allegations.
It remains to be seen how Greitens will navigate the political fallout from these lurid allegations, regardless of the felony invasion of privacy charge having been dropped. A special session of the Missouri House of Representatives has been called for Friday, May 18, for the purposes of investigation and scrutinizing the claims against him. Any impeachment proceedings against Greitens would, by Missouri law, have to begin in the House.
Greitens, again, has strenuously maintained his innocence, and it seems clear from his public pronouncements that he intends to fight any effort to remove him from office. According to ABC News, Greitens' legal team is requesting that it receive the same subpoena power during the session that Missouri House Speaker Todd Richardson, a Republican, possesses.
The committee's witness list for the special session will reportedly be announced on May 21, while the witness list for Greitens' team will be announced on May 23. Hearings on evidence are scheduled from June 4 through June 8, and the committee is slated to report to the House on June 11.