St. Louis Workers Now Face $7.70 Minimum Wage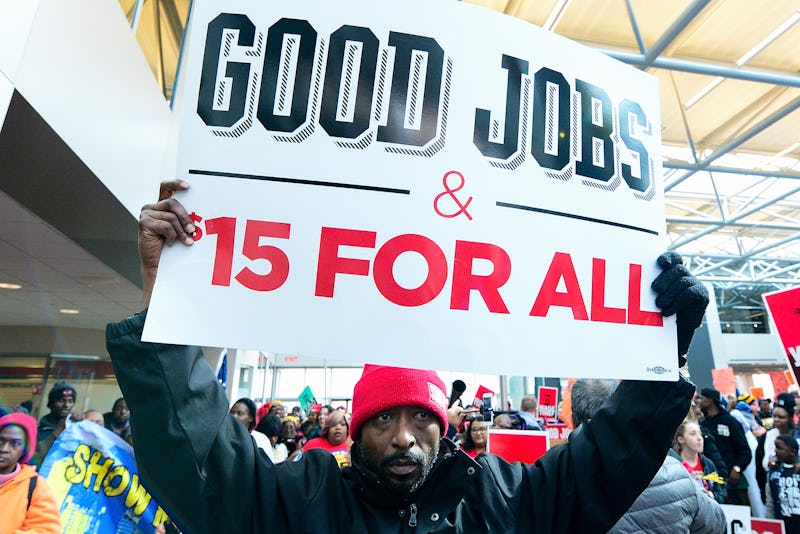 Jeff Curry/Getty Images News/Getty Images
Republicans in the state of Missouri have lowered the minimum wage in St. Louis, thus exposing the city's lowest paid workers to as much as a 23 percent pay decrease. St. Louis raised the citywide minimum wage to $10 per hour in 2015, and it was scheduled to rise again by 2018. But the GOP-dominated state legislature passed a bill nullifying the city's ordinance, and the state's Republican governor announced Friday that he'll allow that legislation to become law. As a result, the minimum wage in St. Louis has fallen more than two dollars to $7.70 per hour.
St. Louis passed an ordinance in 2015 that would have steadily raised the city's minimum wage to $11 per hour by 2018. Business leaders in the city sued, claiming that the wage increase violated state law, but the Missouri Supreme Court ruled in February that the ordinance was lawful, and allowed it to take effect.
But in March, the state House passed a bill that forbids cities from setting wage floors higher than the statewide minimum wage, which is $7.70 per hour. Two months later, Republicans in the state Senate overcame a Democratic filibuster to pass the legislation as well. And on Friday, Gov. Eric Greitens said that he'll allow the legislation to become law, albeit without his signature on it.
"It will kill jobs," Greitens told the St. Louis Post-Dispatch of the now-defunct wage increase in St. Louis. "And despite what you hear from liberals, it will take money out of people's pockets."
In Missouri, Republicans control both chambers of the state legislature as well as the governor's mansion, giving state Democrats — who mounted a two-hour filibuster in an attempt to kill the wage decrease bill — little recourse. But St. Louis Mayor Lyda Krewson, who called the state's actions "a setback for working families," said that she and other supporters of a minimum wage increase will attempt to overcome the state legislature's actions by increasing the wage through a ballot referendum.
"I will work with others to get an increase in the minimum wage on the ballot since our state legislature won't address it," she said in a press release following the Senate's passage of the bill.
Missouri isn't the only state to prohibit cities from raising their minimum wage beyond the state minimum. Iowa did the same thing in March after several counties raised their minimum wages, which resulted in the wage floor in one county dropping by almost three dollars per hour. South Dakota lawmakers attempted a similar move in 2015, passing a bill that would allow employers to pay youth workers less than the minimum wage. However, South Dakotans voted overwhelmingly to overturn that law in a statewide ballot referendum the next year. Though Missouri's politicians voted to decrease St. Louis' minimum wage, perhaps the city's mayor can find a way around it.