Misty Copeland On Her New Disney Role, Meghan Markle, And Representing The New Normal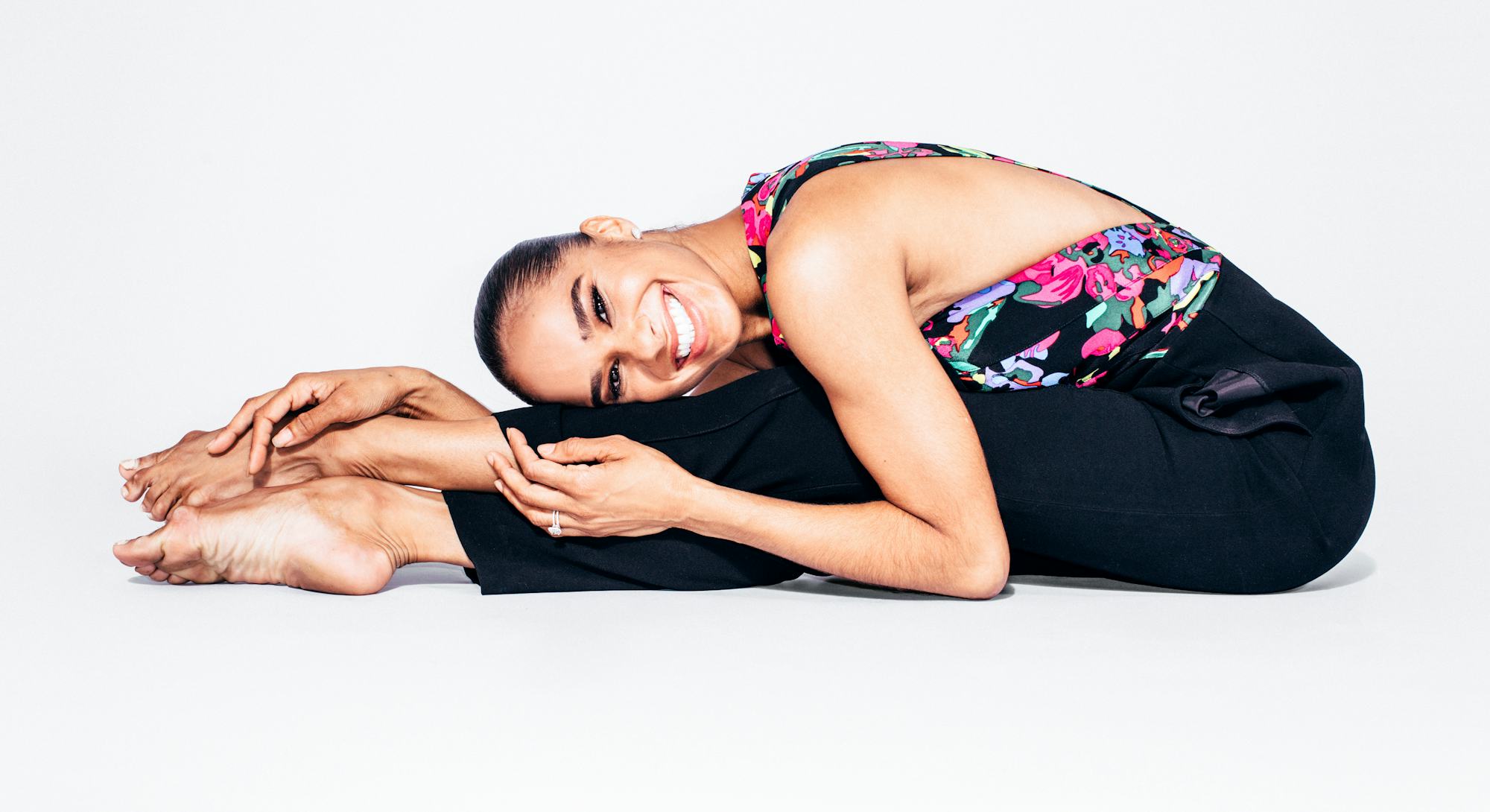 Ben Ritter/Bustle
Every gravity-defying pose Misty Copeland strikes is breathtaking. When she comes to the Bustle offices to be photographed in September, as the sounds of Jorja Smith play in the studio, everyone watches the master ballerina at work. Copeland, who's making her feature film debut in Disney's The Nutcracker and the Four Realms is only 5'2", but she creates lines — while wearing sky-high heels, and without — that make her appear larger than life. And her movements, ranging from ballet's standard manual to the freestyled cool of hip-hop, remind those in the room that yes, she's classically trained, but can still vibe to a mellow R&B bop.
Once the photographer wraps with the final shot, Copeland is practically beaming, and her energy is infectious. She eases onto the couch to show me the latest promo for her Under Armour line, and to talk about her turn as Disney's newest dancing queen. I've been able to interview Copeland at various points throughout the years, and every time we connect again, it's like old friends catching up after months apart. She evokes that feeling of a best friend you always knew would accomplish extraordinary things in her career — except for Copeland, that career involves being one of the most widely recognized ballerinas of her generation, who is about to make her first big-screen debut in Disney's The Nutcracker and The Four Realms. Casual, right?
With a career at the American Ballet Theatre spanning over a decade, Copeland is predictably no stranger to The Nutcracker. "I think I've portrayed almost every character in the ballet," she laughs. "But the film, I think, has so [much] more shading and layers to it than the ballet, where most people know [the typical course of] ... happy, then there's a dark part, and then it's happy again."
Both Disney fans and ballet frequenters will get to explore The Nutcracker and The Four Realms on Nov. 2, and thanks to Copeland's role, fans will get to see a black ballerina in the narrative, along with the film's protagonist Clara, played by Mackenzie Foy. Along with Copeland, there will be a few new faces included in the fairytale retelling of the Tchaikovsky holiday tradition. "I feel like it's gonna be so much more interesting, especially for children to not only have the mice and the Rat King, but then also to have Mother Ginger who's played by Helen Mirren, and she's this really dark character," Copeland tells me.
There's a brown ballerina in Disney's Nutcracker and the Four Realms... It's going to influence this generation to feel like they can do and be anything.
The film uses Copeland's ballet sequence to tell the story of the four realms, which Clara enters with Captain Nutcracker to issue a new era of peace. And along with the refreshing image of an African American ballerina, audiences will get to see Clara as a soldier all her own; Clara's combination of wit, fearlessness, and impressive mastery of physics are crucial plot points. For young children who may be introduced to The Nutcracker tale for the first time through Disney's lens, this fresh representation will not seem as historic as to those familiar with the original — it will just feel commonplace.
Since the very start of her career, Copeland has been a fierce advocate for representation, and she's aware of the impact that her presence can have on the young black girls seeing their own likeness reflected back at them. "There's a brown ballerina in Disney's Nutcracker and the Four Realms," Copeland says. "That's going to be normal to them, and that's so crazy and powerful. It's going to influence this generation to feel like they can do and be anything."
Ben Ritter/Bustle
Ben Ritter/Bustle
And thanks to a real-life brown girl royal, Copeland's own nieces and nephews are getting to picture themselves as royalty via Meghan Markle. "When they were watching [Meghan and Prince Harry's wedding] they kept saying, 'It's Auntie Misty, Auntie Misty!'" Copeland laughs. "To see someone they can relate to and connect with, it's huge — the power of representation and being able to see something that clicks with them. It's a really awesome moment for us, right now." Thanks to Markle, even places like Buckingham Palace, will feel in reach for the young girls of color who could never see their likeness within palace walls.
Copeland has become a fast and furious heroine, especially for those who are interested in dance, of every nationality and walk of life. Before becoming a principal dancer at the American Ballet Theatre in 2015, her rise almost seemed word of mouth. For those unfamiliar with the ballet world, she became #blackgirlmagic social media inspiration, thanks to images of her striking traditional ballet poses along the backdrop of cold, gritty streets in New York City.
"I think even in the beginning, I didn't realize until later in my career the impact of just being in the space," she says. She soon gained the attention of fans outside of dance, thanks to touring with the late music icon Prince in 2010, chronicling her inspiring upbringing in her memoir Life in Motion: An Unlikely Ballerina that was released in 2014, and inking her Under Armour deal in 2014. And then there was her inclusion in Drake's "Nice For What" music video this summer, along with powerhouses like Serena Williams, Yara Shahidi and Insecure creator Issa Rae.
And although the ballerina leads a career that's transformed her into an icon, she's just your average thirtysomething, who loves a simple night in with her husband, Olu Evans, and an ultra-soothing face mask. "I'm a homebody," she says smiling, as she recalls a typical day off. "So like, I'll be sitting on the couch and I'll order all my groceries, and then I'll go back and look for recipes that I want to make. I'll go on Net-A-Porter and I'll order clothes, and then return them all," she laughs. With a touring schedule with the American Ballet Theatre that leaves little opportunity for Netflix queues, she's currently loving The Alienist, starring Dakota Fanning.
Despite the endless love she receives from fans and the adorable photos of little girls dressed in their ballet best on her social media feeds, she still struggles with saying no like so many of us. When asked the advice she'd give to women her own age, she shares: "It's OK to have guidance and have help. I still struggle with those things, and I'm just so fortunate to have amazing people around me that remind me, no, you have to think of your well-being."
Ben Ritter/Bustle
Ben Ritter/Bustle
Although Copeland is known to keep her private life tucked away, she doesn't shy away from using her influence to spark change, especially when it comes to social justice. Along with politically vocal athletes like Colin Kaepernick, LeBron James, and Serena Williams, she speaks up when it comes to civil rights and gender equality. But she doesn't view that ability to shine a light on the issues that matter as a right — instead, she sees it as a privilege.
"When you think of Muhammad Ali and all these other [socially conscious] athletes, and you think of this time and the climate that we're in, whenever a celebrity or an athlete speaks out about something that affects them, it's like, 'Well, that's not your place,'" she says. "And to me it's like, we hold so much power. The youth, they're looking at us. It's going to make a huge impact on the next generation for a long time to come."
I've been lucky enough to speak with Copeland at various points in her career and watch her quiet rise to icon culminate in the final scene of Disney's The Nutcracker and the Four Realms. We are the same age, and both experienced what it's like to be the only brown girl in ballet class. Watching her soar with traditional ballet moves and the free form of modern dance on the big screen felt vindicating, and now all the little brown girls lacing up their pointe shoes in their beginner classes will know that the possibilities for them are also endless.
Hair: Kenna at Art Department for Kennaland
Makeup: Joanna "JoJo" Rodriguez