Misty Holloway Is "Going To War" On 'The Get Down'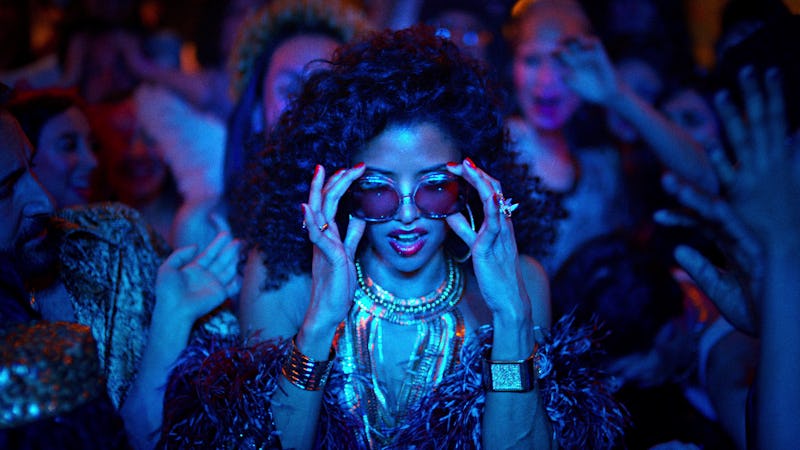 courtesy of Netflix
While there's no disco in Hamilton, the unstoppable Broadway hit shares several connections to Baz Luhrmann's Netflix series The Get Down. Not only are there similar themes at play, but a few of the show's original stars pop up in key roles as well. In an interview with Bustle, Tony winner Renée Elise Goldsberry talked about Misty Holloway's disco diva turn on The Get Down, and how she might surprise some of the Hamilfans out there.
"She is not Angelica Schuyler," says Goldsberry right off the bat about Misty. The character, who finally appears in Episode 10 after lots of delicious speculation and buildup, is ready to knock down anyone and everyone who is in her way — with plenty of expletives, according to the actor.
"I've played a wide range of diverse characters," she says. "and they are all powerful women. The most recent... are all nobly fighting and sacrificing for someone they love. Misty Holloway, on the other hand, is only fighting for herself! And she's not pulling punches!"
The important thing about Angelica is that, for better or for worse, she always puts others before herself. Fierce and independent, yes, but selfless. Misty's not like that at all. Misty is not here for sisterhood. "She's going to war," Goldsberry says — with Roy and with Mylene.
In that way, her first appearance is somewhat of a delightful surprise. The platonic ideal of a disco star becomes a real diva, and a real person, super fast.
"Mylene idolizes Misty Holloway," she says. "Misty is her hero. That's what we have seen so far. But there's a twist! When they are finally under the same roof, it's a catfight!" The song she sings to Roy at Ruby Con is called "Backstabber," and everything. Misty Holloway is not messing around.
"It's a guilty pleasure to play a woman that is shameless!"
Goldsberry, who describes Michael Jackson as the first love of her life, had no trouble getting into the late '70s aesthetic. The costume and the hair just helps everything fall into place. "She inhabits the role of disco goddess Misty Holloway with star quality, channeling Diana Ross and other divas of the era," says Baz Luhrmann in a statement to Bustle.
She's not the only Hamilton actor in The Get Down. Fellow Tony winner Daveed Diggs plays adult Zeke in the flash forwards. Toward the end of the series, Okieriete "Oak" Onaodowan, who played Hercules Mulligan and James Madison in Hamilton, appears as the real-life artist Afrika Bambaataa. Goldsberry says that Luhrmann came to see them all in the show early on, told them about his plans for The Get Down, and got them involved.
In a way, The Get Down and Hamilton are like thematic cousins. Lin-Manuel Miranda connected Alexander Hamilton's story to hip-hop artists like Nas who famously wrote their way out of their circumstances. Nas, who Miranda interviewed in the Hamilton's America documentary, is also an executive producer on The Get Down, a more literal hip-hop origin story. It's so interesting that one idea sparked such seemingly different projects.
Goldsberry's roles, especially, are anything but similar, which she enjoyed. "I loved working with the brilliant Baz and the entire team," Goldsberry says, "and I love playing this character. It's a guilty pleasure to play a woman that is shameless!"
Hopefully the show will continue for at least Season 2, so we can see this rivalry grow. Goldsberry doesn't think that Mylene and Misty will be able to let each other go easily, and I agree. "I would be thrilled to go another round in a second season," she says. Another round, indeed. When Misty takes to the stage on The Get Down, she's ready to fight. Angelica Schuyler may make Lady Macbeth references in Hamilton, but Misty Holloway is just as ruthless.