Mitch McConnell Said Hillary Clinton Being President Would Be Worse Than The GOP Health Care Failure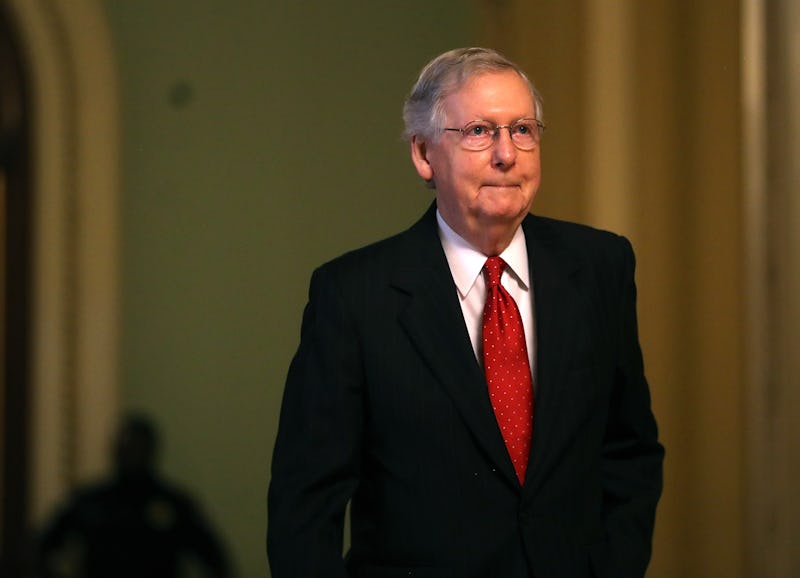 Justin Sullivan/Getty Images News/Getty Images
Senate Majority Leader Mitch McConnell is apparently trying to look on the bright side of things following Senate Republicans' recent failure to repeal Obamacare. After yet another hiccup in their seven-year quest to repeal Obamacare, McConnell sought to boost Republican voters' spirits this weekend by reminding them that things could be worse. After all, McConnell told Kentucky Republicans, Hillary Clinton could be president.
"I choose not to dwell on situations where we come up a little bit short," local radio station WFPL reported McConnell told a crowd of Republican voters gathered Saturday at Graves County High School in Mayfield, Kentucky. "Even on the night when we came up one vote short of our dream to repeal and replace ObamaCare, here's the first thing I thought about: feel better, Hillary Clinton could be president. Almost instantly, I feel better."
One could argue that the failure of the Senate Republicans so-called "skinny repeal" bill partnered with a series of very public criticisms from President Donald Trump have made for some of the roughest weeks Republicans have seen in Washington recently. Sens. John McCain, Susan Collins, and Lisa Murkowski broke with the Republican party July 28 in an early-morning vote on the GOP's "skinny repeal" bill. Together the senators delivered the three "no" votes that effectively killed the Republicans' latest attempt at repealing former President Barack Obama's signature health care law.
In a statement delivered on the Senate floor immediately following the failed "skinny repeal" bill vote, McConnell expressed regret that the GOP's repeal efforts had not been enough. "This is a disappointment. A disappointment indeed," CNN's Congressional Correspondent Phil Mattingly reported McConnell said. "I regret that we're here, but I want to say again that I'm proud of the vote I cast tonight. It's consistent with what we told the American people we'd try to accomplish in four straight elections if they gave us the chance." McConnell then reportedly admitted it was "time to move on."
But exactly how McConnell planned "to move on" wasn't immediately clear. On Saturday, however, the senate majority leader said he'd be willing to consider joining a bipartisan effort aimed at addressing various issues with Obamacare. "If the Democrats are willing to support some real reforms rather than just an insurance company bailout, I would be willing to take a look at it," ABC News reported McConnell said during the Republican event held at Graves County High School just hours before Kentucky's Fancy Farm picnic.
Although it's not entirely clear where health care reform will go from here, it seems McConnell is drawing some comfort from the simple fact that it's Trump, and not Clinton, who resides in the White House.