Mitch McConnell's Campaign Created Its Own "Cocaine Mitch" Meme & It's A Sight To Behold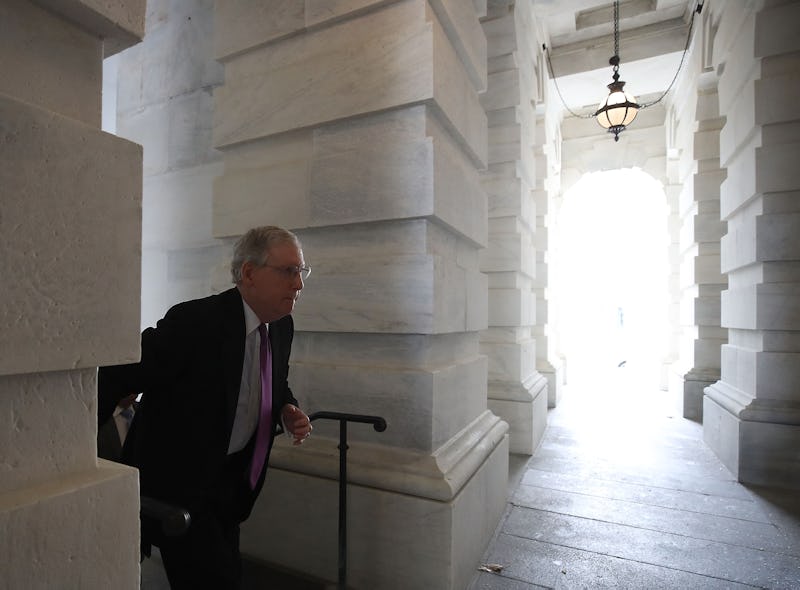 Mark Wilson/Getty Images News/Getty Images
On Tuesday, a host of primary elections took place across the United States, and some reactions were almost too good to be true. In fact, Mitch McConnell's campaign trolled Don Blankenship with its own "cocaine Mitch" meme. If you were wondering, his own team actually photoshopped McConnell's face onto a Narcos ad. Yes, for real.
Blankenship, a candidate in the West Virginia Republican Senate primary, had repeatedly referred to McConnell as "cocaine Mitch" throughout his campaign. Now, it looks as though McConnell has had the last word after Blankenship lost his primary.
As Vox described, Blankenship's "cocaine Mitch" characterization stemmed from an incident a few years ago involving a ship owned by a company run by the Chao family — McConnell's in-laws. 90 pounds of cocaine were found on one of the company's ships as it was preparing to leave Colombia. However, as Vox noted, there have never been any allegations made that the Chao-owned company was involved in cocaine smuggling and/or that McConnell or his wife, Elaine Chao, were in any way involved with it.
Nonetheless, Blankenship trolled McConnell throughout his campaign, saying he wanted to "ditch cocaine Mitch" in one of his monotone ads. Well, McConnell clearly noticed. And wasn't about to let it slide. On Twitter on Tuesday, McConnell's campaign shared an "ad" saying, "Thanks for playing, Don." It featured McConnell depicted as a character from Narcos and encased in a white powdered substance.
Narcos is a Netflix television series that initially tells the life story of Pablo Escobar, a Colombian drug lord, and then later focuses on the pursuit of the Cali Cartel by Drug Enforcement Administration (DEA). As the aforementioned tweet can attest, McConnell's campaign is clearly familiar with the show.
Blankenship was a controversial candidate for the West Virginia Republican Senate primary from the start. Blankenship is a former coal operator who previously served as the Chairman and CEO of the Massey Energy Company. Blankenship went to federal prison in 2016 after being convicted of conspiring to willfully violate mine safety and health standards following a deadly explosion at the Upper Big Branch Mine. He served a year in prison and was released on May 10, 2017.
During his campaign, Blankenship portrayed himself as an outsider who was "Trumpier than Trump." The ex-coal company CEO made controversial remarks during his campaign, particularly about McConnell. In addition to his "cocaine Mitch" references, Blankenship also claimed McConnell had created jobs for "China people" and that he had received a substantial sum of money from his "China family," as reported by Syracuse.com. McConnell's wife, Elaine, is Taiwanese.
Many Republicans, including President Trump, ultimately encouraged voters not to cast their votes for Blankenship, as they were concerned about his chances of securing victory in the general election. On May 7, the president wrote on Twitter:
To the great people of West Virginia we have, together, a really great chance to keep making a big difference ... Problem is, Don Blankenship, currently running for Senate, can't win the General Election in your State...No way! Remember Alabama. Vote Rep. Jenkins or A.G. Morrisey!
According to a May 7 article from The Hill, McConnell may have encouraged Trump to take a stance on Blankenship's candidacy. As the outlet noted, during a phone call the Senate Majority leader indicated that he thought that Trump should speak out against Blankenship. However, a White House official did tell The Hill that Trump had already been planning on speaking out about Blankenship even prior to his call with McConnell.
West Virginia's Attorney General, Patrick Morrisey, ultimately secured victory in the Republican Senate primary. Morrisey will now face incumbent Democrat Senator Joe Manchin in the November general election. You can bet the McConnell is probably pretty pleased that it's Morrisey — and not Blankenship — who will be vying for the West Virginia Senate seat in November.