This Woman Is Challenging What A Politician Is "Supposed" To Look Like With Her Tattoos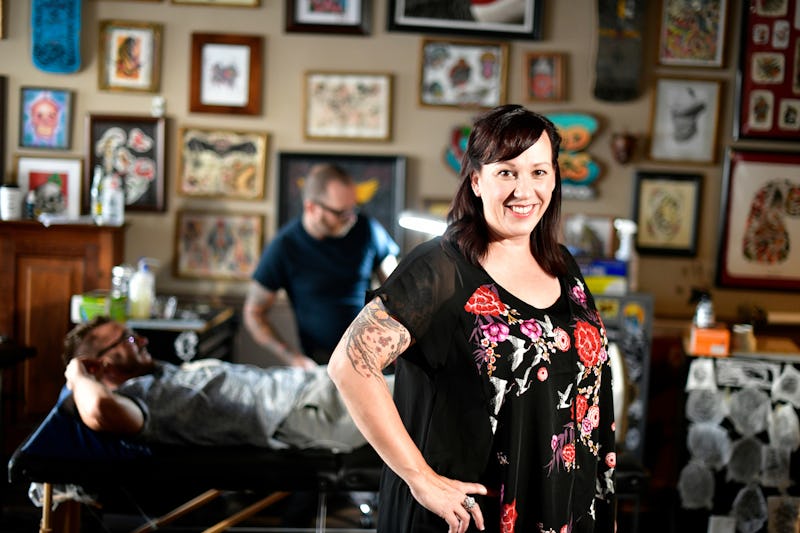 MJ Hegar for Texas
Imagine Rep. Nancy Pelosi removing her suit jacket to show off a half-sleeve tattoo. American politics has been filled with staid figures of "traditional" appearance, but one 42-year-old Purple Heart Air Force pilot is looking to challenge that assumed look as she runs against Republican incumbent Rep. John Carter to represent Texas' 31st Congressional District. MJ Hegar's tattoo ad, she tells Bustle, speaks to what she wants to do for the people of central Texas.
"I was getting the same advice that a lot of female candidates are getting: cut your hair, put on a suit, smile more," Hegar says, recalling the start of her campaign. "I don't take that kind of direction. I'm not going to hide who I am, and the tattoo is a big part of who I am."
Aside from the visual of a political candidate showing off her tattoos, the ad — which has been viewed over 12,000 times in a month — is remarkable for the story it tells. Hegar got her tattoo to cover the scars she got from being shot down in a rescue helicopter during her third tour in Afghanistan, and she connects that to her commitment to "lower the cost of health care and prescription drugs."
"The bullet came through the windshield and fragmented into several different pieces, so my arm and leg are peppered with little scars. Every time I reached down to pick up my kids or reached for anything, I would see it, and it was just a subtle reminder," she tells Bustle. "Getting the tattoo over it was my way of taking that part of my body back, reclaiming it. It's also in line with my personality, where I take something that could paint me as a victim or could be considered a tragic moment and turn it into something beautiful."
Hegar may not look like a traditional candidate with her tattoos, but her run actually follows several recent trends. First, of course, she is part of the historic wave of first-time Democratic women candidates who could historically change the makeup of Congress. Within that, she is also part of a wave of younger candidates looking to unseat incumbents. Hegar's opponent, Carter, is 76 years old and has served the district since 2003. The average age of the members of the current House is 57.8, per a congressional report. Many candidates, from Alexandria Ocasio-Cortez in New York to Katie Hill in California, are looking to bring that average down.
Hegar isn't the only (relatively) younger Texas candidate leveraging her non-traditional appearance. Last month, the Texas GOP attacked Rep. Beto O'Rourke, 45, who is running to unseat the ultraconservative Sen. Ted Cruz with pictures of O'Rourke wearing a dress during his days in a punk band. That attack swiftly backfired, as people across Twitter just found that it made O'Rourke seem pretty cool (O'Rourke's campaign declined to comment to Bustle).
Meanwhile, tattoos are gaining in popularity, especially among younger people. According to a 2015 Harris Poll, 29 percent of Americans have at least one tattoo, up from 21 percent four years before that. Millennials in particular didn't voice discomfort about professionals having tattoos. In that same poll, 46 percent of millennials said they would be "extremely comfortable" with a presidential candidate having a tattoo. It should also be mentioned that non-white candidates who aren't married mothers and veterans would potentially face more criticism for having non-traditional identifiers like tattoos.
Hegar's tattoo is a cherry blossom tree, with petals covering the array of small scars around her right shoulder. That image was inspired by her two years of being stationed in Japan, where she "felt a real connection to the samurai culture because I thought of myself as a warrior — without the toxic masculinity; the samurai believed in poetry and creativity and things like that." Samurai are connected to cherry blossom imagery, and Hegar liked that it "represented the fleeting, temporary fragility and beauty of life." Hegar says she's gotten a "huge" reaction to the ad, and the campaign has been giving out temporary tattoos.
Beyond her tattoos, visuals in general have been driving Hegar's campaign. Within 10 days of its release, her first campaign ad, Doors, by political consulting firm Putnam Partners, racked up over 2.5 million views and helped her raise $750,000, according to the Texas Tribune. The ad was one example of a series of recent viral videos working as candidate fundraising tools, a trend which O'Rourke has also benefited from as well.
Doors is an extended look at Hegar's life story, including her military service and fight for gender equality. It effectively proves that Hegar is not only not afraid of telling her story, but also that she sees it as an asset. This year has seen female candidates increasingly use deeply personal stories to drive their campaigns and policy platforms, perhaps owing to the fact that many of these first-time candidates leapt into races for personal reasons, rather than having built up to a campaign on a professional track.
Hegar explains that since she never thought she'd run for office, her choices in life (like getting a tattoo) weren't driven by preparing for public criticism. She says she hesitated before running because she worried that being transparent about things like that would hurt her chances.
"I was under the impression that to run for office and be successful, you had to be proper and be able to pander and do all these things that I'm just not," she says. "But it was brought to my attention that the political landscape is changing and that people need and care more about being straightforward and being transparent — and that that's actually healthy for our government."