Alert, Awkwafina & Mary Lambert Are The Newest Faces Of ModCloth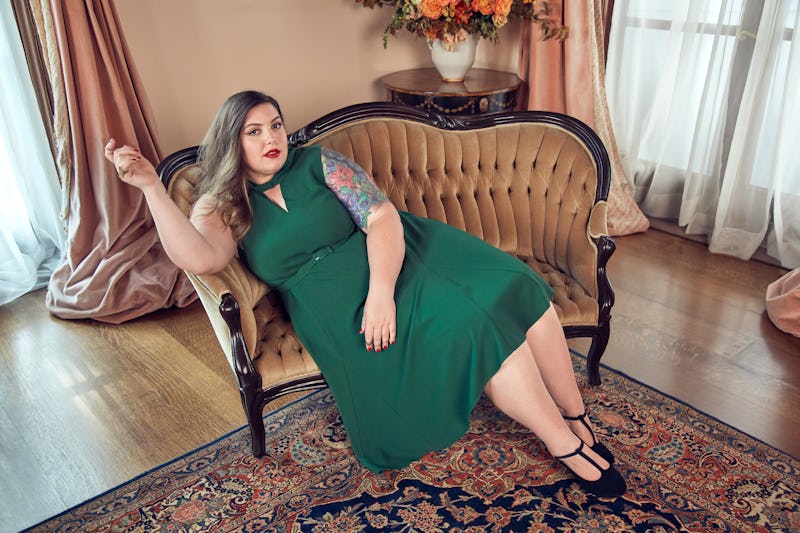 Courtesy ModCloth
Typically, when clothing companies launch campaigns, it's all about the clothing. Well, not this time. ModCloth's Say it Louder Campaign focusses on women who are making their own, individual paths in the world. For the second round of ModCloth's campaign, Awkwafina, Raveena, and Mary Lambert are sharing advice and serving their favorite looks.
ModCloth doesn't just want you to buy its clothing. The brand wants you to feel great about yourself, and what you wear can have a lot to do with that. For the second round of ModCloth's Say It Louder Campaign, three incredible women are coming together to choose their outfits and sharing their individuality.
"I care about authenticity, originality, and aggressively being yourself," Awkwafina says in the ModCloth interview. "I hope to inspire people by being me. I think that a lot of people think that being themselves is not enough and for me that's always kind of been my thought process. Until I embraced my flaws, and my quirks, and all that, is when I found success and inner happiness."
To go along with her interview, the Oceans 8 and Crazy Rich Asians star chose the Informed Ensemble '70s-styled, checkered jacket and skirt set, the Sunny Spirit Button-Up Shirt, and Added Interest Slingback Heels. All of which you can buy on the ModCloth website right now.
Awkwafina isn't the only star in the campaign. Lambert and Raveena were also spotlighted in the "magalog" and share their messages with others. Just like the first star, the two also got to choose their outfit for the shoot.
"I hope to inspire people simply by existing," Lambert says in the "magalog." "I almost feel like an anomaly because, not only was I accepted for being queer and fat and bipolar, I've been encouraged to talk openly about these things. So I guess my identity feels political already without even having to say anything about it."
She spread the message while wearing a stunning Flaunts and Needs Chiffon Dress. The poet, singer, songwriter, and activist touches on how her fashion has changed over the years — most notable with the addition of crop tops.
'Your self-worth is not contingent upon who you attract. Your self-worth is defined by whatever you want it to be," Lambert says.
Last, but definitely not least, is the up and coming musician Raveena. She touches on how powerful it is for children to see a different cultures in the public space. For her, she uses her music to spread art.
"It's so powerful for little girls to see other strong, beautiful, empowered brown women in a public space," Raveena says on the ModCloth website.
Raveena chose to wear the Undeniably Inspired Blouse, Perky Participant Skirt, and Isn't She Chic? Wool Beret for her shoot to show her personality off.
Sometimes it's not all about what you wear, but why you wear it. The Say It Louder Campaign proves it. Yes, ModCloth has incredible clothing, but it isn't nearly as incredible as the women who wear the outfits.