The New Mac 'N Queso At Moe's Is A Cheese Lover's Dream Come True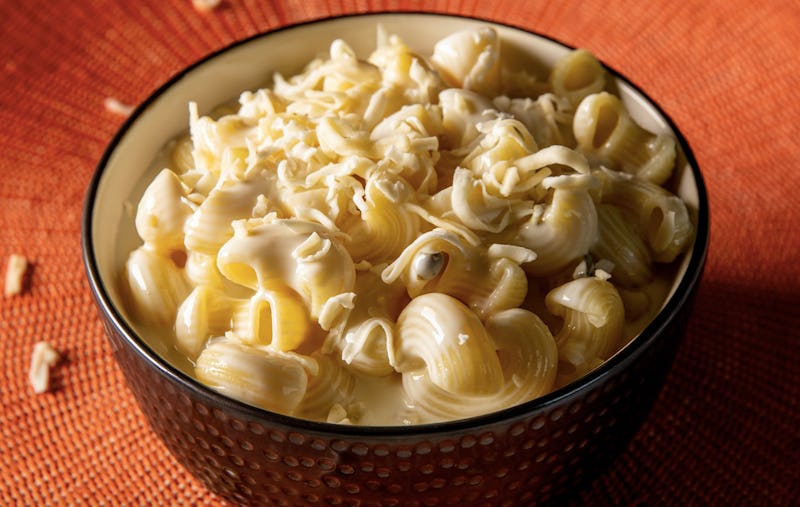 Moe's
Moe's Southwest Grill is switching things up. More tacos! More queso! More inspiration from the actual name of the restaurant! The fast-casual establishment is going through a rebranding, which is starting off with a new test kitchen in Atlanta, Georgia. What this means for fans of Moe's is that new menu items are coming.
According to a press release from Moe's, the new test kitchen will open near their Atlanta headquarters on November 16 and will be called The Oasis. Customers in Atlanta will be able to visit the test kitchen and try out the new items before they start to roll out to Moe's locations next year.
Nation's Restaurant News reports that Moe's president Bruce Schroder said of the change, "Owning the Southwest as a national culinary position will set us apart from other traditional Tex-Mex and Mexican restaurants, and we had the opportunity under our noses the whole time with our middle name! We've improved quality and variety to reflect flavors of the Southwest." That's right, this Southwest Grill is making Southwest-inspired food. Take that, Tex-Mex fast-casual restaurants! (Chipotle. It's probably Chipotle.)
The new "elevated menu" that's being tested includes more protein options, as well as "shareables" and entrees. Here are the new dishes and what they include:
Avocado Caesar Salad
Shrimp, shredded romaine, avocado, Cotija cheese, crispy tortillas, cilantro, and avocado caesar dressing
Quinoa Power Bowl
Mojo chicken, quinoa and brown rice mix, beans, romaine, avocado, queso fresco, corn pico, cilantro, and salsa verde
Street Taco
Crunchy avocado, onion, queso fresco, cilantro, lime, and chipotle ranch on soft blue corn tortillas
Brisket Torta
Applewood smoked brisket, beans, Chihuahua cheese, tomato, romaine, cilantro, mayo, and ancho barbecue sauce on bollio bread
There are also a number of new shareable items:
Street Corn
Charro Beans
Mac 'N Queso
Buñuelos
Of course, these are all foods that already exist and Moe's is giving their take on them. While "mac 'n queso" literally means mac 'n cheese, it's clear they just mean this one is made with Moe's queso dip, which the menu describes as "liquid white gold."
"When you think of the Southwest region in the U.S., you generally think of the four corners — Arizona, New Mexico, Colorado and Utah. We started there and then pulled in elements from other areas in California and Texas — these locations combined provided the culinary inspiration for the bold menu items that we are testing," Moe's executive chef, Ciaran Duffy said of the new direction. "Spices and ingredients like adobo, poblano peppers, and hatch chiles are featured throughout the menu at The Oasis in addition to classic Moe's concoctions served with our delicious queso and variety of salsas on the Salsa Bar."
If you're a long-time fan of Moe's you don't have to worry about old favorites going away. While the focus is shifting some, there will still be burritos, stacks, and quesadillas available. And free chips and salsa. They really don't want you to worry about the free chips and salsa.