This Video Of Every Time Monica Was A Perfectionist On 'Friends' Is Relatable AF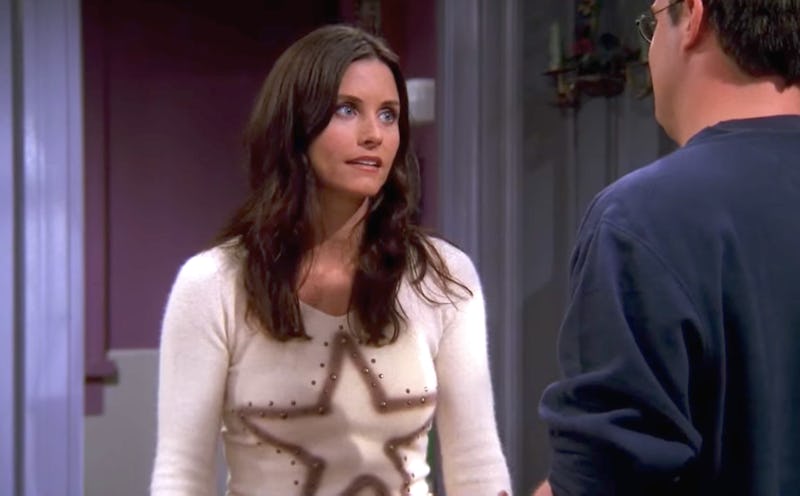 Warner Bros. TV on YouTube
While Friends fans like to laugh how focused on cleanliness she is, this video of Monica Geller being a perfectionist unveils the bitter truth: we are all Monica. After watching the video summary of all of the brunette's most out-there cleaning moments, you might feel the earth suddenly lurch beneath you. Because what's out-there about having a side of your bed and not being able to sleep on the other side? There's a medical term for this sensation: being human. Also, while having 11 different categories for towels might have sounded hilarious in the late '90s, to cash-strapped millennials, this might sound more like #goals. And who wouldn't want to own a tiny vacuum to clean their regular vacuum with? That's both hygienic and luxurious.
The video is the full-length version of the snippets Warner Bros. has been posting to their social media over the past few months, and their timing couldn't be better. It's the perfect thing to send your family to remind them that, yes, they better make sure the tassels on the rug in the kitchen are perfectly lined up before you swing home for the festive season. Or better yet, to send to those roommates staying put over the holidays to remind them that you will know if they trash the place in your absence. You've numbered the bases of the coffee cups and any breakages will need to be accounted for.
Of course, while viewers may have hoped that they were as witty as Chandler or as cool as Rachel, let's be real. Most of us were Monica. Whether that meant having been a radically different person circa high school, getting on so well with your brother you live with him, or being focused on pursuing goals to the point of getting on everyone's nerves, don't resist it. There's nothing to be ashamed about.
Because, as Monica acting as Phoebe's wedding planner showed, she wasn't a controlling perfectionist out of selfishness. A lot of the time, she was just giving her usual 110 percent to trying to make her friends' lives run as smoothly as her own. And as many perfectionists do, she got carried away... to the point of wearing a headset and bossing all the guests and bride and groom around. (Bear in mind that, according to IMDb, "The One with Phoebe's Wedding" aired in 2004, long before wearables were A Thing.) Heck, she even got fired for taking things way too far, which is a perfectionist's nightmare.
But when Phoebe tries to take over, the wedding starts to implode, leading her to beg Monica to be "that crazy b*tch lady" again. If you're a perfectionist, this might sound familiar. Everyone resents you organizing — up until they have to take over.
Of course, nobody is perfectly organized. Probably the apex of the perfectionist storyline was Chandler uncovering Monica's secret closet. Packed with everything from a globe to stray lampshades to a basket to Christmas decorations, it led Chandler to ask if he'd married Fred Sanford, the junk dealer from Sanford and Son. The explanation was probably the most you-are-Monica moment of all: "You know how I organize everything, right? Well, this is all the stuff I have that doesn't fit into any category."
Don't even try to treat this like it's eccentric, Friends. Who doesn't have a junk drawer in their home because there is no place to put an adapter plug for if you ever visit Romania again? Sure, it's an entire closet, but Monica probably had more stuff than most millennials do. Again — 11 categories of towels.
So, yes, Monica Geller might have seemed one of the kookier, less relatable members of the Friends group. But, as this video proves, she might be the one character anyone with a desire for order and beauty in the world (so that's all of us?) can relate to.