Monica Lewinsky's Advice For Young Girls Is A Lesson Everyone Can Take To Heart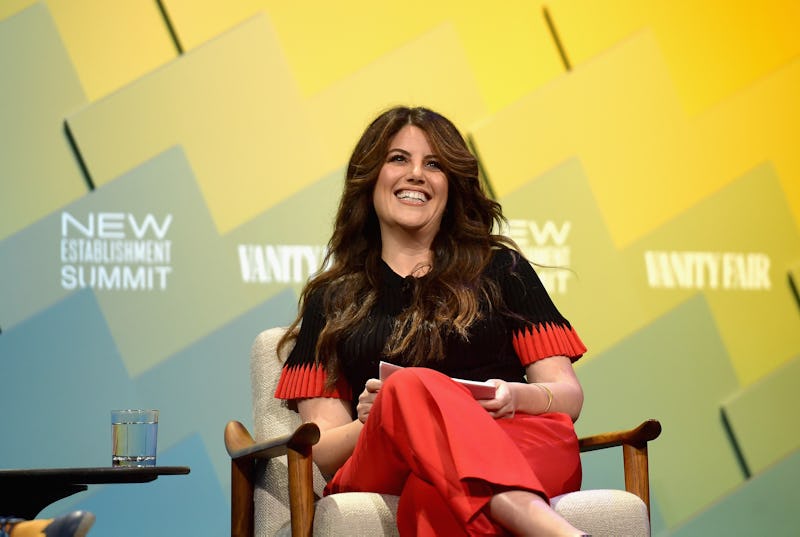 Matt Winkelmeyer/Getty Images Entertainment/Getty Images
A year and change after the start of the #MeToo movement, The Hollywood Reporter hosted a Women in Entertainment event on Wednesday to honor female leaders and mentor a new generation of women in Hollywood. One person supremely qualified to talk on overcoming hurdles was Monica Lewinsky, who delivered sage advice to young girls in the audience.
"You may have no idea of my history," Lewinsky said, jokingly referring to her time as a White House intern and her affair with President Bill Clinton. "Or, if you know the music of Eminem, G-Eazy, Kid Cudi, and of course Beyoncé, you might have heard of me."
"We have each made a mistake in our career that has come with consequences," she said to the crowd of teenage girls. "And probably everyone in this room can agree, that among all of us here today, when it comes to the worst mistake or mistake with the worst consequences, I definitely win. Hands down!"
Lewinsky, who has spent years as an anti-bullying activist, emphasized that the most difficult experiences in her life — like testifying in front of a grand jury about the affair — had positive outcomes, eventually. She passed along some fitting advice she got from the female jury foreperson, who told her, "Monica, none of us in this room is perfect. We all fall and we fall several times a day. The only difference between my age and when I was your age is now I get up faster."
Lewinsky has historically declined to speak on the scandal that made her a household name over two decades ago. She's broken with that pattern a few times, however, most recently to give interviews for the A&E documentary series, The Clinton Affair. The title itself reclaims a little of the public humiliation she received over what was at the time colloquially known as "the Lewinsky affair."
She agreed, she said in a Vanity Fair article, in part to tell the story herself, noting that most of the books written on the impeachment scandal were penned by men. "I think 20 years is enough time to carry that mantle," she wrote.
Following the affair, Lewinsky was for years cast as a floozy by the media, Clinton's Republican opposition, and late-night comedians alike. The Wall Street Journal called her "a little tart," and other outlets echoed that sentiment, referring to her as "ditsy" or a "young tramp."
These days, she has a respected and well-earned role in anti-bullying advocacy, giving talks around the world, regularly contributing to Vanity Fair, and offering guidance for cyberbullying awareness organizations. "Painful as they may be, mistakes may give you the chance to become that stronger, rebuilt woman; a more resilient and expanded self," she told her audience of young women, assuring them that making a mistake is inevitable, but not irredeemable
"Know that from the deepest part of you, you can move on from it," she said. "You can grow from it, and you can survive it."