Monique From 'RHOP' Just Announced Her Pregnancy & Fans Will Be SO Excited For Her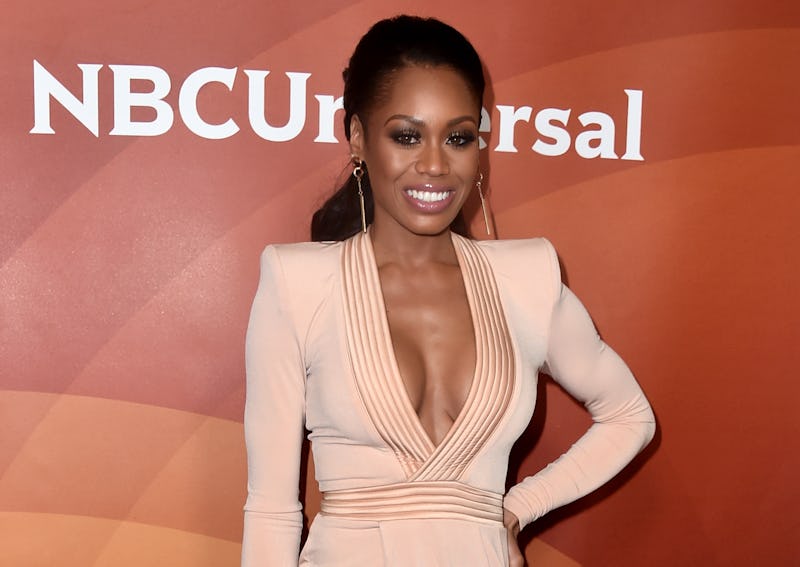 Alberto E. Rodriguez/Getty Images Entertainment/Getty Images
There will probably be a new face on the next season of Real Housewives of Potomac. No, there hasn't been about a new cast member announcement. Instead, Monique Samuels shared that she's pregnant with her third child in an Instagram post on June 17. Monique has always shared a lot of her family time and life as a mom on the show, so it's very likely that RHOP viewers will get to "meet" the new baby at some point during Season 4.
Just in time for Father's Day, Monique shared a video of herself dancing around and pulling the fabric around on her dress to reveal her baby bump. Along with the video, the Real Housewife joked,
"I'm way too happy to be bothered... I'm full of life... LITERALLY #RHOP #moniquesamuels #real housewivesofpotomac #blessed #partyofFive #unbothered."
Monique's husband former NFL player Chris Samuels posted the same video on his Instagram account. He had a funny caption of his own, writing, "Yeah it's true.... it still works. Baby #3 is cooking @mrsmoniquesamuels."
In a June 18 interview with Bravo's The Daily Dish, Monique discussed the pregnancy and admitted she and her husband didn't share the baby news with their son Christopher, 5, and daughter Milani, 2. The Potomac star explained, "We haven't told Christopher and Milani yet as we would like to wait until we're a little further along; kids tend to be a little impatient and I would rather them know when it's almost time." Fair enough.
Nevertheless, they might have a pretty good idea that there's something going on. Monique also shared, "However, they have been giving my belly plenty of hugs and kisses. It's almost as if they know, but they don't know they know!"
Monique has been very vocal about her desire to expand her family during Season 3 of Real Housewives of Potomac. She also shared that she went through a miscarriage in between filming Season 2 and Season 3 of the show. In an April 2018 interview with Bravo's The Daily Dish, Monique discussed the miscarriage,
"I just try to look at the positive in any situation and say obviously God knew what was best at that time. So now moving forward, I'll make sure I'm more prepared so when the time comes again, we'll be ready, and I'll try not to be as nervous being that we've experienced that. I can only imagine if and when we get pregnant again, just the thought of it possibly happening again, just trying to shut that from my mind."
Obviously the Samuels family has been through a lot, and they seem to be in a much better place at this point in time.
Thankfully, the Samuels family did not give up on their quest to grow their family. Monique and Chris are overjoyed with the pregnancy news, but they aren't the only ones. Plenty of Bravolebrities shared their excitement about the future Samuels offspring.
Real Housewives of Atlanta cast member Cynthia Bailey commented on Monique's Instagram post and wrote, "Congrats" with some red heart emojis.
Monique's Real Housewives of Potomac costars Candiace Dillard and Karen Huger shared their reactions to the pregnancy announcement. Karen wrote, "Congratulations! Ray and I are so happy for both you and Chris. Continued blessings."
Candiace commented, "YAAAAAAAAY!!!!! I wasn't sure it was out yet."
Real Housewives of Dallas star LeeAnne Locken wrote, "OMG!!! Look at you GORGEOUS!!!! I knew you were glowing! CONGRATS!"
LeeAnne's costar D'Andra Simmons tweeted, "OMG! Congratulations Monique! So happy for you God is good."
Married to Medicine cast member Simone Whitmore commented, "Hilarious!!! You look so cute. CONGRATULATIONS."
After going through such a journey, it's clear that Monique doesn't have it in her to sweat the small stuff, especially when it comes to Real Housewives drama. As Monique said herself, she is "full of life... LITERALLY" and no RHOP cast drama is more important than that.