'Moonlight' Wins Best Picture In A Huge Surprise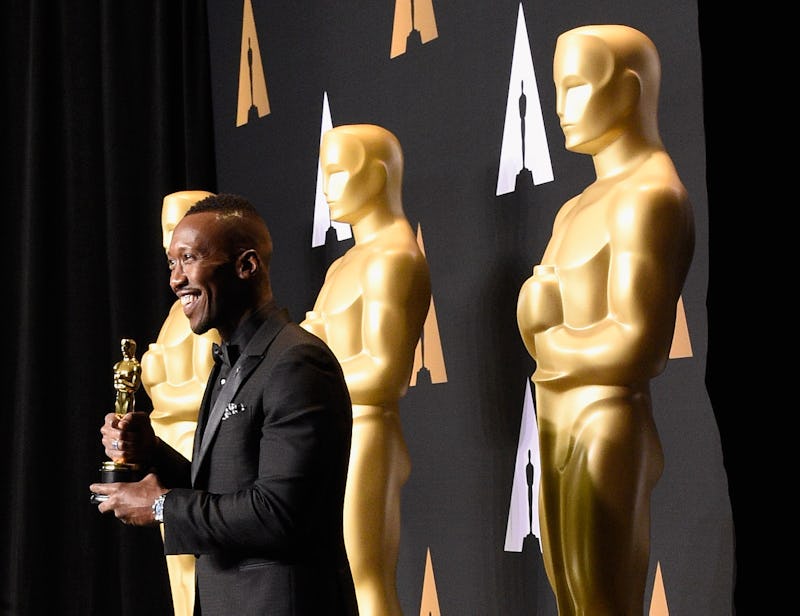 Kevork Djansezian/Getty Images Entertainment/Getty Images
Holy crap, you guys. Did that really just happen?! In the most surprising event of, well, maybe any Oscars ever, Moonlight won Best Picture — after it'd been announced just moments earlier that La La Land took home the prize. Yes, really — the Oscars gave the wrong movie the Best Picture Oscar, shocking everyone in the audience and watching from home.
When Warren Beatty and Faye Dunaway took the stage to announce the winner for Best Picture, many people expected them to say La La Land, as the movie had been the frontrunner for ages. And, at first, that's exactly what did happen. After he took what should've been a suspiciously long time to read the winner, he gave the envelope to Dunaway, who announced La La Land the winner of the night's biggest prize. The audience erupted in cheers, and the musical's cast and crew began making their way to the stage.
Yet right after the acceptance speeches started, one of the movie's producers took the mic to explain that there'd been a mistake. "Moonlight, you guys won Best Picture." No one seemed to take it seriously, until someone else said, "this is not a joke, I'm afraid they read the wrong thing." The card reading Moonlight's name as the Best Picture winner was then held up, as proof a mistake had truly been made.
As the audience reacted in gasps and screams, and Moonlight's cast and crew started heading towards the stage, Beatty took the mic to explain how the insane error had happened. He said that he'd read Emma Stone's name as the Best Actress winner (so, presumably, he had the wrong card), and assumed it meant that La La Land had won, when in truth, it was Moonlight's name written as the Best Picture winner. Host Jimmy Kimmel tried to make light of the situation, saying that it was "very unfortunate" that the mix-up had happened, but "personally, I blame Steve Harvey, for this" a reference to the Miss Universe host's infamous mistake.
Although the event must have been extremely upsetting for them, La La Land's producers were nothing but gracious about the incident, with one saying that he was "proud" to give the award to the makers of Moonlight. Still, can you imagine?! What an unbelievable mistake to have been made. Congrats are in order for Moonlight, a movie whose win was well-deserved, without a doubt, but as shocking as it possibly gets.
Editor Note: A previous version of this article incorrectly stated that it was Beatty, not Dunaway, who read the wrong winner's name.