More LGBTQ Americans Were Killed In 2016 Than Ever Before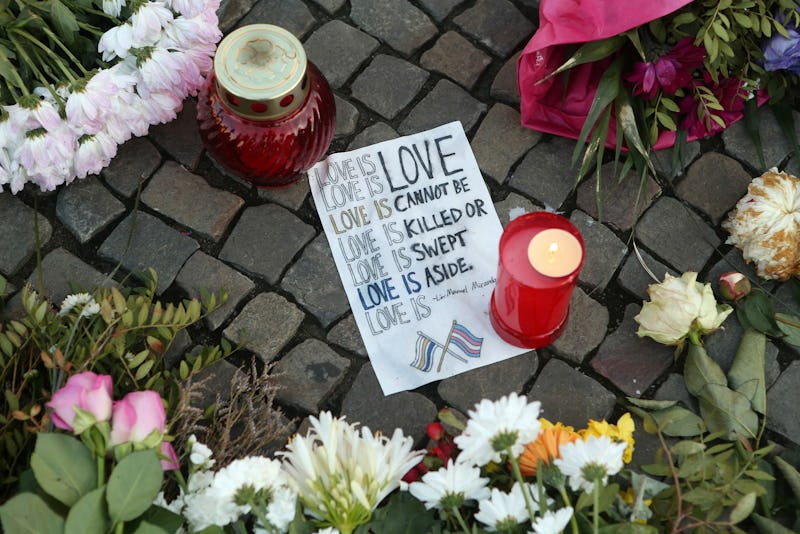 Adam Berry/Getty Images News/Getty Images
According to a study from the National Coalition of Anti-Violence Programs, a total of 77 people lost their lives in anti-LGBTQ violence in 2016, making it the deadliest year yet for LGBTQ Americans. Even without accounting for the Pulse nightclub shooting fatalities — the largest mass shooting in American history — the numbers were up: 28 up from 24 in 2015, a nearly 17 percent increase.
As devastating as these statistics are on the surface, there's an even more important point to note. LGBTQ homicides in 2016 affected people of color and trans members of the community at much higher rates. Of the 28 who were killed (not counting the Pulse victims as their sexual orientations and gender identities are not all known), some 79 percent were people of color. 18 of the victims were black and four were Latino.
The number of transgender victims — again, apart from Pulse — is also staggering. Some 68 percent of the victims were trans or gender non-conforming. Trans women killed numbered at 17. This shows that more must be done to protect the most vulnerable members of the LGBTQ community and fight other forms of bias that intersect in these attacks.
Lidia Salazar from Community United Against Violence, one of the organizations from the coalition that makes up NCAVP, explained the significance in a press release that accompanied the report:
We can no longer address anti-LGBTQ violence as a problem that exists in isolation, apart from other forms of hate violence and discrimination. To do so risks obscuring the tremendous diversity and intersectional identities within our communities. At a time where so many of us are at risk in this nation due to the identities we hold, LGBTQ people must be in solidarity with all movements working towards liberation and self-determination of people impacted by oppression and violence.
The numbers, which have been collected for 20 years, are sobering, but they are not happening in a vacuum. It's important to remember that last year some 250 anti-LGBTQ bills were introduced in statehouses around the country. Even during the Obama era, there was a real push to move backwards on the community's rights.
A very small proportion of those bills passed (North Carolina's SB2 was actually passed in 2015). But think about the political climate today: With Trump in the White House and Republicans in Congress, LGBTQ rights and are getting less traction at both the state and the national level. So this could all get worse.
Beverly Tillery from the New York City Anti-Violence Project explained in the press release how anti-LGBTQ legislation, executive orders, and more affect the community in terms of violence:
These attacks on our communities send the message that discrimination and violence against LGBTQ people is acceptable. Every one of us must call out and resist religious exemption and anti-LGBTQ public accommodation bills for the hateful legislation that they are, and advocate for increased protections for LGBTQ communities on the state and federal level.
More can and must be done in the future. Pro-LGBTQ laws must be passed and politicians who will fight for them must be elected. This violence cannot continue.