More Than 400 LGBTQ Candidates Are Running In 2018 — Here's What To Know About Them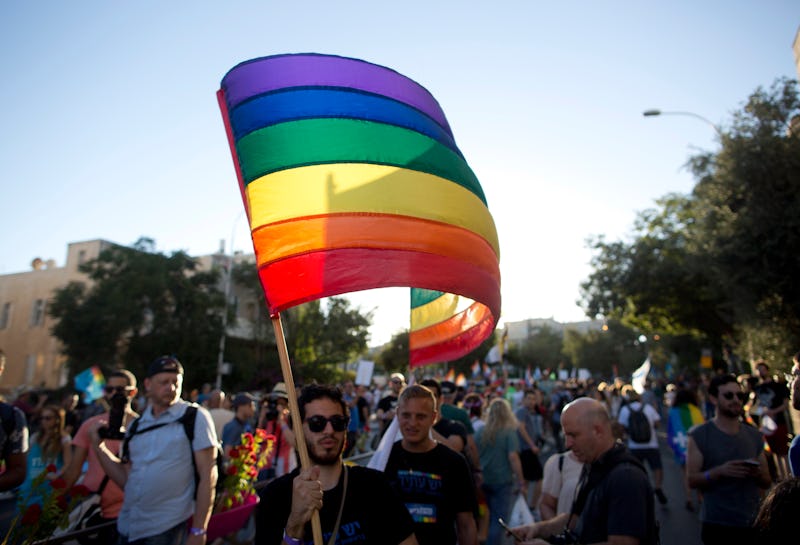 Lior Mizrahi/Getty Images News/Getty Images
A record number of LGBTQ candidates are running for office in 2018 — a movement The New York Times is calling a "rainbow wave." More than 400 LGBTQ candidates are running this year, according to the Times, with most of them running as Democrats, and a few as Republicans.
Although many LGBTQ candidates are running in opposition to President Donald Trump's administration, many are simply running on progressive platforms centered on economics or healthcare. And some are running, in part, because LGBTQ representation in office is important to other LGBTQ Americans.
Lupe Valdez, the Democratic nominee in the race for Texas governor, told CNN that after she won the race for Dallas County Sheriff — a position she's held for 13 years — a woman came up to her at the airport. The woman said her son, who is gay, was closeted and so depressed that she feared he would commit suicide. Valdez told CNN the woman asked for a photo with her:
She said to me, 'I have to take a picture because my son will never believe that I sat next to you.' When she took the picture, she said 'your election validated my son.'
Valdez is one of the more than 400 LGBTQ candidates running this year, many of whom are running for state office, The Times reported. You can see a full list of the candidates here, at the Victory Institute, a bipartisan group dedicated to supporting LGBTQ candidates.
The Times reported that many candidates are running on intersectional platforms, where they highlight their sexuality, race, or gender as characteristics that are central to their policy plans.
Alexandra Chandler, a transgender woman, is running in a Democratic House primary in Massachusetts in September. She told CNN that her experience working as an intelligence analyst after the Sept. 11 terrorist attacks is what pushed her to run. She said a colleague publicly called for her to be fired when she transitioned in 2006. Chandler told CNN:
When I came out to my supervisors, I presumed I was going to be fired or it would be a process of me leaving quietly. But instead what happened instead was, even though it would have been within their rights to fire me, the chain of command — mostly conservative people who had never met a trans person before, knowingly at least — they stood by me.
That just gives me a faith and optimism that I think people have responded to well in this campaign. People crave that. And it's not faith and optimism that's just words and talking points. It's grounded in real experience.
Annise Parker, the first openly LGBTQ mayor of Houston and president and CEO of the Victory Institute, wrote in a June 2018 report for the institute that it's those real experiences Chandler cited that make LGBTQ people uniquely qualified to run for office:
LGBTQ elected officials in positions of power are fundamental to moving forward equality legislation and policies, but their unique experiences also bring an authenticity and values framework that makes them better public servants.
Parker said that LGBTQ officials are "making an outsized impact" on pressing policy issues like affordable housing, universal healthcare, and immigration reform.
Out of 519,682 elected positions in the U.S., LGBTQ people hold just 559 seats, the Victory Institute found. In order to achieve equitable representation, elected officials would have to reflect the 4.5 percent of Americans who identify as LGBTQ. That means Americans would have to elect 22,827 more LGBTQ people to office — a number that seems less daunting in light of 2018's "rainbow wave."