Morgan Freeman Has Been Accused Of Harassment & Inappropriate Behavior By Multiple Women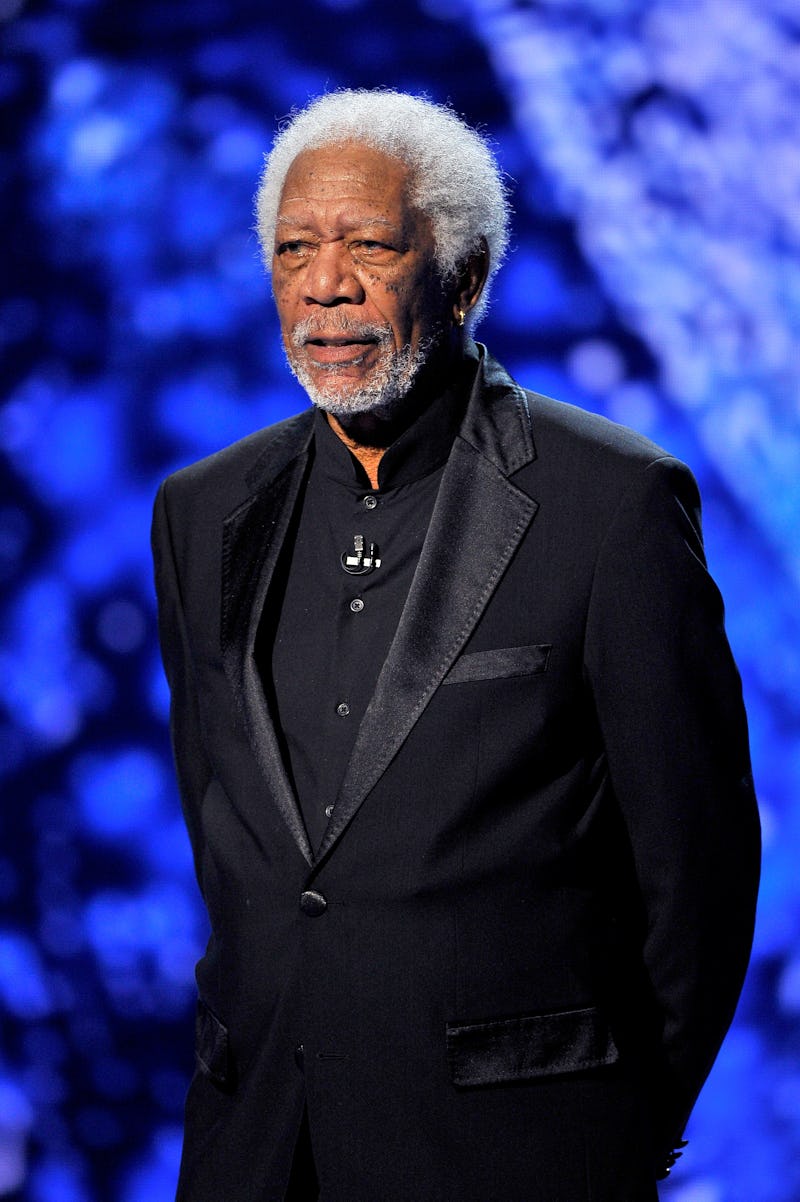 Steve Jennings/Getty Images Entertainment/Getty Images
On Thursday, CNN released an exposé reporting Morgan Freeman has been accused of sexual harassment and inappropriate behavior by multiple women. CNN spoke with 16 people total. Eight are alleged victims who claim they experienced harassment or inappropriate behavior at the hands of Freeman. The other eight individuals said they witnessed Freeman's alleged behavior. Bustle has reached out to Freeman's rep for comment, but did not receive a response at the time of publication. CNN reports it reached out to Freeman's spokesperson for comment and also emailed him a list of the accusations against his client, but the spokesperson didn't respond.
UPDATE: A rep for Freeman released the following statement to Bustle on the actor's behalf:
Anyone who knows me or has worked with me knows I am not someone who would intentionally offend or knowingly make anyone feel uneasy. I apologize to anyone who felt uncomfortable or disrespected — that was never my intent.
UPDATE 2: On Friday night, May 25, Freeman's rep released a second statement to Bustle's on his behalf:
I am devastated that 80 years of my life is at risk of being undermined, in the blink of an eye, by Thursday's media reports.
All victims of assault and harassment deserve to be heard. And we need to listen to them. But it is not right to equate horrific incidents of sexual assault with misplaced compliments or humor.
I admit that I am someone who feels a need to try to make women—and men—feel appreciated and at ease around me. As a part of that, I would often try to joke with and compliment women, in what I thought was a light-hearted and humorous way.
Clearly I was not always coming across the way I intended. And that is why I apologized Thursday and will continue to apologize to anyone I might have upset, however unintentionally.
But I also want to be clear: I did not create unsafe work environments. I did not assault women. I did not offer employment or advancement in exchange for sex. Any suggestion that I did so is completely false.
UPDATE 3: On May 29, a rep for Freeman released a letter to Bustle that Freeman's lawyer sent to CNN. Freeman's lawyer claims that CNN's report was "the product of malicious intent, falsehoods, slight-of-hand, an absence of editorial control, and journalistic malpractice," and asks for an immediate retraction and apology.
UPDATE 4: Later on May 29, CNN responded to Freeman's lawyer with the following statement via Deadline:
The unfounded accusations made by Mr. Freeman's lawyer are disappointing and are difficult to reconcile with Mr. Freeman's own public statements in the aftermath of the story. CNN stands by its reporting and will respond forcefully to any attempt by Mr. Freeman or his representatives to intimidate us from covering this important public issue.
UPDATE 5: Freeman's lawyer released the following statement regarding CNN to Bustle:
We presented CNN with objective evidence, including videotapes and on-the-record denials by the claimed "victims," that the alleged incident that gave rise to the story never happened. We proved to CNN, beyond any doubt, that the whole story was built on fakery. The credibility of the entire CNN attack on Mr. Freeman has now been undermined. And in choosing to ignore all of the evidence that we presented, CNN has confirmed our concerns about its reporters, its lack of oversight, and its gross misconduct in unjustifiably attacking Mr. Freeman.
EARLIER: According to the 16 individuals who spoke with CNN, the alleged conduct occurred on set, during movie promotions, and at his production company, Revelations Entertainment. Bustle has also reached out to Revelations for comment, but did not receive an immediate response.
Warning: This article contains information about sexual harassment, which some may find triggering.
A young production assistant who worked on the 2015 film Going In Style, starring Freeman, Michael Caine, and Alan Arkin, alleges she endured months of harassment from Freeman. She alleges he touched her by sometimes placing his hand on her lower back and rubbing it. She also alleges Freeman "kept trying to lift up my skirt and asking if I was wearing underwear". She said he allegedly only ever tried to lift the skirt and touched it, too, but never fully pulled it up, because she would move away. She claims Arkin intervened and said, "Alan made a comment telling him to stop. Morgan got freaked out and didn't know what to say." Bustle reached out Arkin's rep who has no comment at this time.
Another woman who was a senior member of the production staff on the 2012 movie Now You See Me also told CNN Freeman allegedly sexually harassed her and also her female assistant on multiple occasions. "He did comment on our bodies... We knew that if he was coming by ... not to wear any top that would show our breasts, not to wear anything that would show our bottoms, meaning not wearing clothes that [were] fitted," she said.
Many of the women accusing Freeman of sexual harassment told CNN they never reported his alleged behavior as they feared for their jobs.
Seven people told CNN Lori McCreary, Freeman's co-founder of Revelations Entertainment, allegedly witnessed an instance of alleged sexual harassment from Freeman and that she, herself, faced demeaning comments from him. According to CNN, at 2016's Produced By conference, Freeman allegedly described what McCreary had on during their first meeting in front of both McCreary and the large audience. "She had on a dress cut to here. She wants to be thought of as serious. But you can't get away from the short dresses."
After the conference, Today's Savannah Guthrie asked Freeman about his comments and he responded, "It was just something I said in jest about when I first met her, it was more than 20 years ago. How is that news?"
One of people who spoke to CNN also alleged McCreary made a discriminatory remark about a female candidate up for a job at the Producers Guild of America. McCreary is also co-president of the PGA. A former Revelations employee alleged that while on a phone call with a member of the PGA, McCreary said about a PGA East candidate, "she'll never be able to do a good job, she has a family."
According to CNN, McCreary's spokesperson never returned their request for comment. Bustle reached out to a rep for McCreary and to the PGA for comment, but did not receive an immediate response. A spokesperson for the PGA told CNN in a statement,
The Producers Guild of America is an Equal Opportunity Employer that does not question or consider marital or parental status in its hiring practices. As soon as CNN notified us about the allegation, we investigated the matter and have found that it has no merit. Lori McCreary is an outstanding PGA President. In all of her work with the Guild, she has been a consistent, vocal, and proactive advocate for women and all who are underrepresented in our community.
McCreary is known for supporting both #MeToo and Time's Up. Before January's Screen Actors Guild Awards where Freeman took home the Lifetime Achievement Award, CNN reports McCreary released a statement on behalf of the PGA revealing the board updated its anti-sexual harassment guidelines for its members.
Freeman also allegedly made inappropriate comments to three entertainment reporters, including CNN's Chloe Melas, who co-wrote the report. Melas, who was six months pregnant at the time, alleged that while interviewing Freeman, Arkin, and Caine at a press junket for Going In Style, Freeman looked her up and down and said, "I wish I was there." He also allegedly said, "You are ripe." CNN reports Freeman's alleged comment, "Boy, do I wish I was there," was caught on camera. (Bustle also reached out to an agent for Caine for comment on the alleged incident, but did not receive an immediate response.)
Melas reported the alleged incident to her supervisor. She then informed CNN human resources, who Melas said told her they reached out to their counterparts at human resources for Warner Bros., which produced and distributed Going In Style. Warner Bros. and CNN are also both owned by Time Warner. Per CNN, "Melas said she was also told that Warner Bros. HR could not corroborate the account because only one of Freeman's remarks was on video and the Warner Bros. employees present did not notice anything. Melas and her supervisor agreed that she would not cover the movie."
A Warner Bros. spokesperson told CNN that what Melas said about Warner Bros. HR was accurate, but no further comment was given.
Several men working at Revelations also claimed they witnessed alleged inappropriate behavior from Freeman. One male employee described the actor as a "creepy uncle" and said, "One time I witnessed Morgan walk up to an intern and start massaging her" shoulder. He continued, "The intern got visibly red and wiggled out of his grasp, it was awkward."
If you or someone you know has been sexually assaulted, call the National Sexual Assault Telephone Hotline at 800-656-HOPE (4673) or visit online.rainn.org.