This New YA Romance Is Basically 'Sixteen Candles' At A Wedding — With WAY More Drama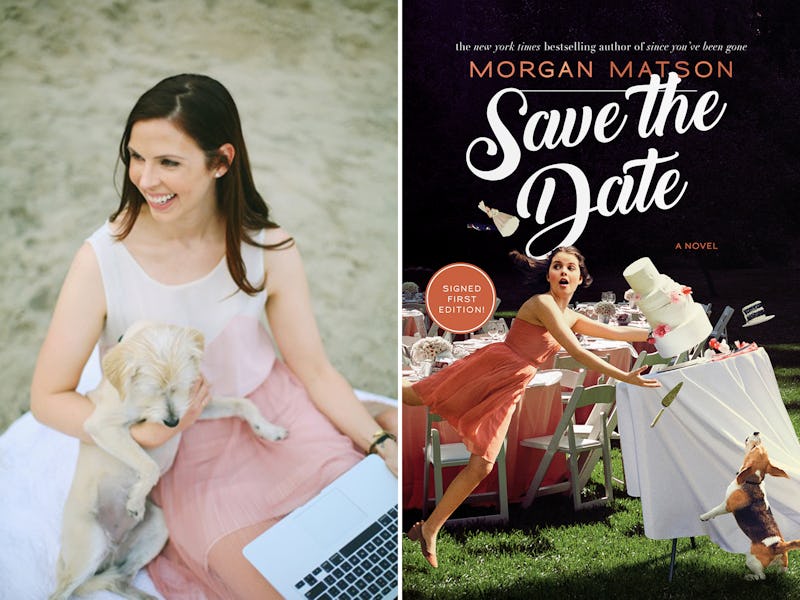 Morgan Matson, photo courtesy of Gina Stock
To me, nothing says summertime like a new Morgan Matson novel. The YA author has become synonymous with contemporary romances set during the steamy months — from 2010's Amy and Roger's Epic Detour to 2016's The Unexpected Everything, Matson has created compelling characters, page-turning plots, and sweet romances peppered with just the right amount of humor, heart, and emotional explorations of friendship, family and growing up. And although winter is only just now knocking at our doors, you've already got one huge reason to look forward to summer 2018. Because Matson will be hitting shelves again on June 5, 2018 with her latest release, Save the Date, and you're definitely going to want to RSVP early. Bustle has a first look at the cover and an excerpt from the book!
Billed as Father of the Bride meets Sixteen Candles (yes, please), Save the Date follows Charlie Grant, whose older sister is getting married at their family home. And Charlie can't wait, because, for the first time in years, all four of her older siblings will be under one roof. Charlie is desperate for one last perfect weekend, before the house is sold and everything changes. She wants to focus on making the weekend perfect. The only problem? The weekend is shaping up to be an absolute disaster.
There's the unexpected dog with a penchant for howling, a house alarm that won't stop going off, and a papergirl with a grudge. There are the relatives who aren't speaking, the awful girl her favorite brother brought home unannounced, and a missing tuxedo. Not to mention the neighbor who seems to be bent on sabotage, and a storm that is bent on drenching everything. The justice of the peace is missing. The band will only play covers. The guests are all crazy. And the wedding planner's nephew is unexpectedly, distractingly…cute.
Over the course of three ridiculously chaotic days, Charlie will learn more than she ever expected about the family she thought she knew by heart. And she'll realize that sometimes, trying to keep everything like it was in the past means missing out on the future.
It definitely sounds like Morgan Matson has done it again...but if you think you're excited now just keep scrolling. Because Bustle is thrilled to reveal the cover for Save the Date below!
Save The Date by Morgan Matson
OK, now that you've sufficiently lost your mind, there's still more to get excited about. First, Matson will be signing every single first edition of Save the Date so you have a great chance of snagging a special copy for yourself when the time comes. And as if that wasn't enough, readers will be wringing their hands in anticipation over this one: you can expect to see some beloved characters from Matson's previous books pop up at some point in Save the Date. Who is it?! Why are they there?! You'll just have to read it to find out.
And for those fans who just can't wait to get a few more tidbits? Above is the entire wraparound jacket that Matson's books have been known for since her 2014 release, Since You've Been Gone—and it's just at stunning as you might expect. And, here another one: in the book, Charlie's mother is the super successful author and illustrator behind a syndicated comic that features the entire Grant family. It is said to play a hugely important role in the novel, and you can check out the banner image from the fictional strip below!
OK, now that you've got everything you need to be sufficiently pumped for Matson's latest, you'll just have to wait until June 5, 2018 to get your hands on it. Luckily you'll have tons of time to get ready for the big day. If you just can't wait, Bustle has an excerpt below:
Chapter 2: Or, Everything Is Fine!!
"Hiya kid," my dad said, smiling at me as I came into the kitchen. He was sitting on one of the stools at the kitchen island, a mug of coffee in his hand, and he raised it to me in greeting. "Morning."
"The alarm went off again?" I said, peering at the panel mounted by the door. But it was silent, all the lights on the console dark. The alarm had stopped as abruptly as it had started, and by the time I'd made it to the main floor, it was quiet again.
"Your sister's checking it out," my mother said, looking up from where she was sitting at the long wooden kitchen table, mug of tea on the table next to her, surrounded by a pile of her sketches. "She thinks maybe one of the window sensors is setting it off."
I nodded, then pushed myself up to sit on the kitchen counter and looked around. The kitchen had always been the center of the house. It was where everyone seemed to congregate, and the first place I looked when I was trying to track down either siblings or parents. And even though it was a big room – the island and stools on one end, the kitchen table at the other, with an area by the door that was kind of like an ad hoc mudroom, hooks on the wall for coats, and a bench to remove snowy boots that inevitably ended up kicked underneath it – the kitchen always felt cozy. I thought briefly about one of Lily or Greg Pearson's horrible kids running around in here when this place would no longer be ours, and felt my stomach drop.
"You okay, kid?" my dad asked, as he pushed himself back from the island and opened the kitchen cabinet. Even a month ago, it had been stocked full-to-bursting, with a collection of mismatched mugs and dishes we'd accumulated over twenty-five years of living here. But now there were only a handful left inside, the only ones that had survived my parents' we're-selling-the-house purge and subsequent massive tag sale on the front lawn, the one I'd refused, full stop, to participate in. And when my parents had realized that I was planning on making loud comments to potential buyers about bedbugs and fake antiques, they'd sent me to spend the weekend with Linnie and Rodney in Boston.
"I'm fine," I said quickly, giving him a smile. I nodded at the mug he was pulling down. "That for me?"
"Obviously," he said, pouring me a cup of coffee and then adding just the amount of milk I liked, then handing it to me with a wink.
My dad, as ever, looked a little rumpled, even though he couldn't have been up for very long. Despite the fact he wasn't teaching today – he was a botany professor, and the head of the physical sciences department, which meant he had enough pull at Stanwich College that he hadn't had Friday classes in over a decade – he was wearing what he always wore during the week, corduroy pants and a button down shirt with an elbow-patched cardigan over it. His glasses were pushed up into his hair, which mostly just salt now, with just a sprinkling of pepper.
"Hungry?" my mom asked. She was wearing her drawing clothes, an oversized sweater and black pants, even though technically she hadn't had to draw new strips for six weeks now – there was a lag time so that the strips could get inked and colored. So even though she'd known for weeks how Grant Central Station ended, none of the rest of us had any idea. Linnie really wanted to know, but I wanted to read it in the paper, and find out the end of the story along with the rest of the world. Her curly blond hair was piled on top of her head and held up with a pencil. "Rodney should be back any minute now."
"Well, it's not the window sensor," my sister said as she came into the kitchen from the dining room. She smiled at me. "Nice of you to join us."
I grinned back at her. "I thought I might as well make an appearance." My sister laughed as she pulled down a mug and slid it across the counter to my dad, who caught it, then poured her a cup of coffee.
"Happy wedding eve," I said, clapping my hands together. When I was six and Linnie was seventeen, I used to think that she was the most beautiful girl in the world. And now that I was seventeen and she was twenty-eight, I still pretty much thought that. She took the most after our dad – his dark wavy hair and blue eyes and, to her eternal disappointment, his sticking-out ears. At five-seven, she was just two inches shorter than me, but the fact that she'd inherited our mother's curvy figure and I decidedly had not meant that while I stole Linnie's clothes whenever I could, most of her dresses were off-limits to me.
When I was six and Linnie was seventeen, I used to think that she was the most beautiful girl in the world. And now that I was seventeen and she was twenty-eight, I still pretty much thought that.
"I don't think that's a thing," Linnie said, taking a sip from her mug, and then nodding at my dad. "That's good coffee, daddy."
"I do my best."
The doorbell rang – on the front door, the one that was only used by deliveries and company, since we all used the kitchen door almost exclusively. "Who's that?" my mom asked, squinting at the kitchen clock. "I didn't think any guests were coming until this afternoon."
"It's probably a delivery," Linnie said, starting to move toward the door, but I shook my head and hopped off the counter.
"I'll get it," I said, taking my mug with me as I pushed through the kitchen door and headed to the front hall. "I should make myself useful!"
I could hear my dad laugh as the door swung closed again behind me and I crossed the front hall. The front door was half glass, and I could see someone standing on the step outside, their back to me. I unlocked the door and pulled it open, and the guy standing there turned around.
"Hi there," he said with a smile, and I immediately took a step back. I don't know who I'd been expecting, but not a guy who was very cute, and who looked around my age.
He was tall and lanky, an inch of wrist showing below the dark green fleece jacket he was wearing with jeans and rubber soled duck boots. He was holding a matching green binder in one hand and a cup of to-go coffee in the other, the name on the cup an illegible scrawl. He had thick, dark-brown hair that swept down long and straight across his forehead, reminding me for a second of an actor in a movie my siblings had shown me when I was little, about a werewolf who plays basketball. When he turned his head slightly, I couldn't help staring at his profile – he had a snub nose, almost squared-off at the end, like Matt Damon or Dick Tracy. I'd never seen it before in anyone who wasn't a movie star or a cartoon character.
"Hi," I said, glancing down at myself briefly and wishing that the sweatshirt I'd pulled on over my pajamas had not been this one – an ancient one of J.J.'s that read Go Big or Go Gnome on the front (a fierce looking gnome was printed on the back). "Can I help you?"
I couldn't help staring at his profile – he had a snub nose, almost squared-off at the end, like Matt Damon or Dick Tracy. I'd never seen it before in anyone who wasn't a movie star or a cartoon character.
"Yes," the guy said, smiling even wider. "Where There's A Will."
"Ah," I said, nodding as I took a step back and started to ease the door closed, wondering what kind of weird cult person I'd just opened the door to. He didn't look like a weird cult person – but then again, he probably wouldn't have been very successful if he had. "Good point. Thanks for stopping by– "
"Wait," he said quickly, his face falling as he stuck a foot out, keeping the door open. "Sorry – I mean I'm from Where There's A Will. The event planners?"
"We already have an event planner," I said firmly, knocking the door against his boot, trying to get him to move it. "Thanks though."
"Yeah, Clementine Lucas," the guy said, raising his voice, and I paused, and opened the door a little wider.
"How did you know that?"
"Pland sent us to take over," he said, and I opened the door all the way. "I guess my uncle hasn't arrived yet? I was kind of hoping he'd be here to explain."
"Come in," I said, opening the door all the way, and gesturing him inside. Normally I might have been embarrassed about the way I'd just treated him, right now I needed to figure out what was happening, because it really didn't sound good. The guy carefully wiped his feet on the mat and stepped inside, and I noticed now that Where There's A Will was written in script on his fleece, just over his heart, sewn in gold thread.
"Charlie?" Linnie called from the kitchen. "Who is it?"
"It's, um…" I looked at the guy.
"Bill," he supplied. "Bill Barnes." I nodded, trying not to look surprised. There were a ton of Wills and Williams at my school, and even a Willem who got really annoyed if you didn't pronounce his name correctly, but I wasn't sure I'd ever met a Bill my age before.
"I'm Charlie," I said.
Bill nodded. "Bridesmaid, right?"
"Um," I said, wondering exactly how he'd known that and what, precisely, was going on. "Yeah. But – "
"Charlie?" Linnie called again.
"It's Bill," I yelled back, even though I knew this wouldn't mean anything to her. I headed toward the kitchen and gestured for him to follow me.
"Who?" Linnie asked, as we walked through the swinging door.
"You're new," my dad said, frowning at Bill and then taking his glasses off his head and putting them on and squinting at him. He turned to my mom for reassurance. "Eleanor? Not one of ours, is he?"
"I'm Bill Barnes," Bill said. "Um – I work with my uncle Will Barnes at his event planning business, Where There's A Will. Pland contacted us last night and asked us to step in because they'd had some…um…issues with Clementine Lucas?"
"What?" Linnie asked, and it looked like she'd gone about three shades paler. "What do you mean, issues?"
Bill cleared his throat and looked around, like he was waiting for someone else to take charge, and I remembered what he'd said about expecting his uncle to be here already. "Um. So apparently she has been mixing up clients' events, not responding to emails, embezzlement…not booking venues… …"
"I'm sorry?" Linnie asked, staring at him. "Did you say embezzlement?"
"Has she been arrested or something?" my mother asked, standing up from the table and walking over to my sister, who looked like she was about to fall over.
"Um. Well," Bill said, clearing his throat. "Pland didn't tell me that, but apparently she's stopped making contact with them or with any of her clients, so their working assumption is that she has skipped town."
"No," Linnie said, pulling out her phone. "There must be some misunderstanding, because she just emailed me last night…" she scrolled through it and I walked over to look at it over her shoulder. "See?" Linnie held out her phone to me in triumph, and I squinted down at it. The email was one sentence long, with no subject line. It just read EVERYTHING IS FINE!!!
"I don't know," I said, looking at my sister. "This actually seems like kind of a bad sign."
"Huh," Linnie said, staring at her phone. "I guess I just thought she was being reassuring."
"So what happens now?" my dad asked, crossing his arms over his chest. His voice, I noticed, had dropped into his frighten the underclassmen timbre. "You do realize my daughter is getting married tomorrow?"
"I don't know," I said, looking at my sister. "This actually seems like kind of a bad sign."
Linnie, who'd started typing frantically on her phone, let out a sound that was halfway between a sob and a slightly hysterical laugh.
"We're aware," Bill said quickly. "Pland is deeply upset about this, and has hired us to take over on Clementine's behalf. You'll have your fee completely refunded."
"I don't care about that," Linnie said, her voice going high and panicky. "I realize this isn't your fault, but my wedding is tomorrow. And that's pretty late to be getting a new wedding coordinator."
"I completely understand," Bill said. He took a step farther into the room, set down his coffee down on the kitchen island, and flipped open his binder. "And my uncle can certainly speak to this in more detail than me – he should be along at any moment. But he drew up a plan last night, and I think – "
EEEEEEEEEEEEEEEEEE. The alarm went off again, much louder down here than it had been up in my room.
"Aaaaagh!" My future brother in law had just entered, jumped at the sound, and fumbled the pink bakery box he'd been holding, sending it crashing to the floor.
"My bear claw!" my dad cried, running over to the donut box.
"Why is this happening again?" Linnie yelled, hands clamped over her ears.
"It's fine," I yelled as I hurried over to the panel. "What's the combination?"
"Twelve thirty-four," my mom yelled, and I punched it in. It took a second, but then the alarm shut off, and Linnie cautiously moved her hands away from her head.
"It's off," I assured her.
"The donuts are okay," my dad said, sounding incredibly relieved as he stood up with the box.
"What," Rodney asked, looking at the alarm panel, "is going on with that? Twice in one morning?"
"Three times," I said, taking a step back from the panel slowly, like I might set it off again. I turned to Rodney. "Did you get me a strawberry glazed?"
Rodney adjusted his glasses, which had gone a little askew. "Of course I did. I didn't just get here." Linnie had met Rodney Daniels on their first day of Dartmouth. He'd actually been one of the very first people she'd encountered in the school – he'd been wandering the halls alone, clutching his laundry hamper and shower caddy, trying to find his room. They'd met again that night at a new-student mixer, and they'd been together ever since – except for the five months they'd broken up when they were twenty-three. But even at twelve, I'd known that their split wasn't going to last long. Linnie and Rodney just belonged together. They were incredibly similar, well matched from the very beginning, even though Linnie was white and had lived in the same house in Connecticut practically her whole life, and Rodney was black and an army brat, who'd grown up living on bases all over the world.
Rodney's dad, an Air Force general, and his mom, an army nurse, eventually settled on a base in Hawaii, where he'd spent high school. Because getting from New Hampshire to Honolulu and back again was time-consuming and really expensive, Rodney had spent Thanksgiving and Christmases with us all four years of college. When I'd had a meeting with my guidance counselor last week, she'd asked me how I felt about adding a new member to the family. And it had honestly taken me a minute to work out what she was asking me, because Rodney had already been a member of my family, for the last ten years.
"I got your text," Rodney said as he crossed over to my sister, slinging an arm around her shoulders and kissing the top of her head –at six-two, he was a head taller than Linnie. He tended to keep his head shaved and had been dressing pretty much the same way since he was eighteen – in jeans and a crisply pressed button down. My parents frequently pointed to Rodney as an example when they were trying to get my brothers to dress more like adults, and less like middle schoolers with credit cards. "I didn't – quite understand it."
When I'd had a meeting with my guidance counselor last week, she'd asked me how I felt about adding a new member to the family. And it had honestly taken me a minute to work out what she was asking me, because Rodney had already been a member of my family, for the last ten years.
"What do you mean?"
Rodney pulled out his phone and squinted down at it. "Where are you? You need to get here, ducking Clementine is gone and I'm about to ducking lose it. DUCK."
"Stupid autocorrect," Linnie muttered, shaking her head.
"Clementine quit?"
"She didn't even have the decency to quit! She just embezzled a bunch of money and disappeared!"
"What?"
"Hi, I'm Bill," Bill said cheerfully, not reading the room very well as he smiled and held out a hand to Rodney. "Where there's a will."
"Uh…sure, man," Rodney said, shaking his hand. "Good attitude."
Save the Date by Morgan Matson, $12, Amazon (Pre-order)